The bare facts will speak for themselves. Mike Zullo's got a job to do before he goes on air Friday at 5:30 Central time on the radio talkshow with Carl Gallups' "Freedom Friday". Mike's got to check two things before going on air: 1. who is Linda Joy Adams, what's her past and what's her identity. 2. who is the name she gave for Obama's father, what's his past, what's his identity.
If both come up as existing and being possibly or certainly related to Obama, then we've got a case.
Orly Taitz's numerous cases and another theory about Frank Davis Marshall being Obama's real father, are possible solutions but require a lot of time to yield results and aren't certain to yield a thing. Both options are totally shrouded in uncertainty.
But not so with Zullo's. His case is an open or closed case that suffers no delay. By Friday, his investigation must have yielded the first basic results, as to whether Adams and the real father of Obama, have real existences, or whether they're fake and invented psyops.
Orly can go on with her work if so. There's absolutely no problem between several cases working side by side, alongside each other. If Zullo comes through, there'll be no more need for Orly to work. She can take a well-deserved vacation.
I don't want to involve in any personal fight with Orly Taitz (I like Orly a lot) but I suspect she's harrassing people at BIN by telling them Linda Joy Adams is a psyops, a cointel pro and an FBI mole. That's not nice. Linda's helping Orly with her SS cases, because Linda's a specialist – having worked for the SS for twenty years.
Larry Klayman is furthermore taking a case to court in Alabama also soon and I've heard he's got supporters too who are rejecting Linda Adams, because they want it to be Klaymann to be the one to defeat Obama. This is very prestigious for these lawyers Orly and Larry.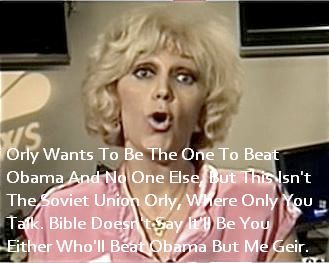 Orly made an article three days ago saying "Don't believe anything Linda Joy Adams says." Not very professional, Orly, because we say at BIN that we reporters must not attack each other. Calm it down pleez.
….Having a CV where it says you "brought Obama down", for a lawyer, is an out-of-this-world prestigious thingie. They're after this gimmick as if there was no tomorrow. They just "gotta get it".
This isn't personal against Orly Taitz, because in fact I'm a great fan of Orly's, and who's done great work. But what's happening is that there are various birther organsations, websites and groups who are each vying to be the ones to take Obama down. It's funny because these are groups that have had to go through years of suffering and being shut down by the Obama Camp over and over. But suddenly, these groups are falling all over each other to be the first to have the honor of defeating and bringing Obama down. These are prestigious events and great stakes for professionals – so as to garner victories to their CV.
Unfortunately, there's no holding up the work of justice. Linda and I (Geir Smith aka King of Shambhala), Joe Arpaio, Mike Zullo, Carl Gallups (an ex-cop), Michael Shoesmith (of PPSimmons) and the people who support me daily on my articles, well we're all on march. We'll "deliver the truth" whether the others like it or not.
Justice is blind and the law (the Cold Case Posse is law-enforcers) will take Obama down, wherever, however, no matter what. Orly or Klaymann or people at BIN who support them, can't hold back the hands of time nor the wheels of justice (just so as for them to get the glory and honor, of becoming famous as "the glorious slayers of the dragon Obama). Lawyers are working for the glory and money but the wheels of justice work for free.
I'm not getting anything out of this. No one's paying me. I'm doing this for my moral duty and because the Bible said to "Run to join the Messengers of the Apocalypse instantly," (Daniel, Abomination of Desolation) "when you hear the good news of the secrets of the Antichrist-Obama revealed."
My faith of the Tibetan Tantric Kalachakra indicates that Obama's the evil demonic being, which it says to fight against. I'm a scholar of Kalachakra and know exactly what I'm talking about. No one will tell me I'm wrong about Kalachakra and certainly not the Dalai Lama or any of his millions of minions.
We encourage you to Share our Reports, Analyses, Breaking News and Videos. Simply Click your Favorite Social Media Button and Share.