Obama's the Man of Abomination.
He spies on everyone with evil intent to harm.
People know me at BIN, because I'm a Senior Reporter with thousands of articles under my belt, written as Geir Smith first and now as King of Shambhala, ("KOS" to insiders).
But we're infiltrated at BIN. They're spying on us 24 7 365. The NSA are here.
People know my style and what I say. I always say to this or that troll, who troll/heckled my articles: "Admit it! You're a CIA shill and paid-poster."
I call them the "pre-paid posters."
I've not been saying this only recently, this is a thing I've been saying from the go-get. If someone's not answering any topic you post and admits that his purpose is just to divert the topic, then the answer is obviously that they're on a mission and doing a job. They have no interest in your topics and in discussing. So, why are they there?
It must be for the money, there's no other possible explanation.
The time those trolls have diverted away from my work can be estimated; and I'd say that in terms of interaction with others, those trolls have certainly taken up something like 90% of my attention…time… effort. A good job, fellas!
So, the CIA had a good team, yielding good results, working on my case, 24 7, for upwards of the five years I've posted to BIN… writing my (continuously Anti-Obama) articles and comments. Obama had to target me. I'm the only one in the world saying Obama's marked by 666, which showed up in Illinois' Lottery, the day after his election. I'm "famous" at the NSA. I'm a marked man. At NSA headquarters they must have a bull's eye with my pic in the middle.
I had these people heckling and trolling all my articles until this last few days, when I mentionned the NSA and then suddenly they all vanished, as if into thin air.
The "Last of the Mohicans" of these paid trolls was Geeper, who had been absent a few days and then came back with a vengeance for the "last gasp" effort. He suddenly vanished…. as if by magic… at the mention of "the NSA." Others who must also be CIA/NSA agents and pysops at BIN (because they literally lived in the comments of my articles, 24 7, for five years), are AxisOfEvil (alias "AnusOfEvil" ,our funny nickname for him), Ed Rowan, Kwisatz Haderach, metalraven, Merkin etc….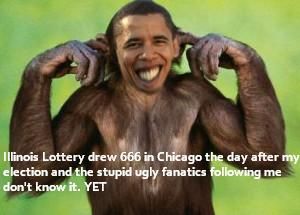 If anyone has the slightest doubt Obama's the Antichrist this video will dispel that. There's no doubt at all that Obama's the Biblical Antichrist.
We encourage you to Share our Reports, Analyses, Breaking News and Videos. Simply Click your Favorite Social Media Button and Share.