$800 million for 53-mile of border fence (it was supposed to be 655 miles)
The original plan of the Secure Border Initiative (SBINet) called for spending $833 million to build a virtual fence — a system of sophisticated sensors, cameras, and other barriers — along 655 miles of U.S.-Mexico border in Arizona, New Mexico, and a slice of Texas, at a cost of about $1.2 million per mile; Boeing, the prime contractor, used $800 million to build the system along only 53 miles of border at a cost of $15.1 million per mile; the virtual fence's technology is now judged a failure……………………………….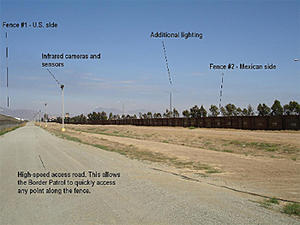 A stretch of the fenced border area // Source: zdnet.com
U.S. taxpayers have shelled out at least $15.1 million per mile for fifty-three miles of "virtual fence" built to secure the U.S.-Mexico border, more than twelve times the original estimate.
The federal government set aside $833 million for the fence of cameras, sensors, and other barriers in 2007, and the vast majority of that money, at least $800 million, has been spent on a sliver, in Arizona, of the 1,950-mile southern border. About $20.9 million has been used on the U.S.-Canada border. MOREHERE
Border Invasion Back to Home Page
Border Invasion Pics
Some videos best viewed full screen. copyright Border Invasion
Right click on video and click "full screen" option. Press "Escape" key to return to normal size.