Linda Adams Complains Birthers Obstructing Truth by Geir Smith aka King of Shambhala.
The birthers complained to me that Linda Adams hadn't contacted them last week, when I first told them to write to her. But then she did write back to them. I had proof of that because the birthers told me so and Adams made an article telling us that she had done so.
Then, once she had written to them they didn't answer back and chickened out.
Why aren't the birthers answering Linda Adams (see link below)?
Are they covering up for Obama? Are they afraid of Adams revealing the name of Obama's father to them? Are they being threatened by Obama? What the hell's going on? We've got to get to thebottom of this and fast not slowly. The truth must be known right away not later. This urgent as hell. This is no joking matter! This is about discovering who the father is of the world's most powerful man, Obama. We don't know who Obama's father is and this man, Obama, has the atomic force secret codes which he's gotten by fraud.
Linda Adams has agreed to give the name of Obama's father to PPSimmons (a reporter here at BIN). The birthers are really disappointed that she won't announce the name of Obama's father, openly to everyone. But it's best to do it that way. PPSimmons will have to agree to keep the name secret but he's an ex-cop for fourteen years in Florida, so he can investigate who the person is and do his own research secretly. Then we'll go on from there once he's done that investigation. LInda Adams will tell us if we can go further and who and when anyone else will be brought into the secret. First PPSimmons should check that this story is valid and legitimate. Then we'll move on further.
http://beforeitsnews.com/obama-birthplace-controversy/2013/04/linda-adams-complains-birthers-obstructing-truth-by-geir-smith-aka-king-of-shambhala-2458558.html
If you want to get into this battle for the Truth well go to Adams' blog in the link and write directly to her. Offer her your help. let's reveal Obama's father's real name. We must be strong because there are traitors among us and they must work for Obama, the Satanical Antichrist. Choose your camp and be on the right side, if you want to go to heaven.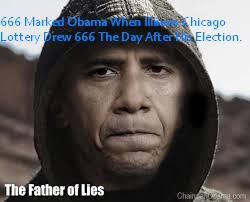 Ominous signs show Obama's marked by the number 666 of the Bible, which shows the Antichrist.
We encourage you to Share our Reports, Analyses, Breaking News and Videos. Simply Click your Favorite Social Media Button and Share.