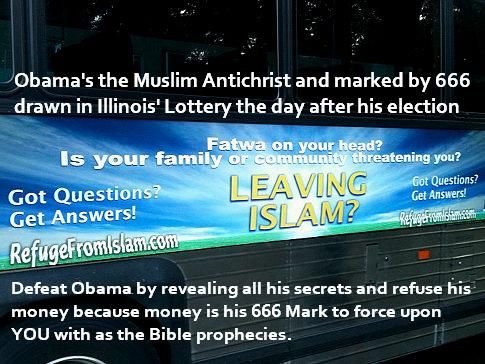 Obama's Muslim, the most aweful thing on earth.
Now, I don't want to say anything without being covered about it, but let's just see if what I say now, could be possible.
It's not about Obama being the Antichrist, that's certain, but about the 4 Horsemen of the Apocalypse.
————————————
"No one knows when the Apocalypse happens nor who the Antichrist" is says the Bible. But as for the Anitchrist, there is no doubt about who that is because omens and signs have shown it's Obama beyond doubt. Look at the videos linked below and you'll see it's not possible to not see Obama's the Antichrist. This is heaven saying it not me or anyone else. This is a freak incident, that the Bible didn't announced, but the number it announced – 666 – did occur.
1. http://www.youtube.com/watch?v=gpBfS5FWVWI
2. http://beforeitsnews.com/obama-birthplace-controversy/2012/11/obama-lottery-666-you-have-got-to-see-antichrist-birth-certificate-citizenship-eligibility-2449194.html
3. http://www.snopes.com/politics/obama/lottery.asp
4. http://answers.yahoo.com/question/index?qid=20090102025641AAZ5lk8
But, when the Revelation happens (i.e. the Apocalypse) the revealing of all things hidden in the world – and all that Antichrist's secrets, will be preceded by four messengers of the Truth. Those 4 Horsemen of the Apocalypse are War, Pestilency, Famine and Death.
Now let's imagine this is the Apocalypse,…. because all Obama's lying and deceit is unravelling under our eyes, in an awesome car wreck. So, let's imagine that the phases we are witnessing, are the 4 Horsemen of the Apocalypse preparing the Antichrist's fall and then the actual Apocalypse.
Let's imagine that:
1. Benghazi (4 American 9/11 dead) is Horseman of War
2. IRS (probing Tea Parties, Patriots etc…) is the Horseman of Pestilency.
3. AP's (secret DOJ grab of phone records at AP) is the Horseman of Famine.
4. Syria's (Rebel Commander eating a heart is…) the Horseman of Death.
(Proves Islam is cannibalistic)
http://shoebat.com/2013/05/13/islamic-ritualistic-cannibalism-caught-on-film/
http://www.bbc.co.uk/news/world-middle-east-22521161
We encourage you to Share our Reports, Analyses, Breaking News and Videos. Simply Click your Favorite Social Media Button and Share.