Reports say that Egypt is erupting into war with total mayhem breaking out between pro and anti-Muslim Brotherhood/Morsi supporters. Scores are dead and government buildings have been arsoned.
In the West, no clear answer has been shown as to which side to support and people are divided.
But the message is simple: it's either support Islam and it's hideous nature or condemn Islam and it's evils. Koran quoted: "Every Muslim's duty is to kill all Infidels (5,5 billion people on Earth.)" Islam is a vile thing.
The Anti-Islamic parties in Europe are united against this evil and have been railing openly against Islam under all it's forms for years.
Geert Wilders of the Dutch Party For Freedom says Muslims must be massively expelled back to their countries. He says the Koran must be banned because it's a criminal book and that Islam isn't a religion but a criminal organization. He says all new mosques must be blocked from being built.
He's offered a plan to have all dual-national Muslims be taken to the City Halls and for them to bring luggage. There they're made to sign a paper saying they pledge allegiance to the Dutch Constitution.
(This is forbidden by Islam which says Muslims must not obey non-Islamic laws and just live as hidden Muslims – in what is called Taqqiya – until the advent of Sharia Law in the whole world. Islam says that any Muslim who swears to non-Islamic law, has become an apostate and must be killed by Muslims as an infidel.)
Geert Wilders then says that if they refuse to sign the pledge of obedience, they'll be immediately taken to the airport for expelling from Holland. (They'll not be allowed to go home for luggage.)
Also he says any criminal with dual-nationality will be sent to his country and lose his Dutch nationality.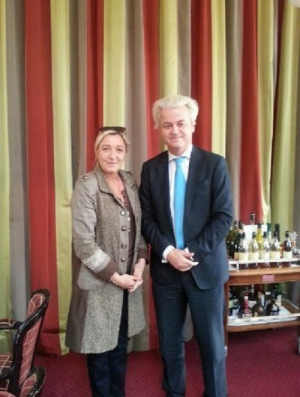 Marine Lepen of the Front National in France (25% in polls for future elections – a close second to Sarkozy's 26%) is just as adamant and has similar plans for Muslims in France. France is already famous for stringent law on burqas,(full head-to-toe tent/veils) which are forbidden to wear in public, in France (a new law's breaking news: forbidding burqas at universities! The Islamists are going bezerk. Ranting away like crackpots against France! ROFLMAO.). Identical burqa-laws has been adopted by half the countries in Europe, (forbidding burqas in all public places) since France passed it.
The anti-Islamic movement is gaining steam very fast now worldwide, with famous people like Walid Shoebat (ex-Muslim terrorist Arab), Pam Geller (US Jewish – alias Atlas Shrugged – opposes Ground Zero Mosque.), David Spencer (Christian Arab Iraqi), Joseph Farah (Christian Arab Lebanese) etc.. spreading the word in the media.
Pam Geller – Geert Wilders.
http://www.loonwatch.com/2009/09/geert-wilders-wants-to-tax-women-who-wear-hijab/
(who's the loon now? idiot libtards…)
Posted on 30 September 2009 by Garibaldi
From Left to Right: Andrew Bostom, Geert Wilders, Robert Spencer, Pamela Geller
Fascism's new face in Europe, parliamentarian in the Netherlands Geert Wilders, proposes taxing Muslim women who wear hijab (head covering) 1000 Euros. He is a close friend of Robert Spencer who has proclaimed that "everyone should support Geert Wilders." Wilders has also called for the banning of the Quran which he equates to Hitler's Mein Kampf , has stated that Muslims are colonizing the Netherlands and has advocated the denial of religious freedom to Muslims.
Geert Wilders has done it again. The leader of the far-right Freedom Party managed to make the Dutch headlines during the annual general political debate.

Wilders's newest proposal is to tax the Muslim headscarf. Any Muslim woman who wants to wear a headscarf – which he described as a 'head-rag' – would have to apply for a licence, and pay one thousand euros for the privilege. Wilders says the money raised would go toward women's emancipation programmes.

The rest of the Dutch parliament reacted to the proposal with disbelief. One after another, they asked Mr Wilders if this was a serious proposal. For instance, would he include other types of head covering in the tax? And how about orthodox Christian women who wear a headscarf quite similar to the Muslim version?

In reaction, Mr Wilders said he would actually prefer to ban the headscarf altogether, but that appeared to be legally impossible. He would not tax the Christian form of the headscarf, but he did not say how policy would make that distinction.

Mr Wilders has acquired a reputation for making shocking statements during general debates. Two years ago, he called for the banning the Muslim holy book, the Quran. Last year, he warned that Muslims were colonising the Netherlands. Last spring, he and his entire fraction walked out at the beginning of a debate.

The government still has to defend its new budget as part of the general debates. But in an unusual move, Mr Wilders has already announced that he plans to submit another motion of no-confidence in the entire cabinet. That will be the Freedom Party's eighth motion of no-confidence.

———————

(I totally dissociated from the libtard reporter's insulting of Geert Wilders, calling Wilders Fascist. I totally dissociate from libtards supporting Islamists, murderers and criminals like Islamists. I support all Anti-Islamic movements and people.)

—————————–
Now, you must also choose your side: pro or anti-Islam. Do you approve of Muslims depriving women of their human rights in Muslim countries? Do you approve of Femen's demonstrations against "patriarcal" Islam? Do you claim that it's the West's intolerance towards Islam that radicalizes it and makes Islamists take violent, terrorist anti-Western action?
Do you claim (as one hears from intellectuals thouroughout the West) that "we in the West are responsable for Islam killing people everyday in the world" and not only against us Westerners. Islam kills every day in the Muslim world (Muslim on Muslim murder – Muslim on Christians/Jews murders), it kills Hindus, Buddhists, Jews, Christians. 95% of the wars in the world involve Muslims.
Count yourselves and stand up against the most evil thing in the world: Islam. In the Apocalypse is is said the chosen must stand up and be counted. The Messengers of the Apocalypse must stand up and be chosen.
Egypt is prophecied in the Bible to be the place from where the Apocalypse will start, with mayhem ruling throughout Egypt.
Obama's a Muslim. He's marked by the #666 drawn in his hometown Chicago in the Lottery the day after his election.
Blonde of youtube Islam, conquest and respect
Superstar of YouTube speaks out. http://beforeitsnews.com/tea-party/2013/08/amid-death-threats-and-censorship-youtubes-la-blonde-speaks-out-against-islamization-of-france-2498958.html
The French are fed up with Islam. "La Blonde Of YouTube" Speaks Out: "60%70% of jail inmates are Muslim."
Stand up against the Antichrist Obama.
If anyone doubts Obama's the Antichrist then explain this miraculous sign of 666 (video):
CNN Obama Anti Christ Lottery 666 BIRTH CERTIFICATE CITIZENSHIP ELIGIBILITY
(click the links in the video, showing the lottery draw of 666 in the Chicago Tribune,on the day after it..)
We encourage you to Share our Reports, Analyses, Breaking News and Videos. Simply Click your Favorite Social Media Button and Share.