By Geir Smith aka Universal Messiah i.e. King of Shambhala Rudra Chakrin
Remember the Larry Klayman "Reclaim America Now" DC rally?
That was on Nov. 19.
Mike Volin's Sheriff's Kit delivered to Rep. Steve Stockman's Congress office.
But on Nov. 18 Mike Volin's (http://wheresobamasbirthcertificate.com/) teams of several people each, were inside the House and Senate, busy with meeting with the members of government and their staffs.
(Washington DC) In a coordinated effort to bring Barack Obama's forged identity documentation into the light of scrutiny, fifteen unpaid volunteers from California, Oklahoma, Indiana, Pennsylvania, and Virginia walked the halls of Congress this week delivering "Sheriff's Kits" directly to Congresspersons, Senators and staff alike.
The cavernous Rayburn, Cannon, and Dierksen buildings were canvassed for hours, on the so-called "fly-in day" (Monday) and the first workday of the week for many of our public servants, Tuesday.
Additionally, approximately half of the 200 or so "Reclaim America Now" rally-goers, assembled at nearby Lafayette Park on Tuesday, received kits as well.
Each Sheriff's Kit consists of concise, letter-sized packet the size of an instruction booklet. The bulk of the kit is the May 15, 2013 sworn affidavit of Detective Michael Zullo of the Maricopa County, Arizona Cold Case Posse. Zullo's work over the past two years is a reflection not only of his efforts, but also of his core team of six investigators as well as resources gathered from hundreds of concerned citizens in both the public and the private sector.
http://socialismisnottheanswer.wordpress.com/2013/11/21/official-analyses-of-obamas-alleged-frauds-delivered-to-members-of-congress/
Miki Booth of WheresTheBirthCertificate.com delivered 100 Sheriff's Kits to the Larry Klayman Rally.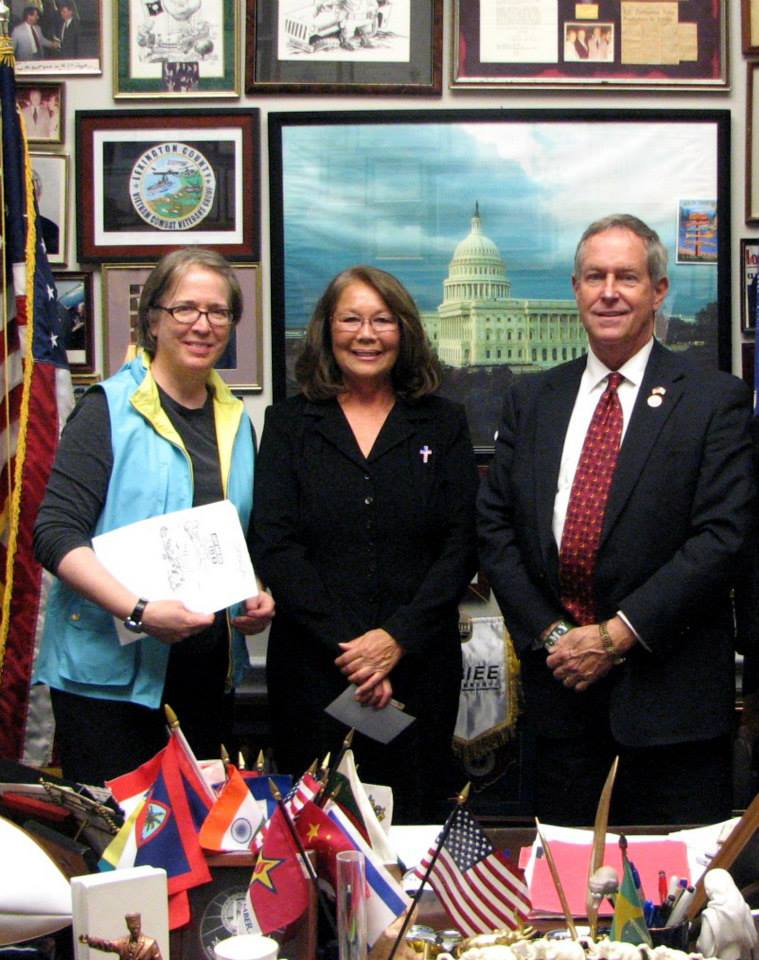 Miki Booth (center): Rep. Joe Wilson receives a Cold Case Posse Sheriff's Kit
Organizers Mike Volin and Miki Booth brought together the informal team through e-mails and the website, wheresobamasbirthcertificate.com.
The team broke into smaller groups, of two or three each, personally delivering the kit and forgery press conference DVD's to the offices with a brief explanation of the contents. Several had private meetings with internal office staff, and others met directly with Congressmen Kevin McCarthy (R-California), Joe Wilson (R-South Carolina), and Rob Wittman (R-Virginia). Approximately 100 offices were reached in just two days. Follow-up efforts will be ongoing.
Volin says (at 1:23 below) he's got masses of telephone numbers from people inside the Congress and Senate to work on and that the enthusiasm was contagious. A tsunami hit DC on Nov. 18. A total of 300 Sheriff's Kits were distributed in DC.
Obama ID Fraud: Rep. Steve Stockman Update
Obama gets bitch-slapped by John Stossel asking POTUS "Where's your ID?"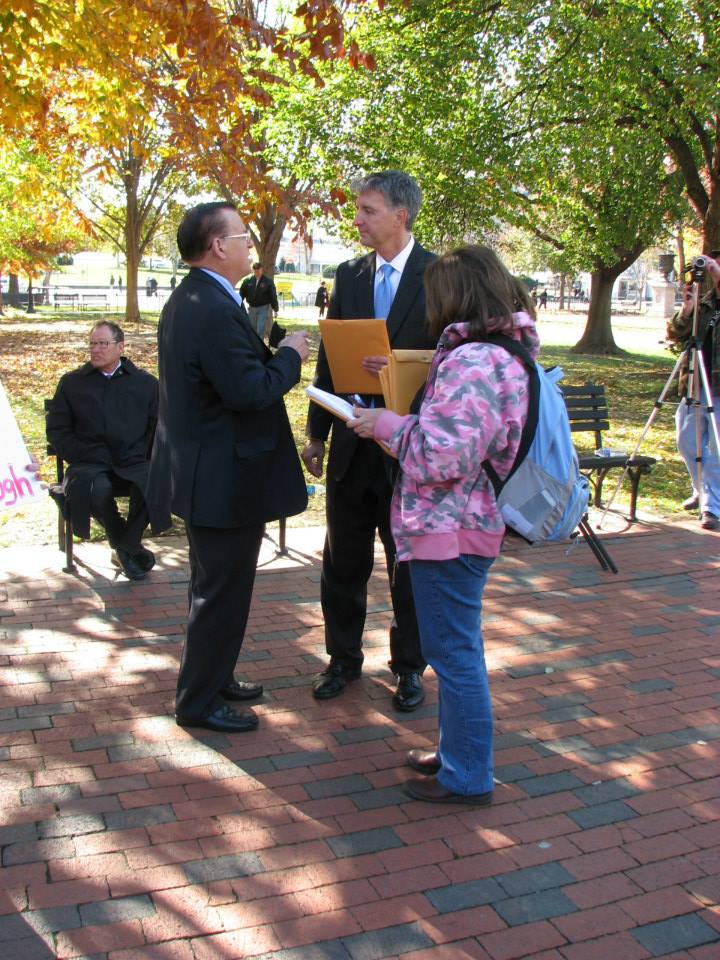 Sheriff's Kit to Brad Dacus, Attorney, Pacific Justice Institute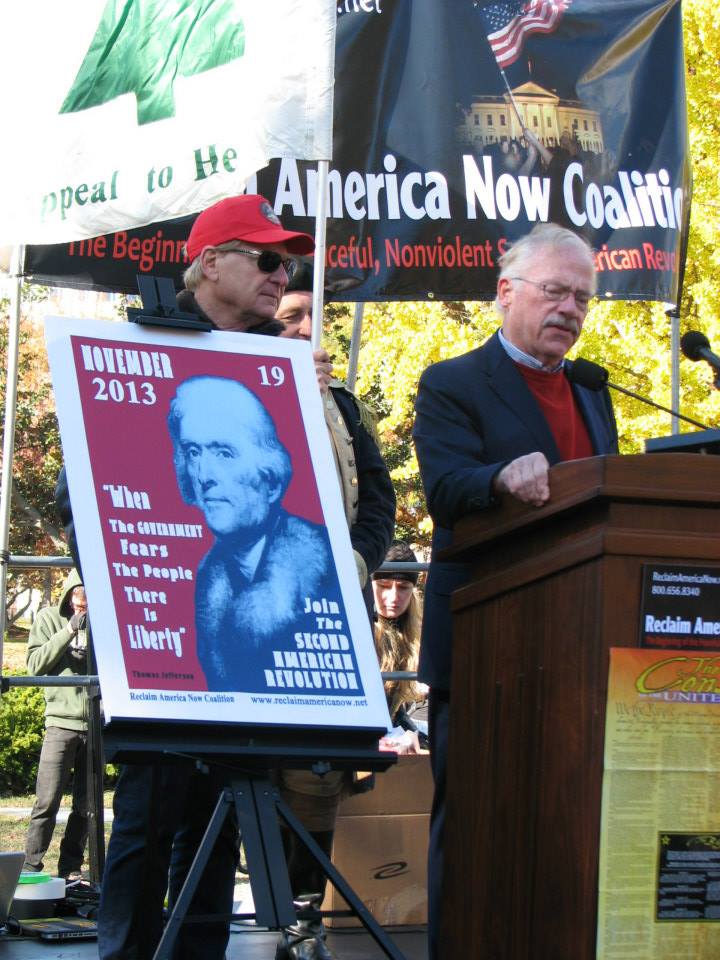 100 Sheriff's Kits delivered to Reclaim America Now rally. Bob Barr at podium with Larry Klayman at rally.
Congresswoman Carolyn McCarthy (d) NY 4th Receives a Sheriff's Kit From Carl S. From New York. Thank You Carl.
Congressman Mick Mulvaney (R-SC) presented with the Sheriff's Kit.
Cheryl Surber presenting Mike Zullo's Affidavit to Raphael Cruz, Senator Ted Cruz' Father.
Cheryl presenting Mike Zullo's Affidavit to Former Senator Jim DeMint.
Jeff Harrison from wheresobamasbirthcertificate.com Handing a Sheriff's Kit to Senator Pat Toomey. Meeting took place Wednesday August 28, 2013 at the VFW post 813 in Dubois Pennsylvania.
Pictured below is Jeff Harrison briefing Senator Pat Toomey about the Sheriff's kit. Jeff is a retired Marine Sgt. thanks for your service Jeff. Contact: jeff@wheresobamasbirthcertificate.com
Mike Volin, Ruth Reeder, Dale Laudenslager, and CDR Charles Kerchner (ret) Meet and present a Sheriff's kit to Congressman Charlie Dent.
Mike Volin, Congressman Charlie Dent, CDR Charles Kerchner (ret)
Ron Shaw Of Bismarck North Dakota Got A Sheriff's Kit And Presented It To Congressman Kevin Cramer (r) North Dakota
Ed Sunderland downloaded a Sheriff's Kit and Presented it to his Congressman, Michael C. Burgess (r) tx. Ed contacted Mike Volin prior to the meeting and he made arrangements for Mike Zullo to call in to the meeting. Congressman Burgess did speak with Mike Zullo . Congressman Burgess did ask Mike Zullo questions, Ed told that this site meeting was very informative.
Video Of Cowboy Joe Presenting A Sheriff's Kit To Jared Hershberger, Aide For Congressman Dave Loebsack. Joe Placed A Lot Of Effort In Making The Video And Posting It.
Cowboy Joe Goes to Congress
Mona Alexis Presley Standing In Front Of U.S. Congressman Doug Lamborn's Office After Presenting A Sheriff's Kit. Mona Is The chief Editor At www.wheresobamasbirthcertificate.com , She Also Guest Host The Wheresobamasbirthcertificate Radio Show And Is The Producer For The Radio Show.
Cheryl Surber Presents A Sheriff's Kit To Congresswoman Kay Granger's Staff (r) Texas 12th District. Cheryl Is Seen Holding Mike Zullo's Sworn Affidavit.
This Sign Was Constructed And Erected By Jeff Harrison, Dubois Pennsylvania.
Cheryl Surber Presenting A Sheriff's kit To Senator Ted Cruz
Congressman Kevin McCarthy (r) Majority Whip California 23rd Now Has A Sheriff's Kit Thanks to Tom P From Bakersfield California.
Thanks to Carl S. From New York, Congressman Peter King Now has a Sheriff's kit.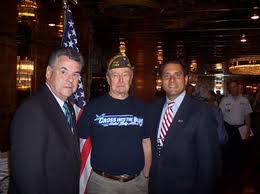 We encourage you to Share our Reports, Analyses, Breaking News and Videos. Simply Click your Favorite Social Media Button and Share.