This warning was posted on multiple prophecy websites 3 years ago! It is a very telling look at what is coming. (additional warnings also further down) People need to understand this is very very close. Visit revelation12.ca and read the Lord's latest warnings, you will understand why they are moving quickly in this.
Trapped By the Beast
Belinda Anderson – 3/14/12
I dreamed I was walking on my lane, just as it was dawning, to go up to the main road to the mailbox and get the newspaper. Just as I got to the road, I saw one of my neighbors getting into his truck. He drove up to me and said, "You'd better get to Walmart quickly; they are giving away free food, water, medicine and gas." I said, "My husband is asleep, so I will have to wait until he wakes up." My neighbor said, "Well, I wouldn't wait too long or you might miss out." Then he left. I went on over to the mailbox and got the newspaper. I got halfway back down the lane, when I heard a voice say to me, "It's a trap; it's a trap. Don't go."
I asked, "What's a trap?" The next thing I knew, I was standing in a Walmart parking lot. The lot was packed like it always is, so I asked what was wrong. I heard that same voice say, "Look at the people." So I looked at the people. They were coming out of the store with grocery carts full of items and getting into their cars and leaving. I asked again, "What's wrong?" The voice said, "Look closer at the people." So I zeroed in on the people and all of a sudden I noticed they were all wearing dog tags.
Then I found myself inside the store. There was a long line at the left of the store against the wall. They had it set up like at the airport with the roped lines, so the flow of people would be orderly. The store was full of products and people were shopping, so everything looked normal to these people in line. However, I noticed that the people shopping had on dog tags like the people in the parking lot. My oldest brother had been in the military years ago, so I knew what these dog tags were. I said to myself, "These are soldiers dressed up as civilians."
All of a sudden, I was standing at the back of the store. The store manager was standing in front of a set of doors marked Personnel Only. I noticed he had on dog tags as well. He was telling the people that only four people could go with him at a time to be processed in to get their vouchers for the free stuff. He had them line up two on the left and two on the right behind him. As they went through the first set of doors, there was a breezeway area, then another set of metal doors. He was telling these people that when they went through the next set of doors, there would be two women sitting at a desk and to go up to the desk and wait.
As soon as these people got up to the desk and the second set of doors closed, four very large men (they looked like sumo wrestlers) came up behind these people, put their hands over their mouths and gave them some kind of a shot. Then these soldiers took their drivers license and car keys from them. (I believe the drivers license represents taking away their identity or place in Christ and the car keys represent taking away their freedom; they NOW belong to the beast — lock, stock and barrel!)
The two women sitting at the desk stamped these people on their right hands. I got closer so I could see what the stamp read; it read, Bus #1, Section A. Then these people were led out the back door on to a waiting bus. These people couldn't put up a fight, as the shot they were given made them like zombies and they could barely walk. These people or victim's drivers license were placed in a box that read,Bus #1, Section A, as well. I'm sure this was so they could keep track of just exactly where they were taking them. Their car keys were given to some soldiers standing close by.
I decided to follow these soldiers with the keys to see what they were going to do. They found these people's cars and drove them off the parking lot. I decided to go back to the bus to see what was happening there. I noticed they were taking people to the back of the bus and working their way forward. When they would get two people in a seat, there was a large harness that came over these people's shoulders. Then the soldiers reached down and grabbed another harness that went through their legs and it all joined together at their waist and locked. There was no way these people could get up.
Then, again, the next thing I knew, I was standing in a large field off of a dirt road. This field was full of empty car carriers. I watched as the soldiers drove onto the field and up onto the car carriers. When the car carriers were full, they drove away. I lost count of how many there were, as there were so many. I just stood there trying to digest everything I had just witnessed. I closed my eyes and when I opened them again, I was back home on my lane.
I stood there thinking how clever that whole process was; they didn't have to go to the people. They devised such a clever way to have the people come to them without putting up a fight, like lambs to the slaughter.
Also, I thought to myself, they have been planning this for a long time. Walmart would be a very logical staging area, as they provide, food, clothing, supplies, water, medicine and gas. They are always advertising it as a one-stop shop; now we know why! I took another look at Walmart. For some reason, I looked at it in reverse from the dash out, and it reads "Mart law," or could it be martial law! Then I woke up.
Here is another prophetic warning about Walmart recently sent into Steve Quayles website…
Hi Steve,
I have two visions I felt led to share with you.
The first one was 2 weeks ago. I HEARD IN THE SPIRIT wedding bells rining very loudly, I would doze and be woken up by the wedding bells ( as the church we must stay alert, and awake!) I was taken into a room with ancient documents scattered on a large table. Then I heard Obama speak and saw a map of the world, every part of land on the map was bloody. I do not know if this means war is coming, or innocent blood has been shed by Obama, all I do know is the Lord showed me he is evil and has the spirit of antichrist.
The second vision was the truth behind the Walmart stores closing. I felt the plumbing reason was fishy so I went to the Lord Jesus who knows all and sees all. After praying I saw the Walmart stores. But instead of it saying Walmart across the front I saw crisis center. I had the impression these centers are used to store something and that people are to stay away from them, that they are dangerous.
My personal feeling is the stores are closed to hide military equipment, so the forces that are going to cripple the nation have easy access to their equipment instead of storing it on a military base.
Blessings your sister in Christ
Apr 28, 2015
Yet another one now surfaces…!
Steve,
It was back in the 1990′s when you were on c-band that I remember the dream I had about the new Walmart Super Center that was being built near 41501. I remember (in the dream) being I a room with schoolhouse like chairs inside the new building and all of a sudden the windows and the doors were automatically locked and covered somehow and the gas (like steam) started coming in through the ceiling. It was a chilling dream. I spoke to my mother about it and she said I had been listening too much "stuff".
But a couple years back or so, I recall thinking about how, and the ways that a supercenter could be turned into a "detention" area. If you look at it, there are only two or three ways in or out of these facilities coming in from the front. The garden centers most always also has a high fence.
The security cameras are already there and it wouldn't take too many guards with m-16s to contain the detainees.
This location is within 500 feet of RR and USPS hub.
Just Thinking more…JB
May 3, 2015
Also consider the following from Dave Hodges…..
CLOSED WALMARTS TO BE GUERILLA WARFARE STAGING AREAS IN RESPONSE TO INVASION
There can be no doubt that the internal events at Walmart holds the key to the end game of Jade Helm operations. Jade Helm and Walmart are inextricably linked and the existing evidence suggests one of two possible end game probabilities for Jade Helm.
1. Converted Walmart stores will be processing centers for FEMA camp political prisoners.

2. Some Walmarts will be used as supply and staging centers for an internal conflict within the United States.
In the past four weeks, I have watched over 100 videos on Jade Helm and Walmart. I have performed what researchers call a qualitative, or a descriptive analysis of the available facts. In performing this task, I have looked for patterns among the recent Walmart closings because it is clear that the closings coincide with Jade Helm. This constitutes Phase One of the analysis. In Phase Two, the findings from phase one are correlated to known or strongly suspected events connected to Jade Helm and/or other areas of concern related to national security. Subsequently, this kind of descriptive analysis can yield strong clues as to the true intent of where Jade Helm is headed and what the Walmart role consistes of in conjunction with Jade Helm.
Phase One: Common Characteristics of Walmart Closings
A series of representative videos are analyzed for commonalities which might reveal intent and purpose of the connection of Jade Helm and the Walmart closings.
The Local Media Discredits the Official Plumbing Excuse
You have heard the stories everywhere that Walmart is closing stores because of bad plumbing. What are the odds that ALL of these stores would have plumbing issues.?It is not really plumbing issues at all that have led to these store closures. We already knew that. The real reason is perhaps more sinister because even the local media is not buying the Walmart plumbing excuse.
Closed Walmart: Brandon, Florida
This very amateurish report reveals a very consistent trend in that is reoccurring in the closed Walmarts in that concealment is the rule of thumb when it comes to these stores. Since when is it necessary to conceal plumbing operations from the public? In the following video, please note the containers which are being used to block the rear entrance of the store. This too, is becoming a consistent theme among closed Walmarts.
Roxboro, NC and Their Closed Walmart
In an email sent to both Steve Quayle and myself, we see the same pattern of using shipping containers as a means of concealment with regard to what is going on inside a closed Walmart.
Dave and Steve,

My mother just sent me these pictures of the parking lot of her local Walmart SuperCenter in Roxboro, NC.

Two things are new:

1. notice the newly cutout square in the parking lot replaced with new asphalt and with a new grate of some sort over it

2. notice all the shipping containers that were just recently put there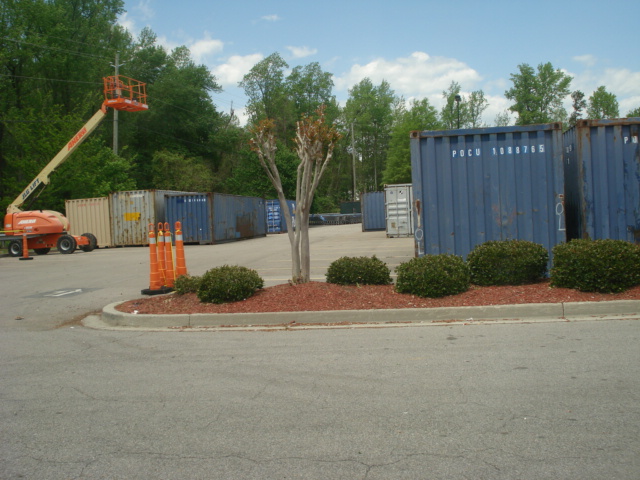 I do not know what this may mean, but I thought I'd share it with you guys.

Blessings,

J

Greenville NC
_____
The Hughes Exclusive Footage Inside Closed Peco Rivera Walmart As Cops Guard Dock and Entrances
Stephanie Hughes filmed this exclusive footage at the now closed Pico Rivera California Walmart Location. The store recently closed for highly suspicious reasons and, again, it certainly was not due to plumbing. Walmart had never contacted the local County to get permits for the plumbing work. Officials connected to the Walmart closing have now covered the windows with black tarp in another set concealment activities that we are witnessing around the country.
In another disturbing trend, this Walmart is surrounded with cops. Since when are cops needed to protect plumbers performing repairs? Also, as you can see from the video, officials have built a wall up inside of the store so no one can see whats going on past the Pharmacy area which is still open to the public in yet, another, act of concealment.
PLUMBING? REALLY? Again, we see a multitude of cops at the receiving dock at the back of the store. What are they protecting, or better yet, hiding from the public?
Walmart Closing: Jade Helm Las Vegas
Of all the multitude of videos that I have reviewed, this video contains the most disturbing material and perhaps provides the best clues as to what is the real objective that is behind the closing the Walmarts.
First, I feel compelled to offer a warning related to bad language with regard to the following video. However, I felt the evidentiary value of the video outweighs the banning of the video because of repititive foul language.
The most stunning piece of evidence offered in the following video is the tearing up of the Walmart flooring and replacing parts of the Walmart flooring with very thick cement floors. This speaks to the need to have a reinforced floor in order to host very heavy military equipment.
Another striking feature of this Walmart is that it is being allowed to stay open, in part, while product disappears from the shelves. There does not appear to the typical "Just in Time" deliveries going on inside this Las Vegas Walmart. Another curious feature in the video is the absolute stripping of the walls of any related Walmart advertising and other signs. The empty walls are very telling as it is obvious that this Walmart is showing clear signs of being closed as product is being emptied.
On the outside of the building, the main electric Walmart sign has been taken down. Additionally, there are cameras all across the roof area of the store. What we are seeing here is the conversion of a Walmart store while the store is being kept open.
Phase One Analysis
In several videos I have examined, there are very consistent patterns which are present in this presentation. First, the closures are unlike any other store closures that I have witnessed in that extreme concealment of internal Walmart activities is the absolute and undeniable commonality in all of the store closures. In the past, when I have witnessed this level of concealment and secrecy, the intent being concealed is normally quite evil in its manifestations.
Another striking element related to the Walmart closures has to do with blockading the rear of each store. This indicates to me the need to temporally fortify the rear entrance so as to prevent incursions. I would expect that large and reinforced steel doors will replace these temporary barricades.
In all the store closures that I have seen, I have never witnessed this kind of police presence associated with an allegedly temporary closing for plumbing reasons. Since when do police find it necessary to guard plumbers?
It is also quite clear that Jade Helm is contracting with local law enforcement to provide security and to keep the curious away in an effort to maintain some kind of secret. Why use the police? Because the police would fit in better to the local landscape and will arouse less suspicion from the public than if military personnel were to be used.
In the final analysis, it is clear that the Walmart stores are being retrofitted for military purposes.
Phase Two Analysis
In one of the most stunning revelations made in the entire Jade Helm fiasco is the revelation by Judicial Watch of the existence of an ISIS camp a mere 8 miles from El Paso, Texas. Further, the anonymous letter I received from a Texas Ranger seems to confirm that local law enforcement is bracing for an ISIS incursion. In previous articles, I have revealed how the Pantex nuclear plant is a target of concern and previous articles proved, beyond a shadow of a doubt, the existence of SAM missiles 45 miles southeast of Lubbock, TX.
Clearly, and as I have repeatedly pointed out, Texas is preparing to be invaded by hostile forces and ISIS and their allies. This Sunday evening, on The Common Sense Show, I am hosting an officer from Special Operations Forces, Scott Bennett, who says that the U.S. government is sponsoring ISIS. The following email I received last night parallels the Bennett account of the origin of ISIS.
Dave- I read most of your daily articles. In this Texas ranger article your talking about ISIS and Texas. I have a source in governmemnt that has for a long time now told me- ISIS is part of our CIA and DHS. No doubt in my mind they are going to create a false-flag event to bring in mnartial law.

It is most important to realize that this is our fascist government beginning the overthrow of our country! These bastards are now in charge of all important dept'

s.in

government. It will be up to men like the Ranger here in this note, who will do the right thing and stand for his oath to our Constitution- Obama's gang have already broken this pledge!…
Allen Hall
Learn the truth about Revelation 12 and the 'Wedding in Heaven' while it is still online…. God's Kingdom is now coming into the earth revelation12.ca.
We encourage you to Share our Reports, Analyses, Breaking News and Videos. Simply Click your Favorite Social Media Button and Share.