Lorie Kramer
It was another interesting day in Portland, Oregon in the trial of US Government vs. Bundy et all. John Lamb gives his daily update from the rainy steps of the Federal Courthouse, and is joined by Matthew Deatherage, the originator of the petition for impeachment against Judge Anna Brown.
Retired FBI agent Charles Stephenson, now a private investigator, testified about the guns at the refuge being "at rest, in secure positions.
One of the best things to happen today was Shawna Cox took the stand, as part of a deal that was made, in order for Shawna to take the stand the complete video of the illegal stop and LaVoy's murder was shown to the jury. Considering how Judge Brown has squashed any reference to the incident from being mentioned so far, it was a miracle that this was allowed. Ken Medenbach attempted to ask a question of Shawna. "Ms. Cox, are you aware the jury has the power to weigh .." Then Judge ordered Medenbach to stop and his standby counsel to review the question. The Judge told jurors to disregard Medenbach's question. She said, "We are not going to let a defendant ask about jury nullification." Ken's response was, "And the corruption continues."
It was commented that Judge Brown seemed a bit more humble today. Maybe she's checked out how many people are signing the petition to have her impeached. Currently, the count is 1740 signatures…and climbing. The petiton can be found here. https://www.change.org/p/u-s-house-of-representatives-impeach-judge-anna-j-brown
Sheriff Richard Mack also took the stand for the defense today. He told how he did not agree with the way the occupation happened and how he mentioned that to Ammon Bundy more than once. He also talked about his attempts to talk to Sheriff David Ward about Ward's authority in the situation. It also came up that Ward had the opportunity to arrest Ammon at the refuge, but didn't.
A resident of Burns, OR, Rebecca Kingen testified about bringing her now 12 yr old son to the refuge to interview Ryan Bundy for the Desert Rat, a newspaper. I remember that day, and I also remember the mother at the time telling people that since the schools in Burns had been closed ( a terrorist act by the FBI to scare the town and demonize the stand up in the eyes of the American people) she thought he should do it as a learning experience to show him the people at the refuge. In her court testimony she said, "It could be a way to show they are just like we are."
A 1/15 email from within Governor Kate Brown's office shows there were concerns about the trip to John Day, in Grant County, to see Constitutional Sheriff Glenn Palmer. They were worried that Sheriff Palmer "will not enforce the law." Sheriff Palmer has had to endure tremendous grief since the occupation for his stand for the US Constitution.
Russell "Rusty" Hammond, son of the imprisoned Dwight Hammond, stated that his family was threated to not have any contact with Ammon Bundy. This proves that contrary to news reports, the reason the Hammonds did not speak out at the time was because of their fear of retribution from the FBI. It is known that one of the threats was to send Dwight and Steven Hammond to prison earlier than scheduled. They remain incarcerated in California.
The man at the end of the video, the person who was holding the camera for John Lamb, is one of Jake Ryan's brothers. Jake is also a defendant and is currently on pretrial release with trial beginning in February. His parents and two of his brothers were in Portland in support of the P3s one week in mid September, as well.
Court resumes tomorrow with David Fry on the stand as well as some other, so far not named witnesses. It is expected that the Defense will rest tomorrow afternoon. Then, the Feds have witnesses for rebutal on Monday, 5 have been stated, one being Harney County Judge Steve Grasty. That should be interesting. Ethan Knight, US Attorney is expected to give the closing arguments for the Feds after jury instructions on Monday.
Oregon Live's story about Shawna Cox's testimony can be found here. http://www.oregonlive.com/oregon-standoff/2016/10/oregon_standoff_defendant_shaw.html
Maxine Bernstein's twitter feed has some copies of some of the emails mentioned earlier. http://https://twitter.com/maxoregonian?ref_src=twsrc%5Egoogle%7Ctwcamp%5Eserp%7Ctwgr%5Eauthor She also tweeted "During cross of Shawna Cox, prosecutor pointed out that shit fired at Ryan Payne was a less lethal shot" She later apologized if anyone was offended by her typo. Ha! I'm not offended by the typo, I am offended by Maxine's half-assed reporting, but I appreciate her tweets nonetheless. I am greatly offended by the ongoing lack of due process throughout this case, and the obvious bias of the Judge.
Kelli Stewart also gave an update today, I will be adding that as soon as it is processed.(Here it is http://beforeitsnews.com/alternative/2016/10/bundy-update-2-former-fbi-testifies-for-defense-rusty-hammond-harney-cty-burns-residents-shawna-cox-3425002.html She gives details regarding a few more of the witnesses. I want to get this video up ASAP, so the next one will go into more detail about the other witnesses from her report.
Get to Portland if you can for these final days. The regular Friday night rally will be at the Injustice Center from 7 to 10 pm tomorrow night. I know the prisoners will be flashing their lights on all sides of the jail, many, and we hear they've been told to stop; as the rally marches. And, since David Fry is now out of solitary, he'll be back banging on his window when the bullhorn calls his name…you can hear him, and you can see him wave and flash his lights. It is quite something to see. Live streams are usually available from John Lamb https://www.facebook.com/john.lamb.16121
and Dory Dae https://www.facebook.com/dory.borck
BTW, Anna Brown has been limiting the number of witnesses the Defense may call. She actually said this in court on Oct. 13th as the Defense team was presenting potential witnesses, and getting shot down at least half the time.
"I can't even find the right adjective to describe the amount of evidence already presented by the defense showing that they did not conspire to impede Federal officials." Really, she said that. Here's her reasoning….there are too many people giving the court evidence that these "presumed innocent" people are NOT GUILTY. There's TOO MANY of them for the court to deal with. But, the 50 witnesses the Feds called were NOT too many? The 2 days of the gun parade didn't take up precious juror time? The defendants have served 8 months in jail, away from thier families and businesses, often in solitary confinement, with potentially years to come in the future if convicted; but THEIR TIME is not important enough to allow them an honest defense? How is that?
Well, I don't have an adjective for Arrogant Anna, but I do have a noun. Preponderance. Is this not then a preponderance of the evidence?? She says it is repetative and using up too much of the jury's precious time. WHAAAAAT?? Seriously, this woman!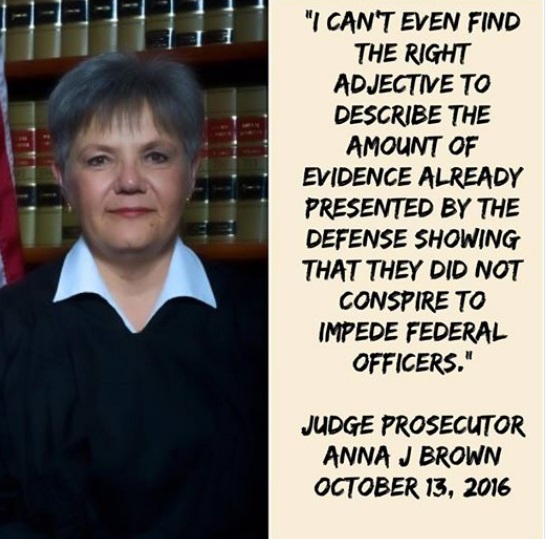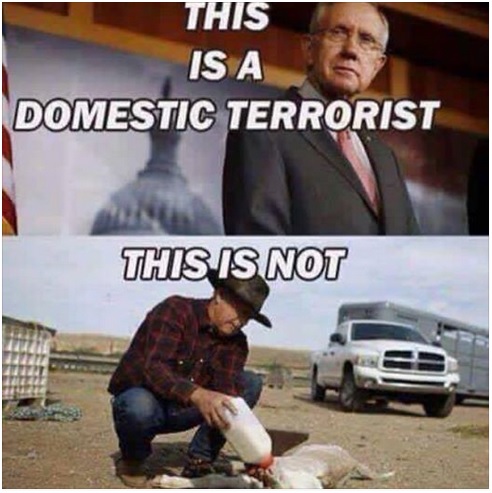 We encourage you to Share our Reports, Analyses, Breaking News and Videos. Simply Click your Favorite Social Media Button and Share.