also see here for me….I belong to an old Norwegian aristocratic ROYAL family including Count Tolstoy (Leon Tolstoy, the famous Anarchist theorician inspired the Russian Revolution but at the same time was the scion of the Chernigov Princes – 11th cent. – by far the oldest Russian royalty), Henrik Ibsen, Papal and Royal Chamberlains, many Members of the Royal Household, (Mistresses of the Robe) barons and counts, ambassadors. All those who fail to heed heaven's voice (the lottery draw of 666 below) will be thrown into hell in the end times says the Bible. Well, heaven has spoken. On the day after Obama's election the lottery in his homestate drew 666. The 666 lottery-draw also reveals that Obama's Mark of 666 means his money. Check the lottery numbers in Obama's homestate here : the Pick 3 of Nov 5, 2008 was 666, less than 24 hours after Obama's election!! Because I'm alone in revealing the lottery draw of 666, the Mark of the Beast that everybody knows is the Antichrist, that makes me the Messiah and Jesus' Second Coming. Tibetan Tantric Buddhism is the highest form of culture in the world and I follow it's Kalachakra creed. Buddhism and Hinduism never carried out war like Christianity and Islam (That's the worst thing existing in the world.) I'm working on revealing myself and my message to the world fast now so the Apocalypse blows. My message of truth and that shows the way, must be revealed not only here at BIN (the only place in the world where speech is free), but worldwide
Obama's a Muslim and Hillary endorses her donors from Muslim countries that rape people everyday.
Hillary Clinton Interrupted By A Bill Clinton Rapist Protester Again
Be This Guy: Protester Yells "Bill Is A Rapist" At Hillary's Miami Rally With Al Bore…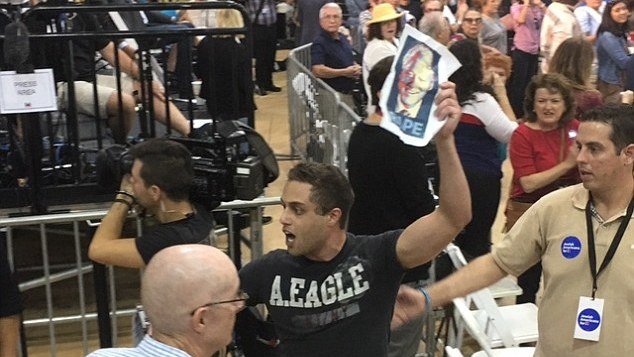 Twitter accounts being posted by Deplorables.
This is happening every single day at every rally .
Keep it up adorable deplorables!
This was the best politically spent $100,000 in US history..?
Alex Jones is a clown, sure, but this was pure genius, I gotta hand him that.
Even if ZERO cameras show the shirt it forces her into a voice tone that makes her sound HORRIBLE.
Which is what she IS.
Pure genius, I agree.
I think that it is helping get the message across to unknowing people.
Protester interrupts @POTUS screaming Bill Clinton is a rapist #ncpol "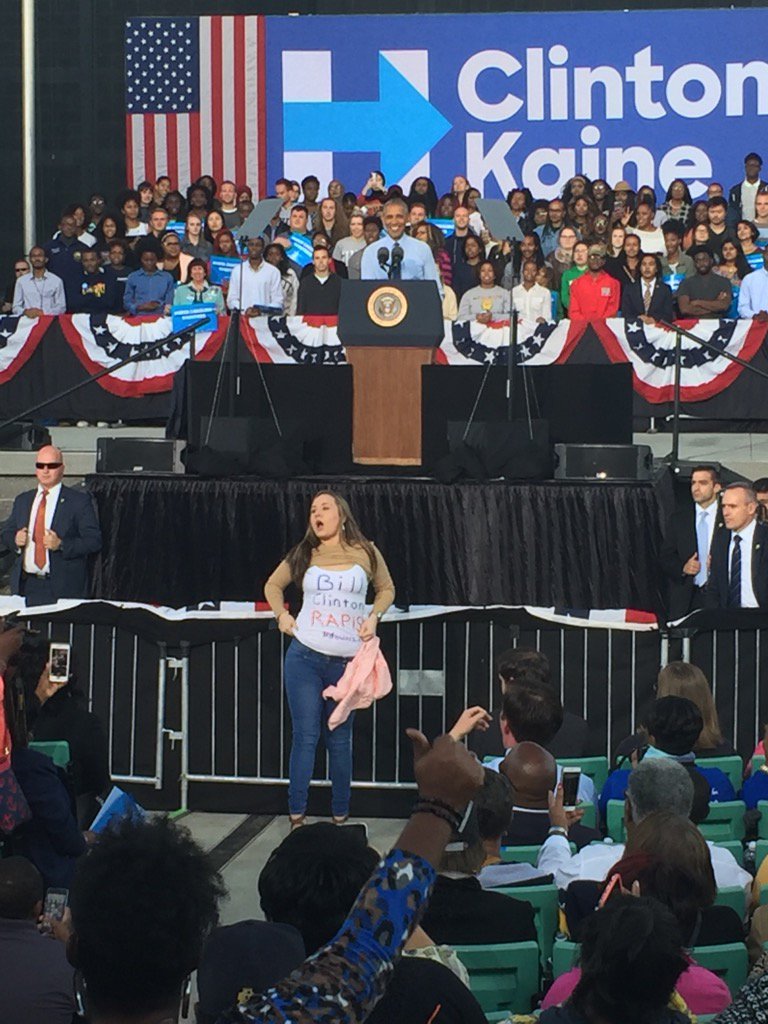 Obama campaigning in Greensboro for the witch today.
We encourage you to Share our Reports, Analyses, Breaking News and Videos. Simply Click your Favorite Social Media Button and Share.