also see here for me….I belong to an old Norwegian aristocratic ROYAL family including Count Tolstoy (Leon Tolstoy, the famous Anarchist theorician inspired the Russian Revolution but at the same time was the scion of the Chernigov Princes – 11th cent. – by far the oldest Russian royalty), Henrik Ibsen, Papal and Royal Chamberlains, many Members of the Royal Household, (Mistresses of the Robe) barons and counts, ambassadors. All those who fail to heed heaven's voice (the lottery draw of 666 below) will be thrown into hell in the end times says the Bible. Well, heaven has spoken. On the day after Obama's election the lottery in his homestate drew 666. The 666 lottery-draw also reveals that Obama's Mark of 666 means his money. Check the lottery numbers in Obama's homestate here : the Pick 3 of Nov 5, 2008 was 666, less than 24 hours after Obama's election!! Because I'm alone in revealing the lottery draw of 666, the Mark of the Beast that everybody knows is the Antichrist, that makes me the Messiah and Jesus' Second Coming. Tibetan Tantric Buddhism is the highest form of culture in the world and I follow it's Kalachakra creed. Buddhism and Hinduism never carried out war like Christianity and Islam (That's the worst thing existing in the world.) I'm working on revealing myself and my message to the world fast now so the Apocalypse blows. My message of truth and that shows the way, must be revealed not only here at BIN (the only place in the world where speech is free), but worldwide
Below is the news of the apocalyptic news of the referendum in Hungary by which Islam is being booted out of Europe. It's not being carried by the mainstream news. You're reading right here only. Hurry to spread it because that's the Apocalypse right in that news! Muslim Obama the Antichrist is defeated by that news! This is good news. Obama himself also says he's thought to be the Antichrist by people and people tell him so. He's the Hideous Beast of the Bible.
The hideous beast will rise out of the ocean.
Obama draws a 'straight line' between Palin and Trump: GOP's 'fever just seems to get worse'
Excerpt (from below): People on the right say to me: 'Obama's a perfectly reasonable guy, but we just can't work with him because our base thinks he's the Antichrist,'
President Barack Obama takes part in a town hall on July 14, 2016.
President Barack Obama said he faced a candidate similar to Donald Trump eight years ago in his first White House bid — and he said they're both symptomatic of the deeper problems within the Republican Party.
"I see a straight line from the announcement of Sarah Palin as the vice-presidential nominee to what we see today in Donald Trump — the emergence of the Freedom Caucus, the Tea Party and the shift in the center of gravity for the Republican Party," Obama told Jonathan Chait in a lengthy New York magazine interview.
He's not terribly optimistic that the GOP will change without some serious soul searching — regardless of who wins the Nov. 8 election.
"Whether that changes, I think, will depend in part on the outcome of this election, but it's also going to depend on the degree of self-reflection inside the Republican Party," Obama said. "There have been at least a couple of other times that I've said confidently that the fever is going to have to break, but it just seems to get worse."
Obama said he has gotten along with individual Republicans during his presidency, but conservative media insist on an ideology purity that makes compromise impossible.
"We can have really great conversations and arrive at a meeting of the minds on a range of policy issues, but if they think they're going to lose seats or that they're going to lose their own seat because the social media has declared that they sold out the Republican Party, then they won't do it," he said.
Obama cited two examples of GOP politicians who were punished for associating with him in public.
"They're looking at Charlie Crist down in Florida," he said. "One hug [from me] and he was toast. Chris Christie couldn't get his presidential race launched — it was basically over before it started — because he was too friendly and cooperative with me in accepting federal aid for a state that had been devastated by a hurricane."
"They're imagining the potential problems that arise, so it's pretty hard for them to publicly say, 'Obama's a perfectly reasonable guy, but we just can't work with him because our base thinks he's the Antichrist,'" Obama continued. "It's a lot easier for them to say, 'Oh, the guy's not listening to us,' or, 'He's uncompromising.'"
Obama said he understands that and isn't particularly troubled by that dynamic, and he even offers to help by attacking his GOP friends in public.
"Sometimes I tease them about it behind the scenes," he said. "I'll tell them, 'Look, if you need some help, me attacking you or you know.' And the times where we have gotten things done, it has been very important for me to, frankly, help them try to manage their base."
https://www.follownews.com/obama-draws-a-straight-line-between-palin-and-trump-gops-fever-just-seems-to-get-worse-1xl6o
Updated breaking news! Referendum results are in! Hungary votes by 95% to overwhelmingly reject mandatory EU migrant plan.
Apocalypse Came Now! Hungary Referendum Pushed Back Devil Of Islam. Delivers Antichrist Obama Final Defeat.
Why is the Hungary referendum the death knell of Obama's Rule?
Well, it blocks Muslims from entering Europe and will lead to the beginning of mass-deportations starting fast afterwards.
This is a block to Obama himself who's a Muslim.
It further blocks blacks from entering Europe.
Obama's a black.
Hungary is the most Antisemitic country in the world having a heavy Antisemitic past such as the dark period of George Soros' appropriating the wealth of fellow Jews aided by the Nazis.
Obama's Jewish by his family-relatives.
The Hungary referendum is a slap in the face to the European Socialist imperalist agenda.
Obama's a Socialist. Like Hitler who was National Socialist and Stalin who was a Red Socialist. Socialists have to endorse the burden of guilt they bear towards Socialism's dark past.
So the referendum slaps Obama four times as a Muslim, black, Jew and Socialist.
Thus Antichrist Obama is defeated four times by this referendum, leaving him no more air to breath and to spread his evil Satanical work.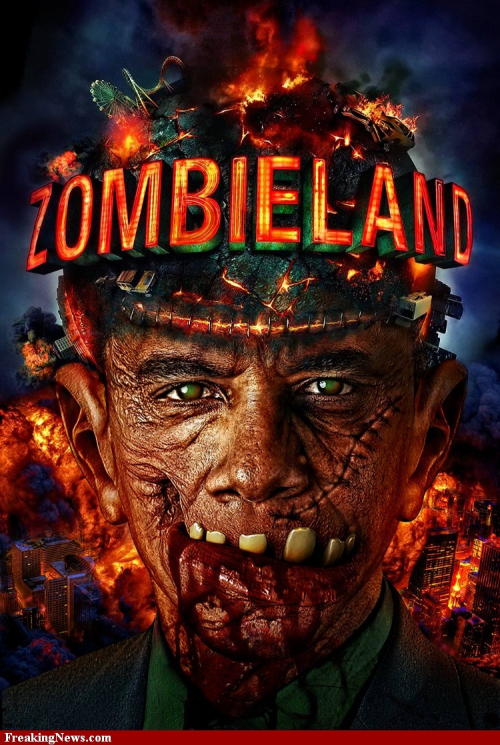 Obama's Islam was booted out of Europe yesterday. Victory over Antichrist has come now. Obama's the Antichrist.
98 percent of voters reject EU refugee quota plan
We encourage you to Share our Reports, Analyses, Breaking News and Videos. Simply Click your Favorite Social Media Button and Share.