Headline: Bitcoin & Blockchain Searches Exceed Trump! Blockchain Stocks Are Next!
also see here for me….I belong to an old Norwegian aristocratic ROYAL family including Count Tolstoy (Leon Tolstoy, the famous Anarchist theorician inspired the Russian Revolution but at the same time was the scion of the Chernigov Princes – 11th cent. – by far the oldest Russian royalty), Henrik Ibsen, Papal and Royal Chamberlains, many Members of the Royal Household, (Mistresses of the Robe) barons and counts, ambassadors. All those who fail to heed heaven's voice (the lottery draw of 666 below) will be thrown into hell in the end times says the Bible. Well, heaven has spoken. On the day after Obama's election the lottery in his homestate drew 666. The 666 lottery-draw also reveals that Obama's Mark of 666 means his money. Check the lottery numbers in Obama's homestate here : the Pick 3 of Nov 5, 2008 was 666, less than 24 hours after Obama's election!! Because I'm alone in revealing the lottery draw of 666, the Mark of the Beast that everybody knows is the Antichrist, that makes me the Messiah and Jesus' Second Coming. Tibetan Tantric Buddhism is the highest form of culture in the world and I follow it's Kalachakra creed. Buddhism and Hinduism never carried out war like Christianity and Islam (That's the worst thing existing in the world.) I'm working on revealing myself and my message to the world fast now so the Apocalypse blows. My message of truth and that shows the way, must be revealed not only here at BIN (the only place in the world where speech is free), but worldwide
Now Serbia and Czech Republic join call to reject migrants in wake of Hungary's decisive vote again EU quotas
A woman walks with her dog in front of the Hungarian goverment's referendum poster regarding EU migrant quotas in Budapest
Viktor Orban speaks after referendum 1080p
Hungary's emphatic vote to scrap EU migrant quotas has triggered a "domino effect" of anti-refugee sentiment across eastern Europe, with the leaders of Serbia and the Czech Republic joining calls to reject migrants from the bloc on Monday.
More than 98% of Hungarians voted to scrap the Brussels-imposed quotas in Sunday night's referendum, though it failed to meet the turnout threshold and was declared invalid.
Despite this, Viktor Orban, Hungary's hardline conservative prime minister, says he will push ahead with changing the constitution so that it is impossible for the EU to settle migrants in the country.
"Hungarians have written history…more Hungarians have supported the "No" this time than the EU membership in 2003," he said on Monday.
He appeared to be comparing the 3.2m "No" voters in Sunday's referendum against the 3m people who opted to join the EU in a referendum held 13 years ago.
EU discord following Hungary migrant vote? Parliament and Commission react
The EU appears to be in discord following Hungary's vote on migrant quotas. European Parliament President Martin Schulz called on the Union to engage in "dialogue to deliver solutions, not artificial tensions."
==Citizens in #Hungary #referendum did not heed #Orban's call. What EU now needs is dialogue to deliver solutions, not artificial tensions— EP President (@EP_President) October 3, 2016
==
However, spokesperson for the Commission, Margaritis Schinas, said Budapest mus…
READ MORE : http://www.euronews.com/2016/10/03/eu…
Hungarian Prime Minister Viktor Orban answers to the journalists in front of a polling station at a school in Budapest
Now Serbia, which hopes to join the bloc in the future , has threatened to shut down its borders entirely – even if it means incurring the wrath of Brussels.
The number of migrants in Serbia has risen to 3,000 since last July and many are unable to leave as neighbouring countries have shut the borders, leading to mounting tensions and violence in refugee camps.
"If Serbia becomes a funnel from which water cannot drain because others further along have shut their own borders, Serbia must shut down its own (borders) regardless of its convictions," Tomislav Nikolic, the Serbian president, said on Monday.
And in the Czech Republic, president Milos Zeman demanded on Monday that the hundreds of thousands of economic migrants who have arrived in Europe since the start of last year be deported.
He said they should be moved to "empty places" such as North Africa or to "uninhabited Greek islands," in an interview with the Financial Times.
"I am for deportation of all economic migrants," he said, going on to suggest that Muslim migrant culture was "fundamentally incompatible" with European society.
The remarks indicate that both countries have been emboldened by the referendum result, which Mr Orban has hailed as a victory for Hungary's independence and sovereignty.
Edit Piros, an ethnic Hungarian from Romania, who moved to Hungary from Transylvania, central Romania, exits a voting cabin after voting in the referendum
However, human rights groups have warned that the "xenophobic and discriminatory" rhetoric used in the referendum campaign has spread to neighbouring countries.
"It is a worrying that there is this domino effect. What is happening in Hungary is not specific to Hungary," Juliana Wahlgren, a senior officer at the European Network Against Racism, told the Telegraph.
"We are seeing it also in the UK after Brexit, in the Nordic countries, and in eastern European countries."
It comes as the European Union said it had finalised a deal with Afghanistan to speed the return of Afghans who do not qualify for asylum, just ahead of a donor conference in Brussels for the war-torn country.
Under the deal, announced on Monday afternoon, Afghanistan must readmit citizens not permitted to stay in Europe and supply travel documents for migrants without papers within a month.
The costs for sending people back will be covered by the EU.
Hungary Votes Against Migrant Quotas Video NYTimes com
The Hungarian prime minster, Viktor Orban, celebrated the referendum's outcome Sunday, which showed overwhelming support for his hard line on immigration, though too few voters turned out for the results to be legally valid.
The European Commission has also announced a 160m euro funding boost for Hungary, in an apparent bid to placate those frustrated by the migrant crisis.
The extra funding, which is guaranteed by the European Investment Fund (EIF), will provide loans to prop up 2,000 small businesses in Hungary's ailing farming industry.
Tibor Navracsics, the EU's education and culture commissioner, said he was "delighted" to see Hungary was being given extra funds.
"I encourage Hungarian businesses to make the most of this opportunity and use these loans to boost economic growth and job creation," he said.
Muslim, black, Jew, Socialist Obama the Antichrist, is blocked by the Hungarian referendum voting 98% to block the mandatory EU migrant plan.
Why is the Hungary referendum the death knell of Obama's Rule?
Well, it blocks Muslims from entering Europe and will lead to the beginning of mass-deportations starting fast afterwards.
This is a block to Obama himself who's a Muslim.
It further blocks blacks from entering Europe.
Obama's a black.
Hungary is the most Antisemitic country in the world having a heavy Antisemitic past such as the dark period of George Soros' appropriating the wealth of fellow Jews aided by the Nazis.
Obama's Jewish by his family-relatives.
The Hungary referendum is a slap in the face to the European Socialist imperalist agenda.
Obama's a Socialist. Like Hitler who was National Socialist and Stalin who was a Red Socialist. Socialists have to endorse the burden of guilt they bear towards Socialism's dark past.
So the referendum slaps Obama four times as a Muslim, black, Jew and Socialist.
Thus Antichrist Obama is defeated four times by this referendum, leaving him no more air to breath and to spread his evil Satanical work.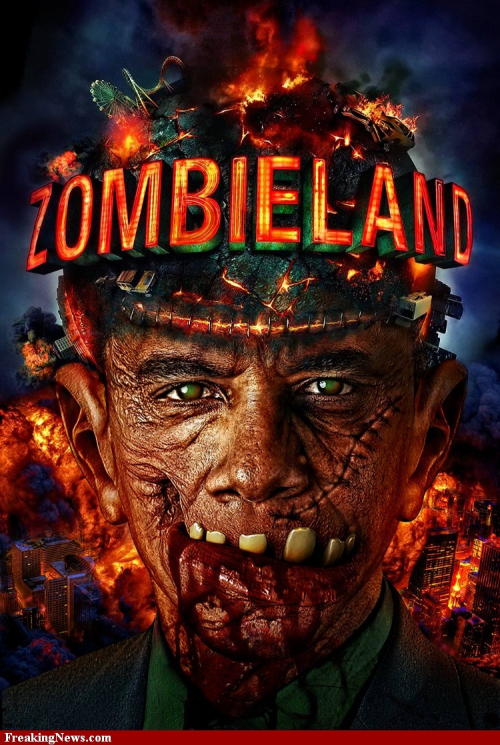 Obama's Islam was booted out of Europe yesterday. Victory over Antichrist has come now. Obama's the Antichrist.
98 percent of voters reject EU refugee quota plan
We encourage you to Share our Reports, Analyses, Breaking News and Videos. Simply Click your Favorite Social Media Button and Share.