The Russians Didn't Do It…..
According to Steve Pieczenik and Alex Jones some good American Heros within various Intelligence, Law Enforcement and Millitary Agencies within the U.S. have been feeding Julian Assange and Wikileaks all the emails that are devastating the DNC and all the septic tank scum associated with the Clinton/Sorros Crime Cabal…..not the Russians.
By the way, everytime that I went to the Norse Attack Map during the recent web attacks and blackouts, 95% of the attacks were coming from within the U.S. and very little was coming from Russia or any of their associated countries.
The constant drone of accusations, demonizing and villainizing of Putin and Russia is exposing who the true demonics are……..the ones who are screaming the loudest and attempting to divert attention away from their own criminal activities.
I believe there is a far greater probability of the Luciferian Zio-Clinton crew popping off a nuke or two in N.Y.C. or elsewhere in the U.S. to blame on the Russians so they can hide within the ensuing chaos and fog of war.
While Putin and Russia may not be saints just as Trump is no saint, they both definitely stand upon higher moral ground than most of the rest of our criminally insane western leadership.
Oh, and even if Russia was guilty of trying to influence our thoroughly corrupted election process how is this any different from the many millions of dollars of "pay to play" contributions made to the Clinton "Crime" Foundation, by other governments, corporations, organizations and individuals ?
It's time to clean the septic tank.
Check out these articles….. http://beforeitsnews.com/alternative/2016/11/putins-new-promise-i-will-defeat-the-illuminati-3432577.html
http://www.msnbc.com/rachel-maddow-show/franklin-graham-sees-putin-moral
http://www.mintpressnews.com/putin-publish-a-world-map-and-mark-al-the-u-s-military-bases-on-it-
And Iran seems to be just as bad…………..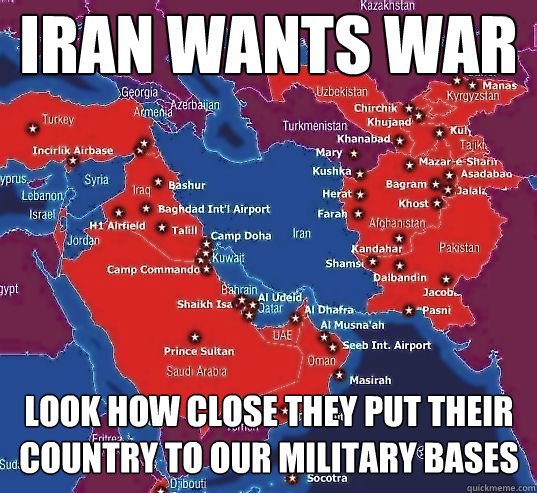 We encourage you to Share our Reports, Analyses, Breaking News and Videos. Simply Click your Favorite Social Media Button and Share.