South Dakota Representative Lynne DiSanto
South Dakota will be considering a permitless, or "Constitutional" carry bill again this year. In 2012, a bill passed both the House and the Senate, but was vetoed by Gov Daugaard. In 2012, only Alaska, Arizona, Vermont and Wyoming had Constitutional carry. In 2015, Constitutional carry passed the South Dakota House, but was killed by a Senate Committee. It passed the House 44 to 23. The Senate was controlled by Republicans, 27 to 8. Now, in 2016, Constitutional carry is expected to be introduced by Representative Lynne DiSanto. From siouxcityjournal.com:
PIERRE, S.D. — A Republican state lawmaker plans to sponsor a bill in the upcoming legislative session that would allow people who can legally carry a concealed handgun in South Dakota to do so without a permit.

Right now, it's a misdemeanor under state law for someone to carry a concealed pistol or to have one concealed in a vehicle without a permit. Rep. Lynne DiSanto said Monday that her bill is about personal protection.
Constitutional carry has made great strides since 2012. There are 11 states that have permitless or "Consititutional" carry in 2016. The graphic below is one of the best at illustrating the incremental restoration of the right to bear arms in the United States. Green indicates a permitless or "Constitutional" carry state.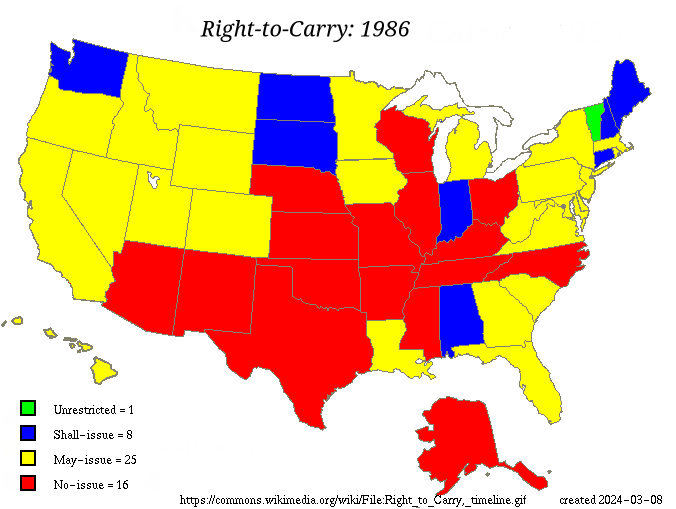 On Oct. 31, 2016, there were more than 95,000 active concealed pistol permits in South Dakota according to the secretary of state's office. The population of South Dakota in 2016 is 844,877. About 65.4% of the population is 18 or older. That would be 552,550. People with concealed carry permits are now 17% of the adult population. South Dakota's homicide rate in 2015 was 3.7 per 100,000, unusually high for South Dakota, but well below the national average of 4.9 per 100,000.
The difficulty in passing "Constitutional" carry in South Dakota is getting the bill past Governor Daugaard. Now that several other states have successfully passed permitless or "Constitutional" carry without ill effects, the bill may have a chance of becoming law.
©2016 by Dean Weingarten: Permission to share is granted when this notice is included.
Source:
http://gunwatch.blogspot.com/2016/11/south-dakota-constitutional-carry-bill.html
We encourage you to Share our Reports, Analyses, Breaking News and Videos. Simply Click your Favorite Social Media Button and Share.