THIS MORNING, TRUMP DITCHED HIS TOP CAMPAIGN PROMISE TO SEND HILLARY CLINTON TO JAIL! AFTER CHANTING 'LOCK HER UP' AT PACKED CAMPAIGN RALLIES, TRUMP TOOK ONLY 2 WEEKS AFTER ELECTION DAY TO FLIP-FLOP ON HIS CENTRAL PROMISE TO 'DRAIN THE SWAMP.'
ACCORDING TO NYPOST, TRUMP'S CAMPAIGN SPOKESMAN ANNOUNCED TODAY THAT TRUMP WILL "HELP HILLARY HEAL" INSTEAD OF SEEKING CHARGES FOR HER CRIMES (DESTRUCTION OF EVIDENCE, MONEY LAUNDERING, MOLESTATION, TREASON).
WILL HILLARY CLINTON'S MONEY LAUNDERING OPERATION (CLINTON FOUNDATION) CONTINUE TO ESCAPE JUSTICE? WILL HILLARY'S PACK OF PERVERTS, RAPISTS AND DEVIL WORSHIPPERS EVER SEE THE INSIDE OF A JAIL? CONGRESS IS SO CORRUPT, AND SO BLACKMAILED, THAT THE ANSWER IS PROBABLY 'NO.'
JOHN PODESTA, ANTHONY WEINER, HUMA ABEDIN, PLUS RAPIST BILL CLINTON, ARE DELIGHTED THAT TRUMP WON'T PURSUE HILLARY — SINCE PROSECUTING HILLARY WOULD SEND THEM ALL TO PRISON.
WHAT DOES THIS MEAN FOR TRUMP'S PRESIDENCY — AND FOR THE RULE OF LAW?
JOHN PODESTA KIDNAPPED MADELEINE MCCANN?
FOR UPDATES, SUBSCRIBE TO 'BARRY SOETORO' CHANNEL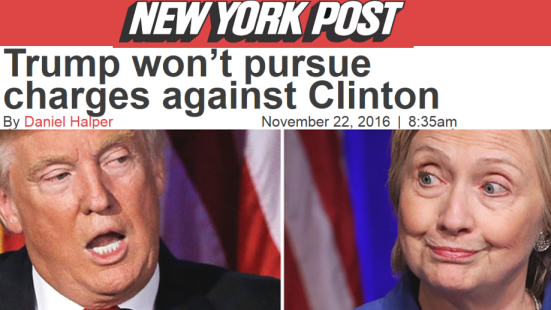 We encourage you to Share our Reports, Analyses, Breaking News and Videos. Simply Click your Favorite Social Media Button and Share.