Barack Hussein Obama Makes Martial Law Announcement?
MARTIAL LAW PLANS WITHHELD FROM CONGRESS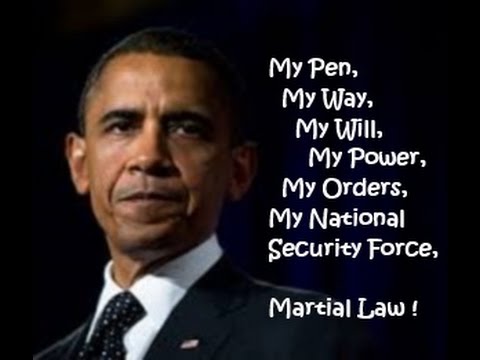 President Barack Obama's time in office has been fodder for conspiracy theorists since he stepped into the White House eight years ago, with critics questioning his place of birth and religion, among other things. Now that Republican Donald Trump will be filling Obama's seat in the Oval Office, some conspiracy theorists are certain the president will declare martial law to extend his own term and keep Trump out of office. And some anti-Trump Americans are applauding the idea.
Martial law refers to government control through the use of military force. The conspiracy developed from those who perceived Obama's occassional use of executive orders as an overreach of his power. The president doesn't need approval for executive orders and they can't be overturned by Congress. Obama has signed 256 executive orders as of October, compared with George W. Bush's 291 and Bill Clinton's 634. His orders have never created martial law.
http://www.ibtimes.com/will-obama-declare-martial-law-keep-trump-out-white-house-conspiracy-theorists-think-2444721
http://stateoftheworldreport.com/
We encourage you to Share our Reports, Analyses, Breaking News and Videos. Simply Click your Favorite Social Media Button and Share.