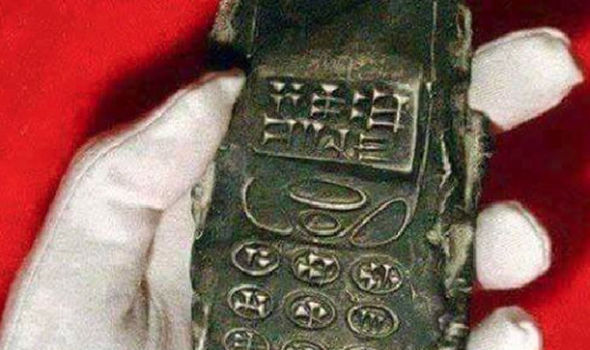 Stories filled the internet with speculation the object could even be proof of time travel.
But, now Express.co.uk can reveal just where the image came from and how it was used to spread the hoax story.
Video clips of the alleged bizarre discovery emerged in September 2015.
The conspiracy theory story accompanying the discovery claimed the object was unearthed during a dig in Austria.
It was said to be a clay copy of a mobile phone with a Sumerian writing style known as cuneiform on the keys.
YouTube channel Paranormal Crucible reported: "What is it? Is it evidence of an advanced civilisation or time travel?"
The tablet was dated to around the 13th century BCE.
By that time, the Sumerian writing style – usually known as cuneiform – had already been around for a few thousand years.
Editorial on the channel goes on to say: "Cuneiform tablets aren't unusual – an estimated two million have been excavated. The language was a mystery until the 19th century when its code was deciphered."
Cuneiform was one of the first systems of writing developed by the ancient Sumerians of Mesopotamia around 3,500BC to 3,000 BC.
When the news of the discovery broke, conspiracy website tothedeathmedia.com reported: "According to reports, during archaeological excavations at Fuschl am See, (in Salzburg), Austria, researchers unearthed a mysterious artefact from the thirteenth century with cuneiform writing that strangely resembles a cell phone.
"This type of writing is typically found in modern-day Iran or Iraq (ancient Mesopotamia).
"What a device like this with Cuneiform writing is doing in Austria is something that no one is able to fully understand or explain.
"Regrettably the information about this 'sensational' discovery is limited."
The website added: "We cannot explain what it is, whether it is real or not, but it has caught our attention and we would love to know more about it."
Some UFO hunters even pounced on the "discovery" as "evidence of aliens visiting ancient civilisations on Earth, and bringing sophisticated technology to the more primitive beings," without questioning the validity of the claims.
Scott C Waring, editor of UFO Sightings Daily, concluded: "It is evident from this cell phone like device that someone with an advanced knowledge of the future created it.
"The language is said to go back tens of thousands of years…very cool discovery."
The lack of originating detail about the footage, which just shows a white-gloved hand holding the clay sculptured object in close-up concerned most commentators, who said if it were genuine it could be proof of time travel and sensational world news.
We encourage you to Share our Reports, Analyses, Breaking News and Videos. Simply Click your Favorite Social Media Button and Share.