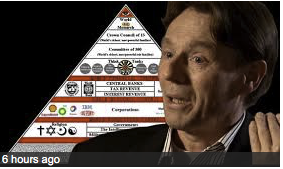 Yet again, it looks like all of us so-called crazy Conspiracy Theorists were right again. What were right about this time you may ask? As anybody who has been following GMN knows, we have been talking since about 2012 that a key group of people known as the Global Elite designed, and controls the world's monetary system in which they create fiat money which they have total control of for the purpose of indebting countries to them so they can then take all their Natural resources.
A few months ago, NeonNettle reported on the Dutch Elite Banker turned whistleblower, Ronald Bernard, who revealed the true horrors behind the financial elite groups that run the world.Bernard revealed the utterly depraved and wicked practices of the elite which included child sacrifice, rape and more.He also went on to says that human beings on this planet can be traced back to a predatory state or elite entity which is immune from the rule of law via privilege given to them through the state."All misery on earth is a business model.""Syria is a business model," Bernard says. "It is about resources and some other interests."
Freethoughtproject reports: While his interview De Vrije Media in April touched on the utterly murderous and insane practices of the elite, a new interview released this month goes much deeper. In the second interview, Bernard explains how and why the ruling class are able to maintain this control while committing horrid crimes, and while extracting wealth from the citizens through unscrupulous and illegal means, all the while maintaining immunity from the law.They're "like a bunch of vampires, that is what it is. In 20 years they already stole 100% of the real value. This is what caused the national debts to increase, you will see everywhere, with individuals, that those debts keep growing," Bernard explains as he details our current situation."Then reports start showing up, like Oxfam Novib after a global research did show that 8 people own as much as half the people in the world. How is this possible?" he asks. "It's not just speculation, it's the interest rate that takes the real actual value and adds it to the capital at the top."He is correct, 8 people own more wealth than half the world and it is because the system they built is set up to funnel wealth upwards. These people robbing the masses with impunity is entirely possible, as Bernard explains, because they operate outside of normal laws.What Bernard is referring to in the quote above is illustrated on nearly a daily basis. We see bankers across the planet get exposed for funding terrorism, human trafficking, money laundering for drug cartels, and employing a scheme of wholesale robbery against the commoner. When these criminals are caught — and even admit to their crimes — they are let off with no accountability. Bernard then goes on to make a powerful yet ominous statement."All misery on earth is a business model."
http://www.neonnettle.com/features/993-elite-banker-all-the-world-s-suffering-is-designed-on-this-business-model
http://thepetesantillishow.com
https://www.facebook.com/petesantillinotguilty/
http://thepetesantillishow.com/donate/
We encourage you to Share our Reports, Analyses, Breaking News and Videos. Simply Click your Favorite Social Media Button and Share.