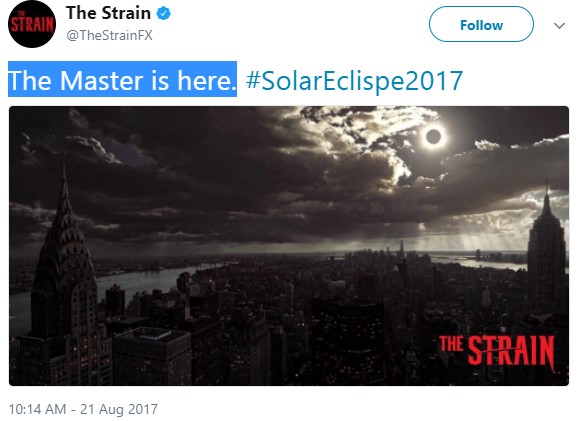 During the Eclipse, while the maximum number of Americans were under a single linear geographic location, NASA released 50 ballons across the US that contained a little known bacteria. If you have not heard this news yet, let me fill in the details and share with you breaking information. (video below)
The bacteria is one of a kind, highly resistant to dry heat, and seemed to be depicted in the zombie apocalypse FX series The Strain. In the series, two eclipses are mentioned, the second by its exact date of the upcoming 2024 American eclipse event. The first eclipse mentioned in the series, brings in the Master. The FX Strain team was sure to tweet this out on the day of the eclipse, leaving little room for speculation (top). So, who is "The Master"? Well, he survived a nuclear bomb, just as the real life spore that was released over the US could.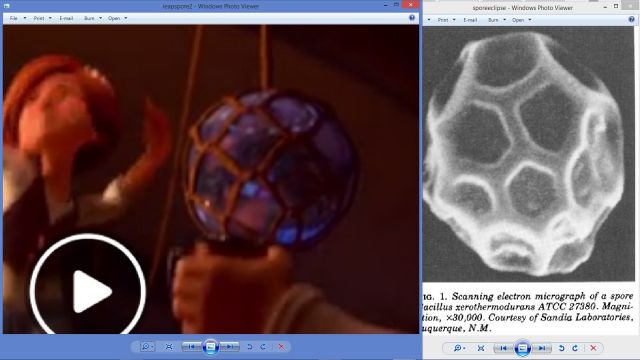 Then, in another strange coincidence, the spore reemerged in the animated film Ballerina (Leap) that released in America only a few days after the eclipse. The video below explains in detail. In the film, they say the words bacterial mutation and associate it with an upper respirtory infection as the boy wipes his nose after saying it. Variants of this bacteria have been known to mutate and even infect humans when exposed to extreme conditions. So, why has NASA launched such a bacteria right over the heads of millions of Americans? The animation also depicts the actual spore in a light fixture as the main character dances on a bar! (above).
I am not sure what all this means, but our eyes are peeled for the reemergence of this spore. It's effects could be masked by an exceptionally lethal flu season.
We encourage you to Share our Reports, Analyses, Breaking News and Videos. Simply Click your Favorite Social Media Button and Share.