In case you missed it, prolific hip-hop artist Eminem performed a 'freestyle' rap against Donald Trump as part of a special presentation during a BET (Black Entertainment Television) Awards show. Unfortunately, it was as tasteless and ignorant as you can imagine.
Click here to view video on YouTube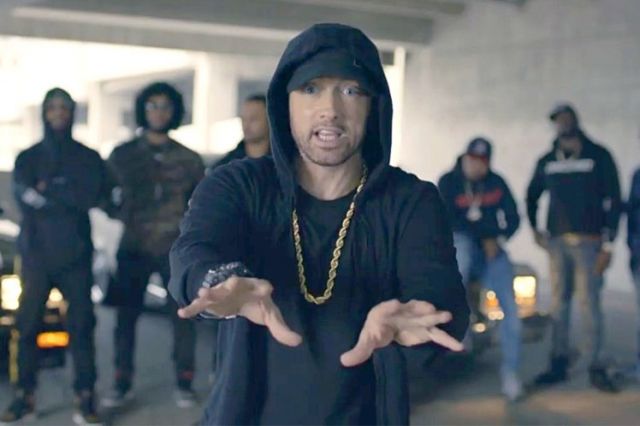 The following is a list of lyrical highlights:
Dumping a hot coffee pot on Trump… probably not until I come up with a solid plot.
(When did it become acceptable to threaten violence against a president?)
Got a plan, hatch it like an Apache with a tomahawk. Walk inside a mosque on Ramadan and say a prayer.
(Did Eminem convert to Islam? Why is this one of the first things he wants to communicate? Say a prayer for who or what?)
Give Obama props because what we got in office might cause a nuclear holocaust. Then (Trump) will fly around until the bombing stops.
(While there exists a potential probability of nuclear warfare, it would be based on the actions of a small-time dictator in North Korea. To be fair: had Hillary won, it would have been an infinitely more serious situation versus The Russians).
Trump doesn't have the balls to go against Eminem.
(Laughably unlikely, and we look forward to the Donald's response).
Racism is the only thing he's fantastic for and that's how he gets his rocks off.
(We are still waiting for any proof of the Donald's alleged racism).
Attacking the NFL so we don't focus on Puerto Rico or gun reform for Nevada. Would rather cause a twitter storm with the Packers.
(Does he seriously believe Trump is distracting us from Puerto Rico?) (Sorry Eminem, but The Mandalay massacre happened after the NFL controversy).
He endorsed Bannon and supports the Klansmen?
(The Bannon/bogeyman allegations still have no basis in reality. Trump has also disavowed the Klan, white-supremacists, and David Duke multiple times).
Black soldier comes home from Iraq and is told to go back to Africa?
(I don't understand the reference, but it's a horrible thing to say to stir up the BET crowd).
Fork and dagger in this racist? Old grandpa ignoring our past?
(More inappropriate racist hatred)
If you're a black athlete you're a spoiled brat for using your platform? Giving those a voice who don't have one? Claims you're spitting in the face of vets who fought for us?
(Colin Kaepernick was allowed to use his platform, and America responded by rejecting his message. Who was he giving a voice to by by kneeling during the anthem? How many people were offended by unsung lyrics, or even knew that they even existed? And how is that a justification to make a national spectacle of himself?)
This is for Colin, Donald's a bitch.
(One is an American icon who loves this country and its veterans. The other is an ignorant, spoiled brat).
He's gonna get rid of immigrants, build up a wall… and Eminem will throw that piece of s**t against the wall until it sticks.
(Donald has pledged to get rid of some illegal immigrants. Key word: illegal).
Any fan of mine who's a supporter of his, I'm drawing a line in the sand. You're either for or against, and if you can't decide who you like more, and you're split on who you should stand… I'll do it for you with this: F**k you!
(Let's hope your fans are more educated, informed, and reasonable than you are… and start abandoning you in droves).
The rest of America stand up. We love our military. We love our country, but we fucking hate Trump!
(You can speak for yourself, but please don't include the rest of us).
Conclusion? Eminem is frighteningly ignorant, and is fanning the flames of racial division in front of a largely black-American audience. It is wildly inappropriate, hateful, and irresponsible. There are plenty of things to criticize concerning the president, but the unfounded accusations of racism are completely unacceptable. While I don't believe that President Trump needed to involve himself in the NFL controversy, Colin Kaepernick is a national disgrace that started this all in the first place. He has disrespected the NFL, its fans, the vets, the police, and the vast majority of Americans. He has been given the freedom to protest the anthem, mock the police as pigs, and donned a shirt featuring a Communist dictator. For most of us, that would be three strikes. For Eminem however, it's a chance to score points with the black community to further divide them against our president. Shameful.
Even more shameful is Eminem's "baphomet" profile picture on his twitter page: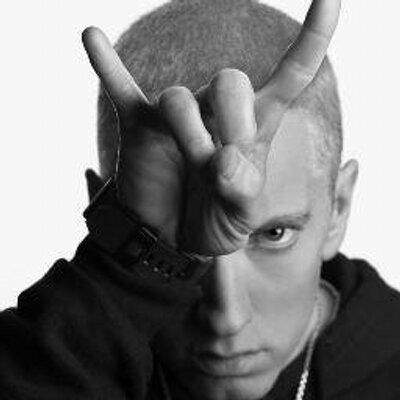 About Blake Walley: Blake is a cutting-edge citizen-journalist based in Las Vegas, Nevada, interested in pursuing and sharing important information about the world we live in. Blake is a syndicated contributer on several Alternative Media websites, as well as a skilled video producer and documentary film editor. To stay connected to Blake Walley, visit eccentricperspective.com
Website: EccentricPerspective.com
Twitter: @eccentric99
We encourage you to Share our Reports, Analyses, Breaking News and Videos. Simply Click your Favorite Social Media Button and Share.