Episode #1135 – The Pete Santilli Show – Monday – November 20, 2017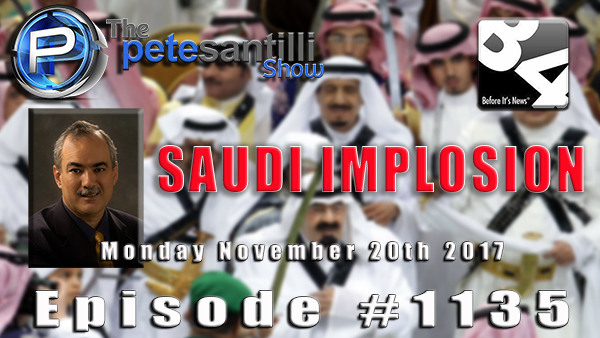 By Pete Santilli, The Pete Santilli Show
The Pete Santilli Show is a widely distributed "social media broadcast" that is hosted by Pete Santilli and Deb Jordan. The show has made groundbreaking strides in the field of social media broadcasting by outperforming Mainstream Media with the flow of information during breaking national news. The show can be seen Sunday thru Friday beginning @ 7:00 PM EST.
---
JOIN US STREAMING LIVE STARTING @ 7:00 PM EASTERN:
YOUTUBE LINK: https://youtu.be/eG2YMm0Qn78
TONIGHT'S FEATURED GUEST:
Walid Shoebat:
Walid Shoebat was by his own admission a radicalized Muslim who was willing to die for the cause of Jihad — that is before he converted to Christianity in 1994.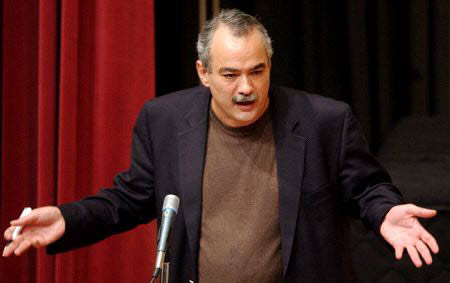 Walid says that – Mainstream Muslim organizations that purport to act in the interests of our nation as loyal citizens are beyond a doubt, doing quite the opposite. His mother an American, and father a Palestinian Arab – Sent him to the United States to study at Loop College in Chicago Illinois that is where he says he was recruited at a hotel "Terror Conference" by Jamal Said, a founder of the IAP (Islamic Association of Palestine) and Imam at one of the largest mosques in Chicago. Walid is one of the foremost experts on the radicalization of Islam the world has ever known. His first hand experiences with the radical side of the Muslim religion and his eventual conversion to Christianity gives a clear and overwhelming view of just exactly what being a Muslim in America means to the average citizens who hear the message that not all Muslims are terrorists.
THE BUZZ:
Report: Muslim Gangs Are Systematically Raping, Torturing And Dismembering Christians In Nigeria So Much It Is At The Level Of Genocide
The ongoing killings and rape of Christian men, women and children in Nigeria at the hands of Fulani herdsmen deserve to be called "ethnic cleansing," two prominent persecution watchdog groups argue.
The report, compiled by Open Doors International and Voice of the Martyrs Canada and released earlier in November, listed the increasingly violent crimes against Christians by Fulani herdsmen in Nigeria's central state of Benue, including gang rapes of girls and torture of boys.
Nurses Laugh At 89-Year-Old World War Ii Veteran As He Repeatedly Cries 'Help I Can't Breath', They Watch Him Die And Then Walk Away
Video has just been released of two nurses laughing at an 89-year-old World War II Veteran as he is struggling to breath and gasping 'Help I can't breathe.' They then watched him die and did nothing to help him, walking out of the room and leaving his body until they called for help over an hour after he had already been dead according to a recent report:
Christian' Minister Says God Is 'A Power Hungry, Exploitative Pedophile And Serial Sexual Abuser' And 'Mary Was Raped, Jesus Is A Rape Baby'
TOPIC LINKS
http://shoebat.com/2017/11/16/report-muslim-gangs-are-systematically-raping-torturing-and-dismembering-christians-in-nigeria-so-much-it-is-at-the-level-of-genocide/
http://shoebat.com/2017/11/16/nurses-laugh-at-89-year-old-world-war-ii-veteran-as-he-repeatedly-cries-help-i-cant-breath-they-watch-him-die-and-then-walk-away/
http://shoebat.com/2017/11/15/christian-minister-says-god-is-a-power-hungry-exploitative-pedophile-and-serial-sexual-abuser-and-mary-was-raped-jesus-is-a-rape-baby/
---
Want to see more articles like this one? Please consider becoming a supporter of our work & check out the following links:




---
Important Disclaimer: Pete Santilli & Deb Jordan are radio talk show hosts who share and comment on trending political news and current events with a listening audience. The information is obtained by way of public domain and their opinions are merely shared or distributed as a service to subscribers and the general public. It is impossible to screen every listener and or those who participate by subscribing, commenting in a chatroom, or calling into their live broadcasts. Some of the topics and language used may be steeped in controversial theory, and the opinion of the hosts may be deemed by some as offensive. However, they fully support a person's right to unsubscribe, not engage, or have an opposing view. While they may indulge in thought provoking conversation and agree or disagree with a guest or audience member who has been stimulated to an emotional response, it is not their intention to incite a person or group of people to any action that would be deemed illegal in the eyes of law enforcement.
Links to today's article: http://sbn.buzz/headlines
Visit Our Website: http://sbn.buzz
BeforeItsNews.com Articles: http://sbn.buzz/news
Important Links to Share: http://sbn.buzz/links
Daily News Headlines: http://sbn.buzz/headlines
Subscribe To Our Youtube Channel: http://sbn.buzz/youtube
Audio Download: http://sbn.buzz/podcast
Daily Live Show: http://sbn.buzz/live
Support The Pete Santilli Show: http://sbn.buzz/insider
Like Our Facebook Page: http://sbn.buzz/facebook
Follow Us on Twitter: http://sbn.buzz/twitter
We encourage you to Share our Reports, Analyses, Breaking News and Videos. Simply Click your Favorite Social Media Button and Share.