12 Rules Of Christmas – The War On Christianity
Episode #1148 – The Pete Santilli Show – Wednesday – December 06, 2017
By Pete Santilli, The Pete Santilli Show
The Pete Santilli Show is a widely distributed social media broadcast that is hosted by Pete Santilli and Deb Jordan. The show has made groundbreaking strides in the field by outperforming Mainstream Media with the flow of information during breaking national news. The show can be seen Sunday thru Friday beginning @ 7:00 PM EST.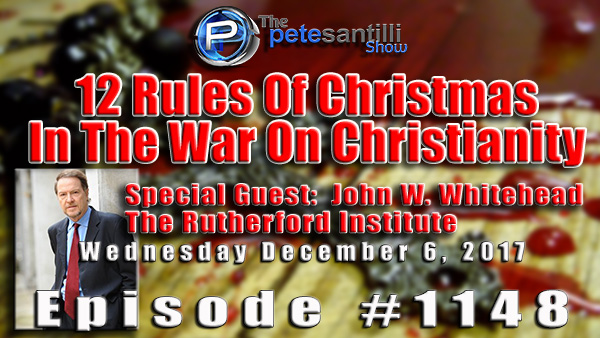 ---
JOIN US STREAMING LIVE STARTING @ 7:00 PM EASTERN:
SHARE LINK https://youtu.be/y0eBDTc2XMU
TONIGHT'S FEATURED GUEST JOHN WHITEHEAD
John W. Whitehead is an attorney and author who has written, debated and practiced widely in the area of constitutional law and human rights. Whitehead's concern for the persecuted and oppressed led him, in 1982, to establish The Rutherford Institute, a nonprofit civil liberties and human rights organization whose international headquarters are located in Charlottesville, Virginia. Whitehead serves as the Institute's president and spokesperson, in addition to writing a weekly commentary that is posted on The Rutherford Institute's website (www.rutherford.org), as well being distributed to several hundred newspapers, and hosting a national public service radio campaign. Whitehead's aggressive, pioneering approach to civil liberties issues has earned him numerous accolades, including the Hungarian Medal of Freedom. Whitehead has been the subject of numerous newspaper, magazine and television profiles, ranging from Gentleman's Quarterly to CBS' 60 Minutes. Articles by Whitehead have been printed in the New York Times, Los Angeles Times, the Washington Post and USA Today, among others. Whitehead gained international renown as a result of his role as co-counsel in Paula Jones' sexual harassment lawsuit against President Clinton.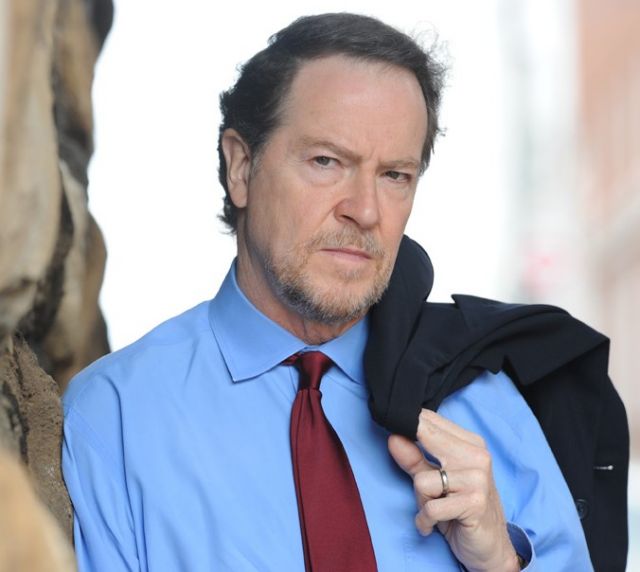 Whitehead continues to speak out in defense of a woman's right to be free from sexual harassment and frequently comments on a variety of legal issues in the national media. He has been interviewed by the following national and international media (partial list): Crossfire, O'Reilly Factor, CNN Headline News, Larry King Live, Nightline, Dateline, The Today Show, Good Morning America, CBS Evening News, CBS This Morning, This Week with Sam and Cokie, Rivera Live, Burden of Proof, Late Edition with Wolf Blitzer, FOX News Sunday, Hardball, the New York Times, the Washington Post, the Wall Street Journal, USA Today, National Public Radio, BBC Newsnight, BBC Radio, British Sky "Tonight" and "Sunday," TF1 (French TV) and Greek national television. The author of numerous books on a variety of legal and social issues, as well as pamphlets and brochures providing legal information to the general public, Whitehead has also written numerous magazine and journal articles. Whitehead's most recent books include Battlefield America: The War on the American People and A Government of Wolves: The Emerging American Police State. In addition, he wrote and directed the documentary video series Grasping for the Wind, as well as its companion book, which focus on key cultural events of the 20th Century. The series received two Silver World Medals at the New York Film and Video Festival and is now available on DVD. Whitehead has filed numerous amicus briefs before the U.S. Supreme Court. He has also been co-counsel in several landmark Supreme Court cases as well. His law reviews have been published in Emory Law Journal, Pepperdine Law Review, Harvard Journal on Legislation, Washington and Lee Law Review, Cumberland Law Review, Tulsa Law Journaland the Temple University Civil Rights Law Review. Born in 1946 in Tennessee, John W. Whitehead earned a Bachelor of Arts degree from the University of Arkansas in 1969 and a Juris Doctorate degree from the University of Arkansas School of Law in 1974. He served as an officer in the United States Army from 1969 to 1971.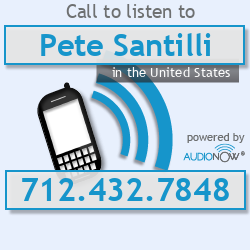 ---
Want to see more articles like this one? Please consider becoming a supporter of our work & check out the following links:




---
Important Disclaimer: Pete Santilli & Deb Jordan are radio talk show hosts who share and comment on trending political news and current events with a listening audience. The information is obtained by way of public domain and their opinions are merely shared or distributed as a service to subscribers and the general public. It is impossible to screen every listener and/or those who participate by subscribing, commenting in a chatroom, or calling into their live broadcasts. Some of the topics and language used may be steeped in controversial theory, and the opinion of the hosts may be deemed by some as offensive. However, they fully support a person's right to unsubscribe, not engage, or have an opposing view. While they may indulge in thought provoking conversation and agree or disagree with a guest or audience member who has been stimulated to an emotional response, it is not their intention to incite a person or group of people to any action that would be deemed illegal in the eyes of law enforcement.
Links to today's article: http://sbn.buzz/headlines
Visit Our Website: http://sbn.buzz
BeforeItsNews.com Articles: http://sbn.buzz/news
Important Links to Share: http://sbn.buzz/links
Daily News Headlines: http://sbn.buzz/headlines
Subscribe To Our Youtube Channel: http://sbn.buzz/youtube
Audio Download: http://sbn.buzz/podcast
Daily Live Show: http://sbn.buzz/live
Support The Pete Santilli Show: http://sbn.buzz/insider
Like Our Facebook Page: http://sbn.buzz/facebook
Follow Us on Twitter: http://sbn.buzz/twitter
We encourage you to Share our Reports, Analyses, Breaking News and Videos. Simply Click your Favorite Social Media Button and Share.