If you have been following the news then you realize that the Jews just won a Historic Court case allowing for Prayer on top of the Temple Mount and they must now be protected by the Israeli Police. This court battle which was brought on by Rabbi Yehuda Glick may seem just a small blip on the historical radar for most people, but make no mistake that it is actually a huge milestone for the Jewish nation that regard all of Jerusalem as it's Capital City.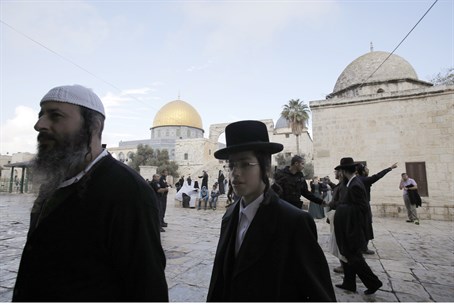 At the very same time though, if not just before this event occurred God was revealing to those with eyes to see and ears to hear that the TRUE location of King Solomon's and King Herod's Temples was never on the Temple Mount but was some 600 feet or so to the South in the ANCIENT Biblical Jerusalem that is known today as "The City of David".
The Title of the video is irrelevant at this point, it is the contents of this video that is where the truth resides. The fact is that the Traditional Temple Mount as we know it today, is not the site of King Solomon's Temple but it is instead the site of the Ancient Roman Fortress that housed the legion of 10,000 Roman Soldiers known in antiquity as "Fort Antonia". There is of course a Prophecy that speaks about Jerusalem shaking off the dust, and as you will see in the next video. The True Jerusalem is literally shaking off her dust.
In a strange twist of Irony, the Jews are praying inside the Fort of their Ancient Roman Conquerors and Oppressors. The very Romans that were responsible for leveling the Temple to the very foundations and exiling the Jews causing the true location of the Temple to be lost until now. Remember, Christ said that "not one stone will stand on top of another"…. if we are holding to that very verse then we can deduce through logic that the Western Wall, the Temple Mount cannot possibly be where the ancient temple stood because those stones are still standing. If you watch the video though, you will see that the true temple was indeed so utterly destroyed that it does make it hard to identify.
If you would like to know more information please visit our Main Website and Sanctuary Interfaith Website
For more teachings please visit RayElite Teachings on Facebook
For Torah codes that speak about this coming destruction among many other predictions go to the main Torah Code Website or view every Torah code discovered since 2011 by our professional Torah Code researchers at the Torah Code group on Facebook
Please join our congregation to get up to the minute updates on prophecy unfolding now on Facebook and VK
We encourage you to Share our Reports, Analyses, Breaking News and Videos. Simply Click your Favorite Social Media Button and Share.