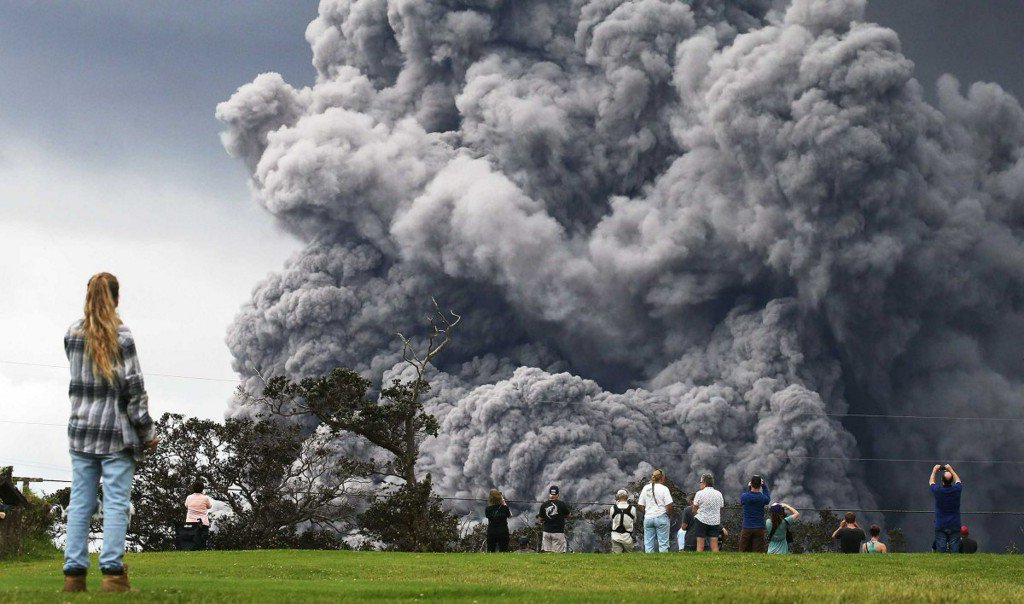 16 May 2018
Hawaii's Kilauea volcano could have a major devastating eruption at 'any time', the US Geographical Survey has said.
The volcano has been erupting for 10 days, and more than 2000 residents have already been evacuated.
'At any time, activity may become more explosive, increasing the intensity of ash production and producing ballistic projectiles near the vent,' the USGS said on Tuesday afternoon.
The USGS also raised the volcano aviation alert level at Hawaii's Kilauea to red – the highest level – which indicates a 'major volcanic eruption is imminent, underway, or suspected with hazardous activity both on the ground and in the air.'
A recent lowering of the lava lake at the volcano's Halemaumau crater 'has raised the potential for explosive eruptions' at the volcano, the organisation said.
Plumes of smoke are reaching up to 12,000 feet into the sky and ash is raining on to nearby towns. On Wednesday, The Hawaiian Volcano Observatory recorded a lava temperature of 217 degrees Fahrenheit.
Some of the vents in the volcano are now reportedly releasing such high levels of sulfur dioxide that it's posing a grave danger to anyone nearby.
Three new fissures (one of which is pictured above) have opened up on Hawaii's Big Island since Monday, raising the possibility that officials might have to order further mass evacuations
A spokesman from the National Guard told AP on Tuesday morning nearly 20 fissures had opened on the volcano and lava was spewing towards a major highway.
'[The lava is] two miles from Highway 137 and it's travelling at 100 yards per hour in a narrow flow,' he said.
Fountains of magma spouted 'lava bombs' more than 100 feet into the air as the molten rock traveled east-southeast towards the coastal road, the Hawaiian Volcano Observatory said.
Earlier, the USGS expressed concern pent-up steam could cause a violent explosive eruption at the volcano crater, launching a 20,000-foot plume that could spread debris over 12 miles.
Scientists had expected such explosions by the middle of this month as Kilauea's lava lake fell below the water table. The possibility exists, however, that water may not be entering the crater, as feared, and gas and steam may be safely venting, scientists said.
'So far those explosions have not occurred and I think the key here is that the vent system is an open one, therefore pressure is not being built or developed down at the top of the lava column,' Brantley told a conference call.
Dozens of homes have been destroyed since eruptions began 10 days ago and officials have ordered the evacuations of nearly 2,000 residents in the region.
Jolon Clinton, 15, and her sister, Halcy, 17, take photos of a fissure near their home on the outskirts of Pahoa during ongoing eruptions of the Kilauea Volcano
Residents of Leilani Estates, the neighborhood on Hawaii's Big Island, were evacuated last month given its proximity to the epicenter of the volcano.
Remaining locals put out bottles of alcohol on Tuesday as offerings to Pele, the Hawaiian Goddess of Fire.
Lava from a huge new fissure has already torn through farmland towards a coastal dirt road that is one of the last exit routes for some 2,000 residents in the southeast area of the Big Island.
More lava-belching cracks are expected to open among homes and countryside some 25 miles east of Kilauea's smoking summit, possibly blocking one of the last exit routes, Highway 132.
Mass evacuations would be triggered if Highway 132 or 137 is hit by lava, according to Hawaii National Guard spokesman Jeff Hickman.
It comes as webcams placed near the edge of the Kilauea volcano, which have been refreshing every few minutes, showed gases and scorching lava spluttering out as fissures continue to form after more than a week of continuous eruptions.
The American Red Cross said 500 people sought refuge in its shelters on Sunday night because of worsening volcanic activity.
Earth Heal – News For An Earth In Transition
http://www.earth-heal.com/index.php/news/news.html
Source:
http://www.earth-heal.com/news/news/148-volcanic/4148-hawaii-on-red-alert-major-volcanic-eruption.html
We encourage you to Share our Reports, Analyses, Breaking News and Videos. Simply Click your Favorite Social Media Button and Share.