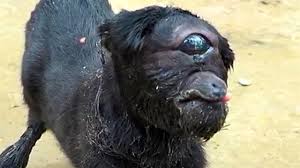 A village in India is buzzing over the birth of a remarkable one-eyed goat that some residents have taken to calling a 'miracle.'
The unlikely cyclops was born on May 10th in the Indian state of Assam and instantly captured the attention and imagination of villagers there.
Along with its jaw-dropping singular eye, the baby goat was also born with only one ear, making the unfortunate creature truly a sight to behold.
Although veterinarians suggested that the goat, which is stricken with a condition known as 'cyclopia,' would only live for a few days, it has managed to survive so far, much to the amazement of local residents.
And, as word of the unique creature spread throughout the area, people have begun flocking to the village to see the one-eyed goat, including some who actually worship it.
For his part, the owner of the animal sees the goat as a profound blessing, since the creature has attracted so much attention and made his family 'famous.'
Despite all that, it appears that the one-eyed goat still has no name, although 'Cy' and 'Wink' would probably both work.
Source: Daily Mail
Check out more contributions by Jeffery Pritchett ranging from UFO to Bigfoot to Paranormal to Prophecy
~~~~~
Most people who use social media have figured out that Facebook and Google are in cahoots with the government. For those who are well aware of the issues, it's high time you switched over to Seen.life. It is a website that is similar to Facebook but without all the censorship.
Firearm friendly, you may buy sell or trade anything allowed by site TOS rules.
We encourage you to Share our Reports, Analyses, Breaking News and Videos. Simply Click your Favorite Social Media Button and Share.