Excerpt from free ebook
Efficiency
The Pareto principle states that roughly 80% of effects are a result of 20% of the causes. Efficiency utilizes the actions that causational more frequently. Efficiency often upends systems by way 80% of the activity is virtually ineffective, perhaps integrating or fusing %20 ideas from multiple practices to enhance end results. Apply this to your practices, whether it be yoga or otherwise. Efficiency.
Meditation
Meditation is the most important aspect of meditative movement. Within all meditative movement or still meditation, there is mental movement, beginning with an imagination shift into a mental state of being that one cannot see physically. In meditation, it is the power of consciousness which holds the real potential and power, and which requires real cultivation.
Because of our physical predicament as human Beings, requiring sustenance and satisfaction, ever subject to distraction and desire, meditative monks seek retreat in order to develop their spiritual potential. They understand that consciousness is unfathomable and boundless, and that being in quiet solitude is optimal to fostering a connection with that unlimited consciousness.
Accessing the power of consciousness requires mental, physical and spiritual development, and solitude is extremely important to this. Much of life can be distracting and upsetting to the mind, which is why meditation practitioners and monks go on isolated retreats to monasteries of sorts, or forests or caves, or take vows of silence, or just seek quiet places to meditate undisturbed. They understand that consciousness is unfathomable and boundless, and that being in quiet solitude is optimal to exploring a connection with that unlimited consciousness. Choosing moments of isolation (particularly within nature) aligns our conscious to a natural state that brings us inward – where the real power, insights and inspiration reside.
One of the most comprehensive healing and strengthening postures of all of tai chi is standing meditation. There are many forms and variations of standing meditation, but all adhere to these principles. Be loose and relaxed. Never hyper-extend your knees beyond your toes. Set feet at 0 degrees, toes strainght in front of you. Keep all joints open and unlocked as supporting and supported by balls. Stand at the width you are comfortable with and extend your hands in front of your heart with your palms facing your face. Breathe. That's it. Imagine releasing tension down into the ground. This will enhance your physical and meditative position simply.
The Five Tibetan Rites of Rejuvenation
I subscribe to the Pareto principle of meditative movement, that is that the simplest movements are often the most beneficial. Such is the case with the standing meditation. And it just so happens that one of the quickest and simplest sets of meditative movements and one of the easiest to integrate as your own, is also one of the most powerful. It's known as the Five Tibetan Rites of Rejuvenation. After practicing for decades and sharing years, the Five Rites are most easily summed up as remarkable.
The only physical dynamic the Five Tibetan Rites do not explicitly open are the legs, though the series certainly enahances steadiness and readiness to hike. One of the simplest ways to develop strength through the entire system is develop leg strength with squats. Physical development of the legs demands the rest of the body compensate and get stringer as well, so exercising the lower body indirectly strengthens the entire body.
Use a doorway or pole or some sort for stability and keeping the aforementioned alignment in mind, mainly never hyper-extending the knees beyond the toes, and focus on the upper legs holding your weight, with back straight, squat down. Exhale down and inhale up. And check yourself. Is your back leaning forward? Set it upright.
If you have never experienced the Five Tibetan Rites of Rejuvenation, I beg you to do so. Both invigorating and relaxing, it is a vigorous series of breath coordinated movements and meditation. The practice helps one be balanced mentally and physically, and has been known to help treat depression and inflammation.
It takes about twenty minutes or so depending on how long you meditate, the longer the better of course. There are 5 movements, each done 21 times, Each of the Tibetans are followed by taking two deep breaths so as to balance out the energy just moved.
Each of the Five Rites are shown in the visual below.
The first Tibetan is simply spinning clockwise with the arms active to the sides. The first Rite is done clockwise in unison with the sun for the chakras are said to spin clockwise. When held up such activates and opens up the arms, shoulders and neck. Try going extremely slow. The Five Rites strengthen and activate the abdominal area and neck. These areas are considered the most problematic and energetically clogged (the Rites open up the chakras). Then take two deep breaths. Hands are at your hips. Take a deep breath through your nose and exhale through your mouth with lips shaped in an O like Superman blowing out cold air.
The key to the second Tibetan is to lift up and set down the legs and neck in unison. Each Tibetan is done in unison with the breath and as with all meditative movement, the inhale is tension/activation and exhale is relaxation/release. So each movement begins with inhale and returns with exhale. The easiest way to count is to count 1 on the inhale and 1 on the exhale, counting each twice so you are less likely to lose track.
A trick with the third Tibetan is to think about using your hands as support and about bringing bring your back so that it returns to being perpendicular or just slightly past perpendicular, a degree or two forward. Go slow.
The key to the fourth Tibetan is to initiate the movement with your neck opening the throat chakra.
As you progress you will eventually be able to do the fifth Tibetan with opened joints and ligaments doing Hindi pushups where your face glides along just above the floor and then rises up, like a cobra, on the return/release.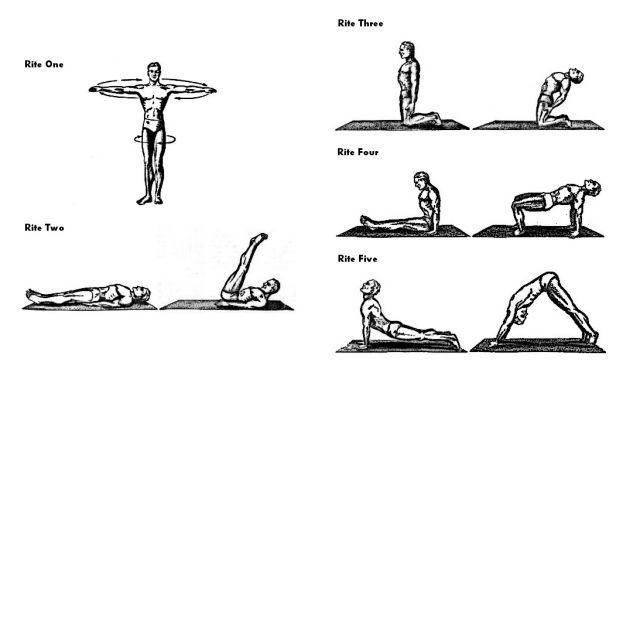 Five Nuances for The Five Tibetan Rites of Rejuvenation
For those who practice The Five Rites already, here are five nuances, one for each movement that can help and enhance one's practice.
The nuance for the first Tibetan is adding walking the square to spinning in a circle. Walikng the square makes a four step complete rotation. One steps ninety degrees with each step creating square one traces the perimeter of with each circumnavigation.
The nuance for the second Tibetan is pressing down with one's palms while being mindful to keep the tailbone on the floor throughout the movement. Release the press as you release downward
The nuance for the third Tibetan is to of course move gently, aware that Rite 2 prepared the back for the extreme camel position variation movement, holding the hips together with the thumbs extending around so to keep the hips, pelvis and lower back together as you flow.
The nuance for the fourth Tibetan is to push through the heels, but otherwise relax your legs as you use you abdominal strength to lift. This opens up the knees as you flow.
The nuance for the fifth Tibetan is to come into and leave the cobra variation position with your back set in a way so that it is pushing upwardly as if ready to hop into a crane posture.
A Final Word
I like to practice the Five Rites slowly, to develop a deep breath cycle. One way to include a breath control 'work in' along with doing the Rites is to breathe only with the movements. Whether you do 5 of each or 21, his can generate tremendous chi and breath potential.
As with all meditative movements, part of the reason people are adverse to beginning it – part of the reason we allow our ego to convince us we do not need to do such practices – is because we see that they take time and effort. But remember, meditative practice makes time. It gives you more energy and focus, and as a result, more efficiency. It actively invokes peace and simplicity. And best of all, it's completely up to you.
"As long as there is saliva in your mouth, it is never too late." ~ Chinese parable
Peace.
From Ethan Indigo Smith's Tibetan Fusion on Tibet, The Five Tibetan Rites and a series of accompanying movements. Currently Free Ebook!
Ethan Indigo Smith's book Tibetan Fusion is an exploration of meditative movements that work by themselves, and together form a comprehensive way to develop your natural energy.
Also take a sneak peak at Ethan's latest book, The Geometry of Energy.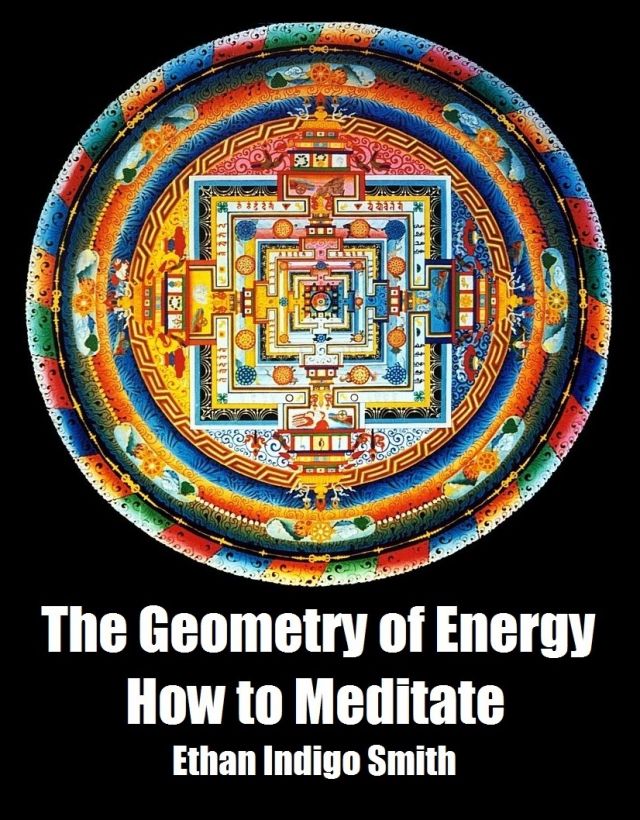 You can connect with Ethan on Facebook, check out his author page on Amazon, or visit his new websites, Geometry Of Energy and Meditation 108, where Ethan offers lessons on individuation, meditation, the conceptualization of energy, and the metaphysical significance of 108.