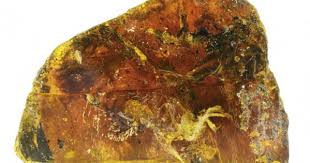 The incredibly well-preserved remains of a 100-million-year-old baby bird encased in amber is being heralded by scientists as best glimpse yet of an ancient avian species.
The remarkable specimen, discovered in Myanmar, contains nearly the entire body of the creature that is believed to have met its sticky demise after hatching only a few days earlier.
Researchers say that the creature is a type of bird that no longer exists on Earth, but co-existed with the ancestors of today's feathered denizens of the planet.
One of the scientists studying the find told New Scientist that it is "the most complete and detailed view we've ever had."
Indeed, visible in the approximately three-inch-wide piece of amber are the animals' head, skin, and feathers as well as a somewhat haunting clawed foot.
Experts hope that the tiny time capsule can help researchers better understand the mysterious early birds which once roamed the planet alongside the dinosaurs.
Or, at the very least, the amber can serve as an eye-catching cane topper for an eccentric and wealthy businessman with dreams of building a theme park that houses ancient birds.
Source: New Scientist
Check out more contributions by Jeffery Pritchett ranging from UFO to Bigfoot to Paranormal to Prophecy
We encourage you to Share our Reports, Analyses, Breaking News and Videos. Simply Click your Favorite Social Media Button and Share.