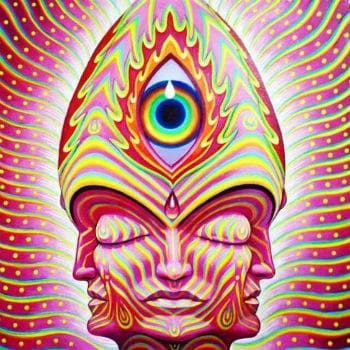 Art Alex Grey
The third eye (also known as the inner eye) is a mystical and esoteric concept referring in part to the ajna (brow) chakra in certain Eastern and Western spiritual traditions. It is also spoken of as the gate that leads within to inner realms and spaces of higher consciousness. In New Age spirituality, the third eye may alternately symbolize a state of enlightenment or the evocation of mental images having deeply-personal spiritual or psychological significance. The third eye is often associated with visions, clairvoyance (which includes the ability to observe chakras and auras), precognition, and out-of-body experiences, and people who have allegedly developed the capacity to utilize their third eyes are sometimes known as seers.
med·i·ta·tion
ˌmedəˈtāSH(ə)n/
noun
the action or practice of meditating.

"a life of meditation"
third eye
noun
1.

the locus of occult power and wisdom in the forehead of a deity, especially the god Shiva.
Check out more contributions by Jeffery Pritchett ranging from UFO to Bigfoot to Paranormal to Prophecy
~~~~~
Most people who use social media have figured out that Facebook and Google are in cahoots with the government. For those who are well aware of the issues, it's high time you switched over to Seen.life. It is a website that is similar to Facebook but without all the censorship.
Firearm friendly, you may buy sell or trade anything allowed by site TOS rules.
We encourage you to Share our Reports, Analyses, Breaking News and Videos. Simply Click your Favorite Social Media Button and Share.