John Hogue joined us for a clearer forecast for the 2016 Presidential election, and discusses who he foresees as having the highest probable chance of becoming the 45th President of the United States.
The question is asked of John, if he still sees the Clinton Dynasty returning to the White House, or if Donald Trump has upset the political equation enough to throw our nation for an unknown loop.
We place John on the line with the ultimate question; "Who will become the 45th President of the United States?" Listen to the show and find out. If John is right that means his political forecasting track record would become 13-0.
John also discussed September, 11th 2001 and the terrorist attack on the twin towers. We flow through what was mentioned by Nostradamus, and others who foresaw a terrible event on 9/11.
Bob asked a question of John that essentially said: If people are able to foresee future events then why can they not warn us about them prior to said event
Toward the end of our conversation, Bob turns the topic someplace that no other host has ever asked John to go—to John's spiritual beliefs, such as: Where does John feel prophetic visions originate from. Does John believe that life as we know it may actually be an advanced holographic anomaly
This episode of the top rated, and award winning, Paranormal Podcast program is one you will not want to miss. "2016 Psychic Presidential Prediction" "2016 Predictions" "45th President" "Presidential Election of 2016″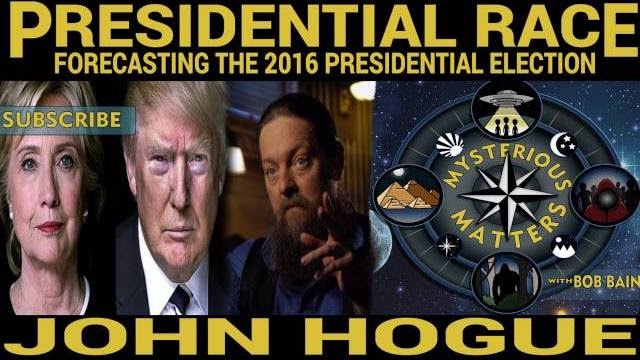 Source: