The crackdown on protesters in North Dakota, he implied, are links of one chain of oppression by the US government, which had been mistreating Native Americans "since day one."
On Sunday, police officers in Morton County used water cannon and rubber bullets on unarmed pipeline protesters, who have been occupying the federally-owned land since August.
"They are really serious about this and they will kill people if necessary. They would prefer not to, because it's bad press, but they will continue to ratchet this up," Churchill said. "It is not just police that is involved this. You have this mercenary forces, in this case its is TigerSwan, which is a spin of Blackwater, that is ran by a former Delta Force Cornell, and uses special operatives."
A Faction of Anon suddenly took an active role in the battle against the Dakota Access Pipeline, knocking offline the website of 'less-than lethal' weapons manufacturer, Safariland.com — whose tear gas canisters, concussion grenades, and other weapons were used by police against peaceful water protectors in an all-out assault Sunday night.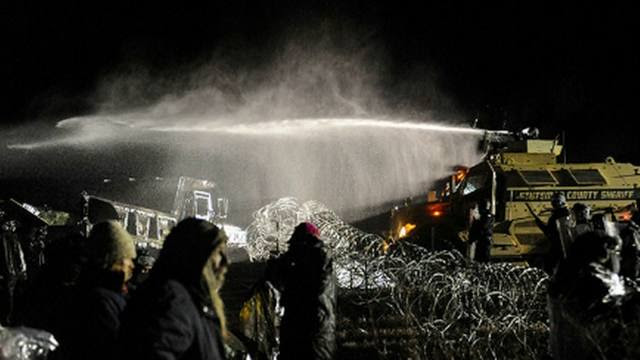 http://thefreethoughtproject.com/anon…
https://www.rt.com/usa/368006-police-…
http://watchdog.org/142762/soros-in-v…
https://www.mrc.org/commentary/soros-…
http://whitefortmyers.blogspot.com/20…
http://www.thenewamerican.com/usnews/…
https://www.sott.net/article/334637-O…
~~~~~
BIN NOTE: If by now you haven't figured out that Facebook and Google are in cahoots with the corrupt government, then I feel for you, but for those who are well aware of the issues it's high time you switched over to Seen.life. It is a website that is similar to Facebook but without all the censorship.
We encourage you to Share our Reports, Analyses, Breaking News and Videos. Simply Click your Favorite Social Media Button and Share.