"An Ohio State University student posted a rant shortly before he plowed a car into a campus crowd and stabbed people with a butcher knife in an ambush that ended when a police officer shot him dead, a law enforcement official said."
"Abdul Razak Ali Artan, 18, wrote on what appears to be his Facebook page that he had reached a "boiling point," made a reference to "lone wolf attacks" and cited radical cleric Anwar al-Awlaki."
"America! Stop interfering with other countries, especially Muslim Ummah [community]. We are not weak. We are not weak, remember that," the post said. "Two hours before that, a cryptic post on the page said: "Forgive and forget. Love.""
Something is very wrong with the story of Artan.
The story about how Artan moved to Pakistan and came back to the U.S. and got a green card in a year is very hard to believe. First, Artan was a refugee from Somalia. He didn't have a Somali passport and he wasn't eligible to get one. There is no Somali embassy that can issue a passport in the U.S. or Pakistan and you know you need fingerprints to get a passport nowadays!
The authorities said, he moved to Pakistan on 2007 and came back to the United States on 2014 and he got permanent residency in a year. That is impossible unless you are a very special person, the son of Obama or something like that!
The question is how did he get a Green Card while being away from the United States that long and getting it in only one year, that is nearly impossible! Something is fishy here! According to the Immigration Law, a refugee will lose their permanent residency status if they are out of the country for more than a year.
Here is something we must know. If you are a refugee in the United States and want to travel overseas, the only way you can travel is getting a Travel Document. The Travel Document expires in one year. No country will every give you a visa if you have a Travel Document that is going to expire in less than six months.
I still don't understand and it does not make any sense how he stayed out of the country for that long!
Another Question: How did he come back to the U.S.? You need to be a citizen, or have a visa, green card, or be from the countries that can come to the United States without visa and Somalia is not one of those countries. The U.S. does not recognize the Somali passport but they recognize the country and the government of Somalia. How did they let him in? I can't understand anyway. He must be a special person.
Here is something else that is very suspicious. Forget about the Green Card, you need at least two years to get your refugee status back if you were out of the country for that long.
It also takes at least 6 months to adjust your status from refugee to permeant resident! It means he needs 2 years and a half. How come he got all that in one year!
Artan was also known to the FBI. He posted radical messages and used to dress like Anwar AL Maliki
God bless you all. God bless America
Check this car! The same car
here is the car again! Something Fishy!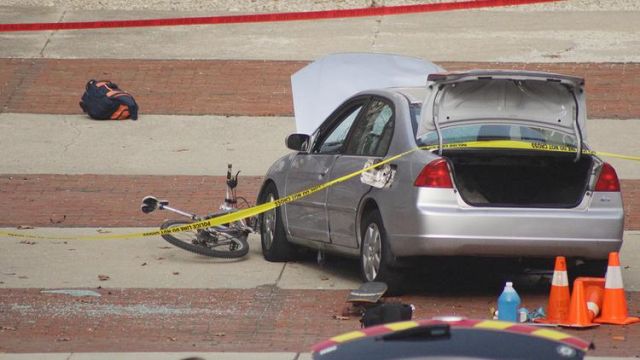 Most people who use social media have figured out that Facebook and Google are in cahoots with the government, for those who are well aware of the issues it's high time you switched over to Seen.life. It is a website that is similar to Facebook but without all the censorship.
Source: http://www.nbcnews.com/news/us-news/suspect-dead-after-ohio-state-university-car-knife-attack-n689076
We encourage you to Share our Reports, Analyses, Breaking News and Videos. Simply Click your Favorite Social Media Button and Share.