Log into Goodreads or www.randimshermanbooks.com for a chance to win a copy of the hilarious BIG & Fabulous, The Life and Times of Brenda Cankles.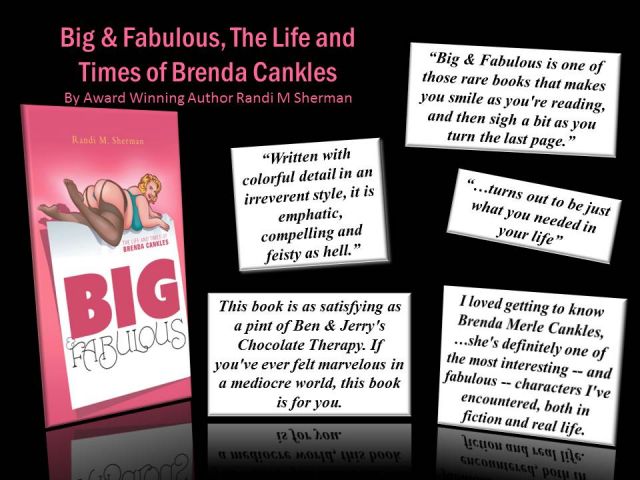 Imperfect, impervious and improving, Brenda Cankles is an unlikely heroine. Undeterred by the enduring censure of society, she is determined to realize the fabulous life that she has always believed is her destiny.
Brenda's story—written in the unflinching first person—is utterly unvarnished. Here, find a fantastically real person, sometimes struggling to fit in, but mostly giving the rest of the world the mother-lovin' bird. From her clunky childhood through her stumbling yet optimistic adolescence to her full-figured and unapologetic emergence into adulthood, Brenda is a special brand of warrior. She is big, bold and beautiful. While the quirky cast of characters that surrounds her is eternally insistent that Brenda live her life in the background and fit into society's mold, she will have none of it.
Dip into the outspoken world of Brenda Cankles and get lost in the adventure of a big and fabulous gal who is so keen to be who she wants to be that she doesn't have the time or inclination to consider the plans everyone else has for her.
About the Author
Big & Fabulous, The Life and Times of Brenda Cankles is Randi M. Sherman's fifth novel. Her fourth novel, The Lobby (2016), is a multiple award winner. Sherman's other novels include The Truth About Caroline (2015), Caroline Starts Over (2014), and Paula Takes a Risk (2012).
A native Californian, Sherman lives in wine country. She sings show tunes while driving, is a fantastic cocktail party guest and has never met a passed hors d'oeuvre she hasn't liked.
We encourage you to Share our Reports, Analyses, Breaking News and Videos. Simply Click your Favorite Social Media Button and Share.