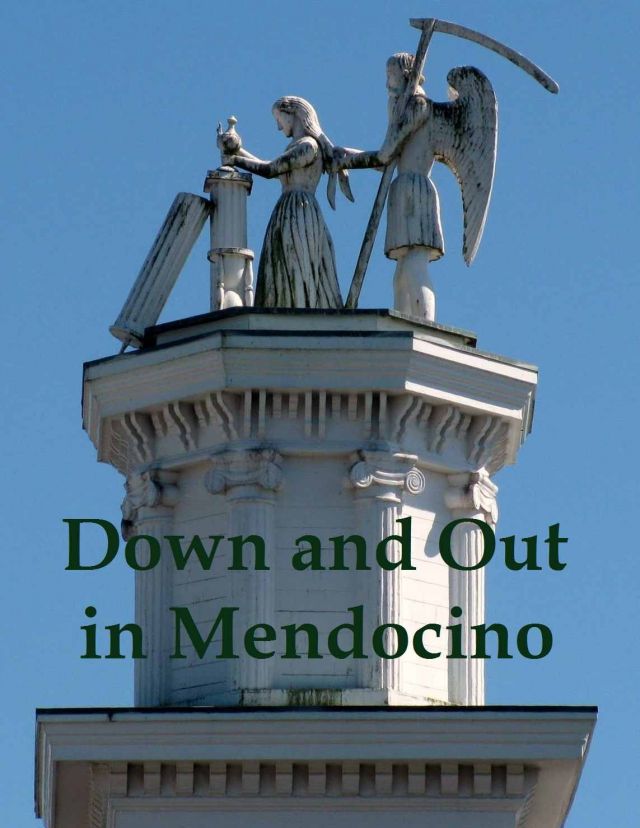 This weekend and into through Feb.13, 2017, the ebook on Mendocino History and a mystery therein, is Free! The fictional look at the nonfiction town where Freemason statue of secret sybolism is central is Free! It is a gutbusting read. You will laugh out loud frequenlty and will gleam the cube of Masonic Northern California and Northern California Culture.
Click on image or read a bit
Down and Out In Mendocino
They over-drank, except for Kyle the sober driver. He did so not out of any sense of responsibility or moral obligation, he had none of that. Kyle was on probation and forbidden to drink by the state of California and because the consequences were so great, doubled down over the years, he had to obey. His last brush with trouble was a drunken battle with two Fort Braggers resulting in his arrest and being forced to plea to one thing or another just to breathe fresh air.
Everyone in Mendo has some eccentric hobby or strange collection. Kyle's hobbies included verbal harassment, physical confrontation and adorning himself with offensive tattoos. He collected Mendocino memorabilia of all sorts, mostly consisting of coffee cups, trinkets and tee shirts. His Mendocino movie collection was his pride and joy and had been since he first saw East of Eden. He also collected guns, gold, cash. Most of which he buried, admittedly losing track of one stash, informing his few friends of where he thought it was, in case something happened to him and somebody were desperate and energetic. Kyle was embittered from losing his buried stash, from being on probation and just about everything, except his Mendo memorabilia and his cherished Mendo movie collection.
Reality hit Rolland, as reality tends to do the morning after drinking. He reviewed last week as he came to terms with his hangover, which led to drinking last night and waking up on Kyle's living room floor again. He thought about everything that happened to him and how the whole thing could be traced back to an instance of the historical criminal discrepancy and the rule of elements and the inebriated all controlled and arranged by Miss Chance the puppet master.
Rolland, Potter, Kyle and Guy had been growing pot together since high school, for over ten years. And almost a week ago they reached the culmination of their combined experience and combined efforts of another season of clandestine manual labor; the harvest. Potter contributed the least man hours into the whole operation, as was typical as far as his contribution to anything went. He of course promised to be thoroughly involved in cleaning and selling it, when the gamble was over. A gamble they had lost before.
To be specific, the four of them had been trying to grow pot together since they were in high school. They had years of experience and had learned exactly what to do, mostly through doing things the wrong way and realizing that's not the way. They learned the hard way, through annual failures over a decade of guerilla growing. Truthfully they never pulled more than a few pounds of swag that they had to sit on until there was a drought in order to sell it, pretty much.
This year though, last week, they actually harvested successfully. They pulled thirty contractor bags out of the woods, three pickup loads. This year they finally had done it. They found water and sun and dodged cops and robbers for months and made it home safe and sound. They actually had time to even joke about their good fortune and look at it all drying, before it all went to shit.
Rolland would later recall Kyle unknowingly summoning Miss Chance, boldly challenging her out loud, "We've done everything wrong we ever could, we messed up in every way possible and had every random shitty thing happen over the years to the point where we prepared for everything this year. We did it Rolland. This year we did it."
It was, up until that moment, a true statement. Only Rolland would never dare to make such a proclamation out loud and cringed when Kyle did so. He knew Miss Chance was always listening. Mendo is her realm and proving people wrong it is her main source of joy and perhaps her very sustenance. Rolland considered saying something to Kyle for making such a proclamation, but he didn't want to do anything that would suggest to Miss Chance how much he cared about the subject in question; the harvest. And he surely didn't want to do anything to suggest he might predict her behavior and act on the predictions for she loves proving people wrong. The crew had every random unlucky event happen to them, every year it was something. Every year Miss Chance unleashed another malicious attack on them possibly as some karmic fulfillment to balance some defilement of person or property that Kyle had unleashed onto the world.
They had seeded valleys of what would have been chron lawn, with cultivated, well-fed five foot tall males a few times. They had overfed dozens of mature plants with improperly diluted sugars and killed the entirety of a crop, twice. Two years ago they harvested everything at the same time and left it wet in bags too long, causing bag burn, the first stages of spontaneous combustion, ruining ninety percent of the wet weed they lugged out. They had whole zones taken by unknown thieves and spent months pointlessly narrowing down suspects, later buying their own weed in a botched middleman project. They had watched, from the top of a ridge, the authorities claim their patches by helicopter and last year watched helplessly as parcels of their work was lifted by armed and masked desperados. Over the years they had made a thousand snack offerings to countless forest creatures including dozens of deer families and rat dens.
Besides their own mistakes, Rolland figured the animals who knew a good thing when they found it, were also controlled by Miss Chance, as was the weather, each of which destroyed and minimalized their yield many times. Months of labor had been eliminated by way of too much sun, rain and fog. Fortune five hundred patches of big buds had been reduced to whole universes of mold clots through rain. Gardens had shriveled up and died in intense sunlight due to defunct waterlines. And every year, without fail, there was always some disaster that could have been averted if only they had been there a day or two earlier and someone would always say, "We should have been out here yesterday." Every year for one reason or another, their harvests were more accurately salvage operations.
They had messed up pretty much every way possible so they paid attention to every minute detail throughout the whole process. This year they had planted clones, so they knew every plant was female eliminating the possibility of a male seeding the harvest. This year the water lines were from full wells and they triple checked every procedure so that they actually harvested big, dense buds lacking mold. This year they actually harvested. Five contractor bags would have been comparatively decent, but thirty bags would make them loot and earned them all some well needed respect among their peers.
It appeared that the hours they spent digging holes, preparing water lines, watering, feeding and protecting the girls, not to mention hauling the harvest out of the woods was all worth it. But Miss Chance is all too cruel. Rolland, Guy, Potter and Kyle got the pot home and were just laughing about how good it was, but little did they know Miss Chance had already set the stage for the last laugh.
They barely believed they would have a harvest at all and because in Mendo planning most often results in more complication than simplification, they made no drying arrangements until the day was upon them, the day they had spent all year talking about and praying for, harvest. They had made the mistake of planning before, but not this year. Instead of renting a dry shack they decided to erect two army tents in the trees on Kyle's property. They franticly set up the woodstove the tent was designed to accommodate and a propane heat blaster and linked the tents. They put boards up on the walls and set up hanging lines and by the time they were finished harvesting, transporting and hanging, both tents were stuffed to the brim and they were laughing.
Potter and Kyle stayed the first night for fire duty, while Rolland and Guy had to deal with the indoor operation they had together at another location. It needed attention right away, right in the middle of harvest, due to a mite infestation. The poor timing was typical for Mendocino, such ill-timed correlatives reasoned procedure without planning.
So after harvesting and hanging outdoor all day, Rolland and Guy had to harvest the indoor or else it would be lost. They had just noticed the problem the day before, whereupon Guy had said, "We should have come out here yesterday." After harvesting premature mite ridden buds into the night they found to their good fortune that a lot of the plants were not yet infested and taken over and could still grow. Because of exhaustion and because it was four in the morning Rolland and Guy decided to sleep in the grow room, a garage they rented without any neighbors.
Because Kyle had set up the light cycle the lights were on all night, but they were so tired it didn't matter. Rolland passed out with a blanket over his face, but somehow Guy fell asleep and managed to sleep through the whole night with the grow lights irradiating him. He woke up the next day with the most vicious artificial sunburn imaginable. He was not lobster red as with serious sunburn from the real sun, but rather his face, eyelids, neck, ears, and arms were the color of a burnt orange. Guy had left his hat at the drying tent and spent the entire next day complaining about forgetting his lucky hat resulting in his burnt face, swearing he would never leave it behind again, more convinced it was good luck than ever. Guy contemplated seeking medical attention, but instead constantly layered aloe onto his frightening burn. He shocked people for days because of the coloring of a sick Martian and the thick greasy layer of aloe he adorned himself with.
Guy had to continue. Harvest is like a war and like they say, when you're going through hell you have to keep going. Guy had to continue on despite his burn and Rolland had to continue on despite having to listen to Guy complain about forgetting his hat and the pain of the burn. Rolland and Guy had been elected to fire duty the next night to dry the outdoor harvest while Kyle and Potter took care of the rest of the indoor. And they had to do it, the rest of the year, their entire future, any resemblance of a five year plan, depended on it. Because all the heavy work of the harvest was done and because Guy had heard somewhere 'you should feed a sunburn' they bought a decadent meal of celebratory status from one of their favorite restaurants -to go. They ordered three meals; steak, lamb and salmon dishes, with salads, shrimp and crab appetizers. They supplemented the order with wine and a range of snacks from and even brought along all the fixings for a huge breakfast. They were elated to be near completion of a successful harvest. Even Guy's cracking and burnt face couldn't discourage his happiness and degrade the mood. Even he was smiling despite the pain it caused him. It was like they just found the gold they had been spent months digging for.
Rolland and Guy shared all the food under the drying weed, by the fire, laughing, but neither Rolland nor Guy could eat the salmon. It was too fishy…Continued in the book, Down and Out in Mendocino.
Matrix of Four: the Philosophy of the Duality of Polarity
is an exploration of our consciousness, and presents a formula to develop our consciousness and surpass the limitations of traditional political and social constructs. In this work, Ethan relates and explains correlations between the four seasons, Om and a myriad of esoteric and exoteric ideas on consciousness to inspire creative thinking and being. He also explores mathematical and philosophical concepts to engage a higher thinking and being, verified using universality and human traditions beginning with the four operations of arithmetic, referencing the four archetypal characters in Plato's The Allegory of the Cave, and much more.
Available here on Amazon.
The Geometry of Energy: How to Meditate
Ethan Indigo Smith's latest book The Geometry of Energy explores meditation and meditative energies through the sacred four dimensions of geometry. Simple and profound, it is an empowering four-step meditation designed to lead to individuation, self-development, an enhanced understanding of energy, and psychological and spiritual cleansing.
The Geometry Of Energy: How To Meditate is available here on Amazon.
The Santa Claus Syndrome instils more than just materialism and the acceptance of lies. And chances are, if you can recall the names of more than one of Santa's reindeer, you are likely affected by it in some way.
In his book A Holiday Hazing: the Santa Clause Syndrome, Ethan Indigo Smith examines the many psychological influences of one of the most widely celebrated traditions the world has ever known, and exposes common beliefs of 'self' and 'society' in a way that might make you chuckle, and a little bit angry.
Activist, author and Tai Chi teacher Ethan Indigo Smith was born on a farm in Maine and lived in Manhattan for a number of years before migrating west to Mendocino, California. Guided by a keen sense of integrity and humanity, Ethan's work is both deeply connected and extremely insightful, blending philosophy, politics, activism, spirituality, meditation and a unique sense of humour.
For more information, visit Ethan on Facebook and check out Ethan's author page on Amazon.