The most commonly spoken phrase among young children, adolescents and ardent monotheists: "I know."
"I know only that I know nothing." ~ Socrates
FREE EBOOK 3/6 – 3/10/17
Warning! Before proceeding to even review the introduction further, you are about to be exposed to information that the majority of the gaggle you know may not be ready for. If you are fidgety like a chicken or sheepish like most any institutionalized group, move along.
Now here is the death sentence, a sentence the likes of which has gotten people killed that is: there is no God as monotheistic belief systems put forth. Apparently most people are killed right about when they say 'there is no God…' and they do not finish the sentence and so most people only hear the half. There is the potential that any monotheistic interpretation of God is correct, but there is not only that potential, for God is limitless, there is not just one interpretation. The idea of monotheism is actually entirely silly if you adamantly believe in monotheistic religious constructs and examine the idea for a moment. God is limitless, monotheism limits God to a certain quantity with specific qualities. The idea that monotheism is spiritual is also ridiculous, though hardly funny, for monotheism breaks the spiritual golden rule. Your own path is your own path, only. Dictating how others proceed breaks the spiritual golden rule.
The Golden Rule is essentially do no harm to others and treat others mutually respectfully and compassionately. The spiritual golden rule extends the same understanding to allowing others to pursue spirituality however they see fit.
There is no outside intelligent being watching over the entirety of creation. God is creation, creation is God. God is the intelligence inside of creation. God is an intelligence emanating from all creation, not an overlooking entity beyond creation, but creation itself, here and beyond. The intelligence imbued in all of creation is God. God is everywhere.
The intelligence of God is energy. Everything is energy, the most outstanding loving energy coursing through everything and all of us, uniting everything. There is no detectable God, but there is godliness, and this godliness, this holy wholeness, is expansive both inwardly and outwardly. God is energy both cosmic and atomic, here and now, but there is no God as monotheism most ardently puts forth, there is no outside intelligence in charge, there is rather intelligence/godliness everywhere charged.
God is the underlying, unifying, unspeakable intelligence that connects you to everything. God is not an outside entity, but holiness, wholeness, the purity of entirety. God is energy, the energy of expansion, the energy of all knowing and all loving intelligence. What most call God is godliness, knowingness, lovingness and expansion. While most religions and monotheism bases itself on one God, they are wrong completely there is no one God, but there is one infinite god, there is infinity God. God is infinite energy. If you believe that you know God, you really do not, if you seek to know you God, you really might.
Of course, I could be totally wrong about this. There very well might be the exact figure you believe in as God. God is limitless and timeless and beyond our understanding, like energy. So indeed I don't know. I do know limiting God to one form, limiting God to one interpretation, ensures that the interpretation will be wrong and potentiates that the interpretation will be used for wrong. God is infinite, not finite. Simply put God is capable of being in infinite forms in a singular moment, thus every speck of dust in the universe has a God as the Hindu traditions sometimes put forth and as the American Indian traditions variously put forth everywhere has the potential to be the center of the universe from heart to mountain. This does not negate supreme creator God consciousness, but more importantly does not rule out that some systems which claim God are very much not operating in line with godliness, and walking in the dark rather than the light, in stagnation and disconnection instead of amplification and connection.
"Love the world as your own self, then you can truly care for all things. Look, it cannot be seen, it is beyond form. Listen, it cannot be heard, it is beyond sound. Grasp, it cannot be held. It is intangible. These three are indefinable. Therefore they are joined in one. From above, it is not bright, from below it is not dark, an unbroken thread beyond description. It returns to nothingness. The form of the formless, the image of the imageless, it is called indefinable and beyond imagination. Stand before it, and there is no beginning. Follow it, and there is no end. Stay with the ancient Tao. Move with the present. Knowing the ancient beginning, is the essence of Tao." Tao Te Ching, Lao Te Zu
Secondary warning: please do not continue if you doubt your readiness to no longer walk in the footsteps of your father's trail of ruin and ruining. If you no longer want to be simply another submitter among your flock or brood, continue reading. If the idea that the truth in theological wisdom of the world is to be distinguished and ignored based on the creed or belief system it originates in, then please move along. This is for human beings.
This leads to our initial distinction. It is foolish to be sheepish among institutions and true spiritual teachers mostly refrain from such requirements as it induces failure in spiritual pursuits. It reduces individuation to the likings of a chicken. It is a religious folly to make people submit and insist they do as their fathers before them and be sheep of the flock or a chicken of the coop. It is wise however to submit to energy flow, and the results can be somewhat beyond description, it wise to be as a sheep among the godly energy of the flocking of entirety. Submission to energy approaches godliness, submission to institutions claiming to represent the energy, the God consciousness is foolish.
This is your last chance to stop before continuing. Because of the seriousness of the situation that is speaking of God, and because of how the First Amendment works, I repeat, you don't have to read this. If you have the potential to be reactionary or are a fundamentalist of sorts, just stop.
Because of the infinite potential of energy there may very well be one singularity, one truth, one God and one God with a beard or whatever you've been taught. But of course that is just one potentiation. And in order to know, in order to find you must seek, and you can seek across all borders and ultimately in the last frontier, but you must go within. And so buckle up, and get ready to get down to business of inner self development, as opposed to the religious who continue to worship God's children who've developed before them, or the atheistic who often deny the beliefs of others as ardently as some monotheists.
Understand that as much as you might know the X, Y, Z of any subject, as much as you may uphold the certainty of teachings from ancient books, all the information in the world won't help you find the answers as much as turning within will. No book, not this one, not that one, can help you as much as you can help yourself. You can find assistance in books, principles to the practice, but chances are the best assistance will be found in a discussion with a genuine friend amongst the trees. A true friend is better and more valuable than any book. Just as friend is more valuable than any book, a tree in nature is also more valuable than any book. A tree, nature, is like the original teacher, and all books are as if leaves off the tree.
Comprehension of the Color of Love
Don't judge a book by its cover. Fair enough, but comprehension is not the same as judgement. Judgement is something Monotheism reinforced among the cultures of the world. Monotheism results in judgement and results in lacking comprehension for if judgment swift, consideration and comprehension are likely not of great depth. Simple curiosity is quelled, unmolded questions are scorned and judgement is passed according to the past, past values, past understandings and past misunderstandings too. Don't judge anything, but seek comprehension of all things. Don't believe a thing, but be a seeker of understanding.
Why are the covers of the majority of monotheistic books black or dark? Speaking in terms of vibration things that are the color black absorb and do not reflect back light. Things that are red absorb all light, but red. White reflects back all light that comes at it. This idea itself is reflective of many concepts.
The color black absorbs light, the color white reflects light. We as individuals are all both black and white, we are all capable of being reflective and projective. Black absorbs light. Black is biologically symbolic for the melanin core, and white is symbolic for the generative fluid. Black is universally symbolic for the moon and space, and white universally symbolic for the sun and stars. Colors are vibrations and when utilized in symbols are alone revealing. All symbolism, even colors, are applicable both individually and universally, and subject to individual and universal interpretations. Spiritual lessons normally contain at least these two interpretive applications. Monotheism on the other hand adheres to one God and also one interpretation despite the obvious physiological and astrological applications pertaining to certain stories.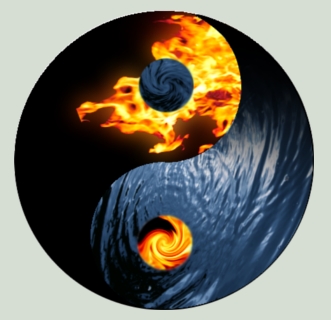 One of the most primordial and ancient symbols of all is the Yin Yang symbol. Its meaning is often simplified into duality. It is not a symbol of duality and certainly not a symbol of good and bad. The Yin Yang, the most simple and yet deep symbols of black and white, importantly contain the positive in the negative and the negative in the positive, these are the dots in the swirls. With this there are four basic parts. Only a monothematic mind would interpret the Yin Yang to imply good or bad, for this is the main inferences and instructions of monotheism: to see things in black and white, good and bad. And yet there is always the white in the black and the black in the white, the finite in the infinite and the infinite in the finite. The Yin Yang symbolizes potential and integration of these energies, not exclusion and division.
God arises in many colors and many energies. Even ardent monotheists are quick to point to the many, or few or would be prophets bestowed with highlighted connection with God energy. The stories of Gods and the prophets are stories of God's energy manifest in a way to provide example and lessons for others to connect with God energy, and by way of that God energy, all else, and all others.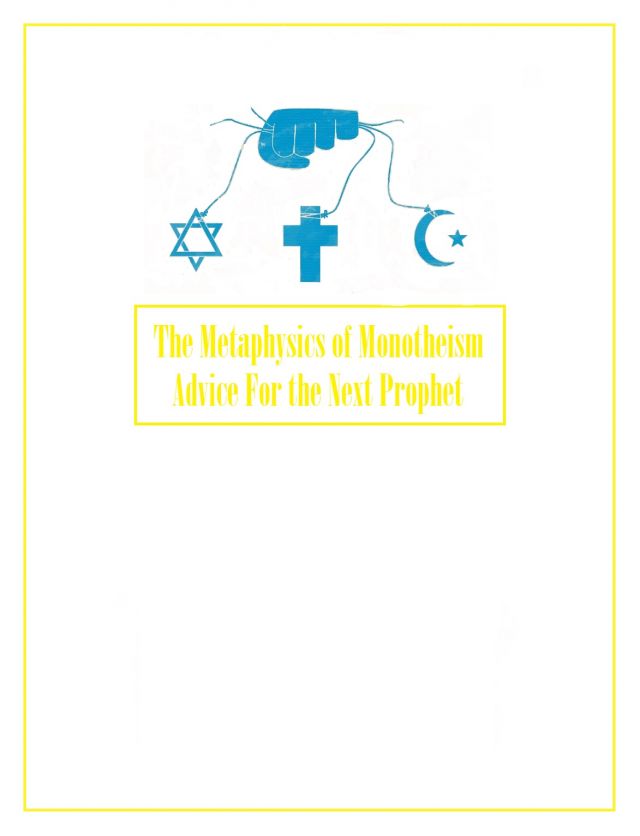 The Terraist Letters
Ethan Indigo Smith's controversial book, The Terraist Letters, humorously contrasts the very serious issues of global nuclear experimentation and global marijuana prohibition. It is a funny and provocative political satire that attempts to brings some sanity to the most serious subject matter of nuclear experimentation, in a way that only Ethan can.
"Ethan's work will titillate, irritate, but most importantly, stimulate some serious thought concerning current conventions. Give it a read. Your brain might thank you." ~ New York Times Best Selling author, Jim Marrs
The Terraist Letters is available here on Amazon.
The Complete Patriot's Guide
Ethan Indigo Smith's book, The Complete Patriot's Guide to Oligarchical Collectivism: Its Theory and Practice, is an insightful exploration of history, philosophy and contemporary politics of today's heavily institutionalized society.
An inspiration for positive, peaceful individual action, The Complete Patriot's Guide is pro-individual in its perspective and, although political, discusses our society and its institutions from neither left-wing nor right-wing perspectives, exploring history, philosophy and contemporary politics relative to the fictional work of George Orwell. Layered with insight, it is in part a literary exploration of the themes of Orwell's 1984, and provides solutions for individual and collective empowerment.
The Complete Patriot's Guide to Oligarchical Collectivism is available here on Amazon.
About the author:
Activist, author and Tai Chi teacher Ethan Indigo Smith was born on a farm in Maine and lived in Manhattan for a number of years before migrating west to Mendocino, California. Guided by a keen sense of integrity and humanity, Ethan's work is both deeply connected and extremely insightful, blending philosophy, politics, activism, spirituality, meditation and a unique sense of humour.
Ethan's publications include:
For more, visit Ethan on Facebook and check out Ethan's author page on Amazon.