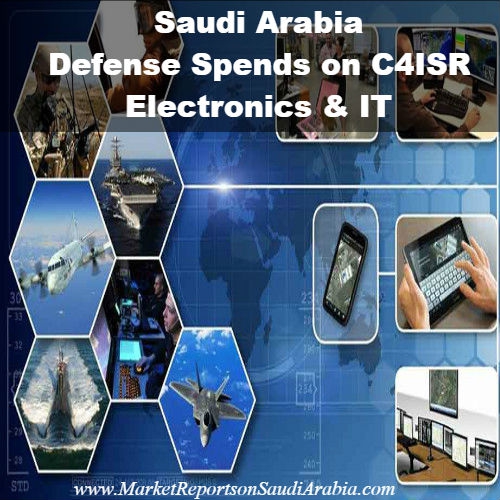 According to Strategic Defense Intelligence, C4ISR refer to systems and equipment pertaining to command, control, communications, computers, intelligence, surveillance, and reconnaissance. The report provides spend forecasts on following market segments:
Biometric System
Communication Systems
Electro Optic Systems
Electronics Warfare Systems
Military IT
Radars
Sensor & Guidance
The information in this report draws upon Strategic Defense Intelligence's in-depth, primary research and proprietary databases to provide you with robust, segment specific data. It is an essential resource for professionals active across the industry value chain and for new players considering entry into the market.
*This is an on-demand report and will be delivered within 2 working days (excluding weekends) of the purchase.
Key Findings
• Provides key forecast statistics on spends related to C4ISR Electronics & IT from 2016 to 2024.
• Provides segmentation data of the C4ISR Electronics & IT market in Saudi Arabia.
Synopsis
"Saudi Arabia Defense Spends on C4ISR Electronics & IT: 2016 to 2024″ a market research analytics report from the house of Strategic Defense Intelligence; outlays Saudi Arabia's projected budget allocations on C4ISR Electronics & IT. The report provides strategic outlay on individual segments which include Biometric System, Communication Systems, Electro Optic Systems, Electronic Warfare Systems, Military IT, Radars, Sensor & Guidance and Signals Intercept & Cryptography (where applicable).
Reasons To Buy
• Understand the Saudi Arabia C4ISR Electronics & IT market using Strategic Defense Intelligence's market and segmentation analytics.
• Use the sector market sizing and budget allocation data to understand the current landscape and forecasts to discover the future direction of the C4ISR Electronics & IT market in Saudi Arabia.
• Formulate crucial business strategies and make the right investment decisions using Strategic Defense Intelligence's forecast figures.
We encourage you to Share our Reports, Analyses, Breaking News and Videos. Simply Click your Favorite Social Media Button and Share.