If you have seen Gabourey Sidibe when she debuted in the Industry, you can clearly calculate how massive weight loss has the 'Precious' star earned so long. The breakout stars has had a tough battle against her won body and luckily have lost a considerable amount of body weight so far.
Gabourey Sidibe is a renowned name in the Industry. The 33-year-old has countless movies and shows to count on her experience letter. Currently, she is a part of the cast crew of the musical soap opera drama, "Empire" on Fox. Additionally, she now has a brand of her own, "New Memoir."
The book: 'This Is Just My Face: Try Not To Stare'
The book is a collection of essays that talk about the hardships the star faced during her journey towards weight loss. It also includes her struggle with stardom and other personal & professional aspects. Some part of the book is also dedicated to her past life when she had an eating disorder as well as a mental health issue.
Sidibe said that the journey couldn't be completed without help and she is thankful that she got a doctor beside her. Talking to a leading magazine, Sidibe said, "I just accepted depression as something that's part of my anatomy; it's part of my chemistry, it's part of my biology," "For years, I have not felt that way. But if I ever do, I just have to remember to do the things that make me feel good as opposed to the things that make me feel bad." She added.
Her weight Loss Journey and body image:
Last year, Sidibe took her weight seriously as she comes to know about her Type 2 diabetes. To curb the issues, she underwent laparoscopic bariatric surgery and that too without informing anyone including her family and Empire team.
"I am plus-size, I have dark skin and I am 100 percent beautiful, but I get a lot of flak." Sidibe said. "People do this to me. People staring at me. But also, this has been my body since I was 5ish, you know? It's been a 30-year thing of other people putting their own stuff on my body. But it's mine, so I will police it, thank you."
But, body shaming does not affect the lively star. She takes all such comments as a motivational factor to pursue her weight loss program. When she was bashed for her appearance in the Golden Globes 2014 she made a great answer for the commentators.
Tweeting this, she said, "To people making mean comments about my GG pics, I most def cried about it on that private jet on my way to my dream job last night. #JK."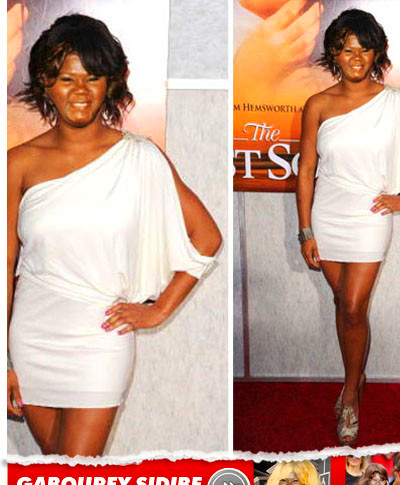 The star tried everything she could to lose her weight. Sadly, her obese body won't supports most of her efforts. She was unable to activate Common natural fat burners , because she was home to many diseases and her over-weight body does not allow her to exercise. Luckily, she found the doctor who helped her in her journey.
Though Gabourey Sidibe is still overweight, she lives life happily and hopes to get control over her body in due course of time.
We encourage you to Share our Reports, Analyses, Breaking News and Videos. Simply Click your Favorite Social Media Button and Share.