Bible Story of the Day
Scripture is the story of Jesus, from Genesis to Revelation. There are over 400 prophecies and representations of Jesus in the Old Testament alone. The Old Testament pointed forward to the coming Christ, and the New Testament points back to Jesus. The Bible is a record of redemption through Jesus Christ who conquered sin and death when He died on the cross and resurrected three days later. The New Testament was written almost 2000 years ago. Some of the Old Testament was written over 4000 years ago. The Bible Story of the Day not only shows Jesus throughout scripture but shows how scripture is relevant to our lives today. Seeing Jesus in scripture is a major step into understanding who our God is, and how He impacts and affects our lives in every moment. I pray that the Holy Spirit opens your mind to understanding the verses and how they affect your life and gives you a better understanding of our Lord Jesus Christ. I will post a link to the chapter that each passage is from, so that you can read further on your own.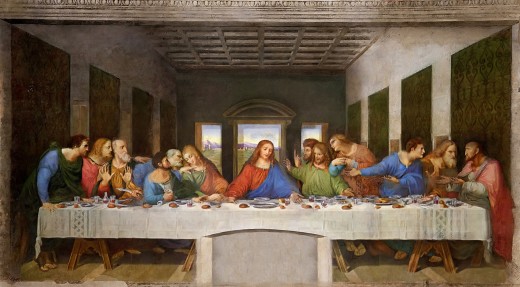 The Last Supper
Genesis 14:17-18
17 Then after his return from the defeat of Chedorlaomer and the kings who were with him, the king of Sodom went out to meet him at the valley of Shaveh (that is, the King's Valley). 18 And Melchizedek king of Salem brought out bread and wine; now he was a priest of God Most High. (NASB).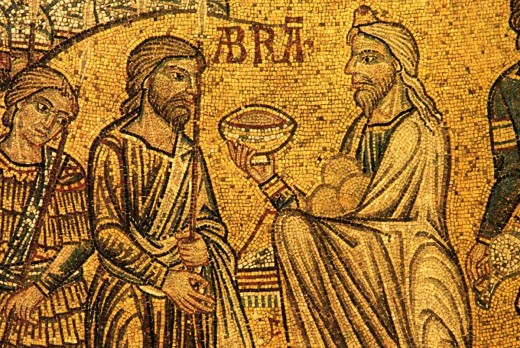 Where is Jesus and What Does This Mean to Us?
If the Bible were a movie, the character Melchizedek would have a small part in the movie, but he would be one of the favorite characters among the viewers. Melchizedek is only sporadically mentioned in scripture, but his impact and reference to the coming Christ is overwhelming. Melchizedek, himself, represents Jesus as the Priest-King. In verse 18, Melchizedek acts out his kingly role by offering bread and wine to Abraham. This offering is different from an offering to God that a priest would do, rather it is an offering of a king to his people that are hungry and thirsty. This is a king that wants to share and recognize the work and faithfulness of his people. This verse represents the Last Super with Jesus. Jesus is giving Himself to His disciples. He is offering them the bread of life and wine of His love and grace, as a king honoring His faithful followers.
What does this mean to us? First, the foreshadowing of the coming king-priest points to Jesus that would be, and is, the Priest-King of God's Kingdom. Jesus is the one that rules over all that is seen and unseen. He is our king, which means He is our protector and provider. He is our Priest, which means He is our spiritual advisor and our voice in the ear of God. He intercedes for us. He prays for us. There is little arguing that whatever someone may need in this world, a king or a priest would be able to provide whatever is needed. Jesus is both, and more. Second, Jesus is not like the kings we think about on earth. He loves us, provides for us, and wants to bless us. He desires to give us blessings from His kingdom. He does not horde them for His selfish desires. The Last Supper was not for Jesus; it was for His disciples. It was the last thing He could do for them and with them before He was crucified. He wanted to share in the treasures of His kingdom with His faithful followers.
The last point I want to make about the Last supper and Jesus is that He lives for us more than we understand, and more than we live for Him. He offered Himself up as a sacrifice to save us from ourselves before you and I were born. That is an unparalleled sacrifice. It doesn't matter whether you believe in Him, because He believes in you. It does matter if you believe in Him in that you cannot accept the gift of salvation if you do not believe He is offering it. He is the king of His kingdom. Those in His kingdom will receive the blessings. Those outside of His kingdom will not receive the blessings that are waiting for them on the other side. What are you waiting to receive on your side of the kingdom?
Resource
https://www.biblegateway.com/passage/?search=gen+14&version=NASB
We encourage you to Share our Reports, Analyses, Breaking News and Videos. Simply Click your Favorite Social Media Button and Share.