Look at what we have here, Rush Limbaugh and his present day character clone Alex Jones. Jim Morrison faked his death and became "Rush Limbaugh" a lunatic right wing nutcase, just as Bill Hicks Character Alex Jones. What did they have in common though? Besides the obvious? (Faking their deaths and discrediting conservatives by acting nuts.) LSD, psychotropic drugs. If we take a look at Rush Limbaugh aka Jim Morrisons past. You will see Jim Morrison was groomed from a Miltary family since literally birth. Is this the key, to The Mystery of a "Shill Farm?" Why are they grooming these characters we know of now since birth? This should be extremely alarming to people reading this, as we can see first hand how we are deceived and being played. Just think about it, our Government is creating these characters literally as test tube subjects. And that's another conspiracy in itself alone, who knows if Jim Morrison's Father was his Father and who knows if Bill Hicks father was his father. They both share a common trend, put these "individuals" out to the world. Let them perform in front of 1000s of people and let's see if they're good enough to become a talking head parrot in the future. Jim Morrison performed infront of 1000s of people and so did Bill Hicks. Like a sort of Social experiment and when their time came. They fake their deaths and they repackaged them into other people. Before I continue let me remind the reader that I am NOT labeling these people death fakers to troll. If that was the case, I would be labeling everyone and their mother a death faker. A tactic Ed Chiarini uses to muddy the waters on purpose, so you won't believe in this kind of work.
Here is a documentary that I ran into, it explains perfectly how Jim Morrison was a product and creation of The Military Industrial Complex.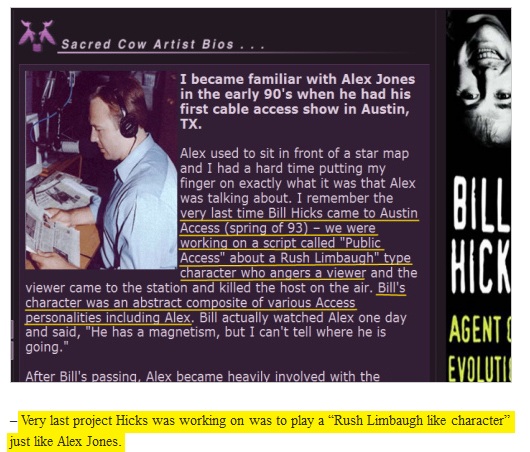 Bill Hicks was positioned to be the next Rush Limbaugh, a character being played by Death Faker Jim Morrison. The question is, who do they work for? The Jews? NO, all signs point to The Queen of England. All roads point to the monarchy. Blaming Jews is a tactic of theirs of many years, ones who fall for this tactic. Are victims of Cointelpro activity, recently a Neo Nazi was Exposed working as a MI5/MI6 Agent ALEX JONES: JEWISH CONSPIRACY – PART 1 – EXTENDED CUT
If you visit thealexjoneschannel on youtube, you will see they are letting Neo-Nazi trolls flood their channel to bring attention off of Alex Jones being Bill Hicks. Alex Jones plays the part of a "Jew" perfectly, not only that. He plays the "real" part of a Christian, acting like a lunatic to discredit two Religions at once. The Judaic-Christian Religions, The rule of law they are trying to destroy. They are agents of The Muslim Brotherhood, a creation of The Nazi's. The Nazi's being a Creation of British Monarch Intelligence. They are trying to turn the world into a Islamic State.
Like Jim Morrison, Bill Hicks was a drug addict. Preferably, psychotropic drugs like LSD. Why are these tools of The Government drug addicts? MK-Ultra and LSD go hand and hand. Their brains are beyond fried, they work for Satan. Groomed since young, to destroy America from within. So again Jew bashers, if The Jews control everything. Why are they doing this, to gain what? Oh that's right, it's The Monarch trying to recapture America. Sorry Neo-Nazi's, The Jesuit conspiracy makes more sense than The Jew conspiracy. As you Neo Nazi's always discredit yourselves with hypocrisy.
Bill Hicks on his favorite drug, LSD.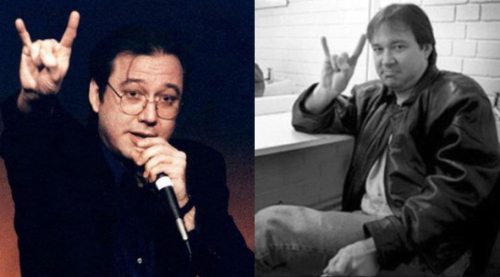 These are agents of Satan, Satan deceives you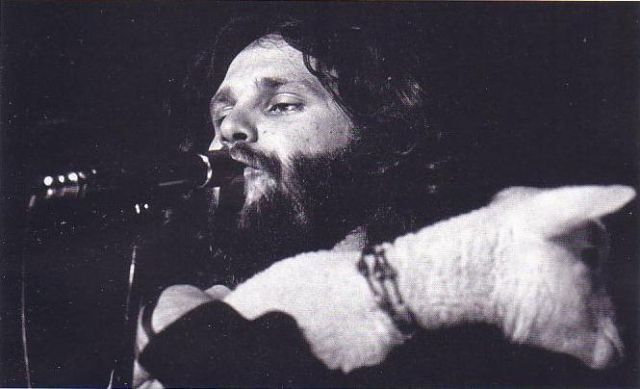 Sacrificing the lamb
I have gotten so far deep in this, that they have recruited a Cyber Stalking Bully Troll by The name of Forrest Courtney Jamison. http://forrestjamison.com That spends his day harassing people like me and leaving death threats. Too bad it doesn't work, as I have exposed over 6 of their agents already.
Must read to understand the Satanism connection of Jim Morrison and Bill Hicks
Two Inside jobs, Liberals posing as their enemies. Conservatives, lovers of freedom to destroy and discredit them.
Caliberhitting – Podcast #102 – Bill Hicks & Jim Morrison's LSD Adventures
For more intel on death faking celebrities in the truth movement, visit the following link
Follow The Author of this story on Social Media
https://twitter.com/22caliberhitter
https://plus.google.com/u/0/107970477283088426299
https://www.facebook.com/Caliberhitting
We encourage you to Share our Reports, Analyses, Breaking News and Videos. Simply Click your Favorite Social Media Button and Share.