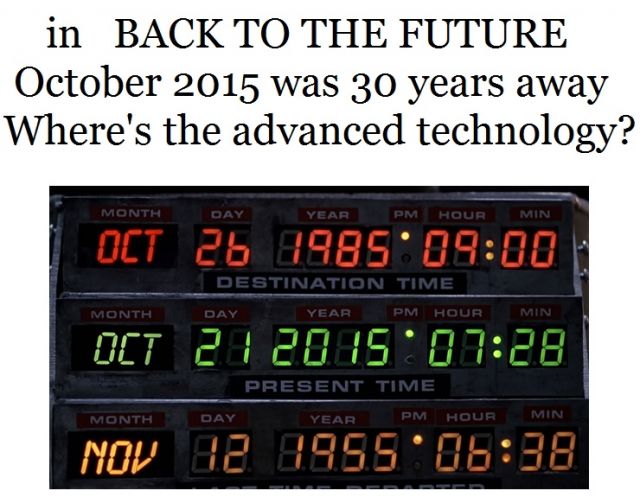 Welcome to October 2015 – when we still have not invented flying DeLoreans or Mr. Fusion as the 1985 movie "Back to the Future" predicted we would. You can find videos of a hoverboard, but as Gizmodo reveals: "The Lexus hoverboard requires you fill it with liquid nitrogen every 10 minutes or so, and only works if your local skate park has several hundred thousand dollars' worth of magnets built into its surface." So much for even one of the movie's hallmark inventions coming to pass by 2015. Well, it was just a silly movie, right? You can't count on real world inventors to make such concepts a reality on schedule.
But pretty much EVERY expectation from Hollywood and other science fiction has failed. NASA did not launch the last of its manned deep space probes in 1987. There was no mission to Jupiter in 2001. Our lives are far more similar to how they were in 1955 than they are to how our grandparents might have imagined 2015 would be. (As far as most people know) there are no manned bases on Mars or even the moon. No cures for cancer. No realistic androids. No contact with aliens. No genetically improved supermen. We have made phones and computers smaller and more powerful – but we still burn oil and gas for energy, we still drive cars, we still get sick and old and die. Why has nothing monumental been discovered in recent decades? Or – have major discoveries been made in secret?
In the first half of the 20th century, we had many MAJOR breakthroughs. In the sixty years before 1955 we got vaccinations and antibiotics. Plastics. Refrigeration. The first airplanes. The first movies and television. The first computers. The first atomic bombs. What has been created in the last sixty years since Marty McFly's visit to 1955 that has changed the world as much as any of those? Nothing. Some would argue that there are secret projects which explain the absence of new technological advances – that everything impressive has been kept secret. That we have achieved antigravity propulsion and can fly any speed and any distance. (The TR3-B allegedly has achieved 89% gravity reduction using a mercury plasma vortex engine and several hundred thousand volts of current.) That we do have bases on the moon and on Mars. That we are in contact with aliens. That we have cured cancer. That we can control the aging process. That we have genetically modified superhumans. That we have created self-aware artificial intelligence. And a warp drive. And stargates.
Just a few days ago, at a fundraiser for his son Jeb in Orlando, 91 year old former President George Bush Sr. was brought on stage and answered a few questions. MUFON member Adam Guelch asked if disclosure regarding the truth about UFOs would ever come to light. Bush said "Americans can't handle the truth." There is a quote from Ben Rich, the former chief of the Lockheed Skunkworks – the group that, allegedly, worked on back-engineering crashed UFO technology: "We already have the means to travel among the stars, but these technologies are locked up in black projects and it would take an act of God to ever get them out to benefit humanity…. Anything you can imagine, we already know how to do." Gary McKinnon is computer hacker who illegally accessed US military and NASA computers several years ago and is awaiting extradition for his cyber crimes. Most interestingly, he found a list of "Non-Terrestrial Officers" and ship to ship transfers from names of ships the Navy and other military branches do not officially have. He concludes that there is a secret space fleet with crew assignments that are off-world (and may even include aliens.) Richard Dolan, the author of UFOs And The National Security State, commented on such secret technology and said that there is "a separate group of humanity that is vastly far beyond the rest of the world" and that "it's not something you can share with the world."
If this is true – if the level of secret government technology is not just 10 or 20 years ahead of what the public sees – if it is 50 or 100 years ahead (or more) – then what are they doing, and why are they branching off with what is essentially a separate breakaway civilization, leaving the rest of us in their dust? There are so many rumors of artifacts and bases on Mars, of crashed UFOs, of NASA photographs that have been doctored and airbrushed to hide evidence… If an elite group has the money and technology to have advanced beyond us, and they no longer need most of humanity – what are they going to do with us? Maybe nothing, if they now have access to a universe with nearly infinite resources. But if the universe's resources are not so easy to harvest – if the Earth is still extremely valuable to them – why continue to let billions of us continue to waste resources and contaminate the world? I don't think they will allow that much longer.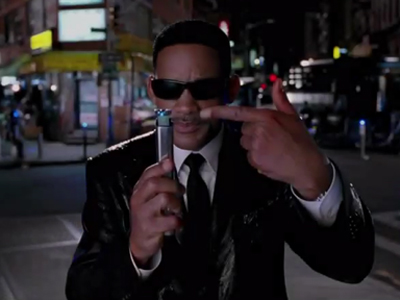 But until they unleash whatever diabolical plot they have against the unwanted masses of humanity, why should you bother your pretty little heads with doubting your government or doing a little investigating or even just THINKING? If you stumble onto an obvious LIE – remember, your government sponsored media doesn't want you to bother thinking. Don't question 9/11, or events in Syria, or the incoming refugees, or the stories behind school shootings. Don't look into evidence or read any books that might offer a potential explanation. Just pop a few more Doritos in your mouth and focus on the little flashy thingy. You don't want to arrive at the FEMA camp with thoughts in your pretty little head.
— contributed by David Montaigne, author of End Times and 2019 – and – Antichrist 2016-2019
We encourage you to Share our Reports, Analyses, Breaking News and Videos. Simply Click your Favorite Social Media Button and Share.