Last night, I decided to make a late night of it, and I decided to listen to Alex Jones as he covered the Julian Assange Clinton revelations via live stream precisely at midnight (Pacific). It quickly became 1AM and then I was interrupted with a communication from an insider source. He said very abruptly, "Are you waiting for the revelation that will never be?" I promptly asked him what he knew and he said "You will never know what Julian knows".
Subsequently, I asked him, again, what he knew and he said that Assange's days are numbered. Ecuador's government will likely give up Assange to Obama and Clinton. He said he had information that the Ecuadorian government was hit with the kitchen sink. My source went on to say that the leadership of the government was told that if they persist in letting Assange do what he's doing, that there will be severe economic disruptions and even assassinations if Assange is permitted to continue. I asked if this was strictly the work of the Clinton criminal enterprise and I was told that this goes much higher, but that they are operating on Clinton's behalf. In short, Obama is pulling out all the stops along with the Bank of International Settlements to stop the damning information from coming out.
As most people know, Ecuador's embassy was attacked in late August and presumably Assange was the target. The British authorities took 2 hours to respond to a crime that was less than a 2 minute walk away.
Subsequently, we have seen the last of the Wikileaks revelations unless the Ecuador's government is willing to risk ending up like Venezuela.
Ask yourself this question, if Clinton's allies are willing to do this to a sovereign nation, how far will they go to steal the election? Clinton will become President at all costs.
No doubt Putin would like to complete the double play of propaganda and rescue Assange and give him asylum along with Snowden.
Meanwhile, the people cannot be permitted to hear the truth.
Please Donate to The Common Sense Show
PLEASE SUBSCRIBE TO OUR YOUTUBE CHANNEL AND DON'T FORGET TO "LIKE" US
This is the absolute best in food storage. Dave Hodges is a satisfied customer. Don't wait until it is too late. Click Here for more information.
---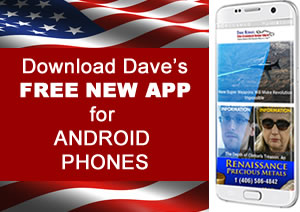 Click on the image to begin the download process
We encourage you to Share our Reports, Analyses, Breaking News and Videos. Simply Click your Favorite Social Media Button and Share.