The Santa Embrace
As you can clearly see from the picture above Santa has always been behind this Nation's great defense! Santa Clause and Uncle Sam are as good as go!
From The Association for The Defense of Santa Clause.
Greetings, friends and lovers of Christmas,
I wish you a Merry Christmas 2014. I have some alarming, but important news to share with you about the war on Christmas. Another loonie Anti Christmas kookamonger, who has probably never been North of Augusta, Maine, let alone to the North Pole, has attacked Santa Clause and Christmas, and by doing so all attacked things good and American in a way that demands action. Instead of blaming those who are truly responsible for drastic problems in our the nation, that being all the hippies, this kook wrote a manifesto blaming Santa Clause for the social, political and environmental problems our country faces today!
The accused terraist who penned it claims that those who celebrate Santa Clause in accordance with THE BIBLE are afflicted with some sort of psychiatric disorder called Santa Clause Syndrome in a grouping of words titled A Holiday Hazing Santa Clause Syndrome! I hesitate to call the fiasco a book for that lends the thing undeserved credit. It blames everything on Santa Clause, even, of course, global warming. This assemblage of paper, or as I like to call it fire starter for the Yule, must be stopped.
I don't think I have to inform you how much of an affront this is to myself, my family and my community –social, political and environmental! I don't think I have to tell you that an attack against Santa Clause, is an attack on Christianity which is an attack on me, my country and everything, ever. By resorting to accusing Americans who worship Santa Clause as causational for the woes of the world, this Unabomber of Christmas blames JESUS too!
This alone is unacceptable, it must be stopped. Please inform your own social, political, environmental groups, and of course your church book club, about this horrible production that is not only an insult to Santa Clause, but to Christianity, to The Old Testament and New Testament, and to Rudolph and all the Reindeer, but endangers humanity as a whole and the very core essence of our monotheistic world.
As unbelievable as this all is, what's worse is that I hear several school districts in New York, California and Minnesota are planning on including the future fire starter as required reading, for alternative perspective or some such nonsense! And keep this to yourself but it seems certain high school aged children are now sharing the book with middle school aged children and even reading it to younger children as some kind of cruel prank!
With these atrocities in mind, please join me in defense of Santa Clause. There is no stopping this war on Christmas, but this year we can stop this book. Please assist me in my defense of Santa Clause Americana and all things good by contacting your local social, political environmental groups, i.e. schools, churches, book clubs, newspapers and news stations to stop this book from being allowed in schools, or on government property and to insist that their be punitive measures taken against those who dare bring it onto church property or read it to children!
Thank you for taking you time to proactively support The Association for The Defense of Santa Clause by demanding the restriction of this jumble of words to which the First Amendment should not apply.
This is the the type of rhetoric the cretan is threatening Santa Claus with, and Jesus Christ, and woman and children everywhere and of course God -as if he wasn't a son of satan!
"This year Santa is dead to me. There will be no false idol. This year, children will learn the truth if they come around here. And with that, healing from the Santa Clause Syndrome can begin.
This holiday season, be sure to not tell your kids a pack of lies and cater only to their material desires – no matter the tradition.
Let's create a new holiday.
Peace on Earth… only for real."
Merry Christmas!
And Merry Total Apathy!
The Santa Claus Syndrome instils more than just materialism and the acceptance of lies. And chances are, if you can recall the names of more than one of Santa's reindeer, you are likely affected by it in some way.
In his book A Holiday Hazing: the Santa Clause Syndrome, Ethan Indigo Smith examines the many psychological influences of one of the most widely celebrated traditions the world has ever known, and exposes common beliefs of 'self' and 'society' in a way that might make you chuckle, and a little bit angry.
A Holiday Hazing: the Santa Clause Syndrome available on Amazon as an e-book, just in time for (saving you from) Christmas.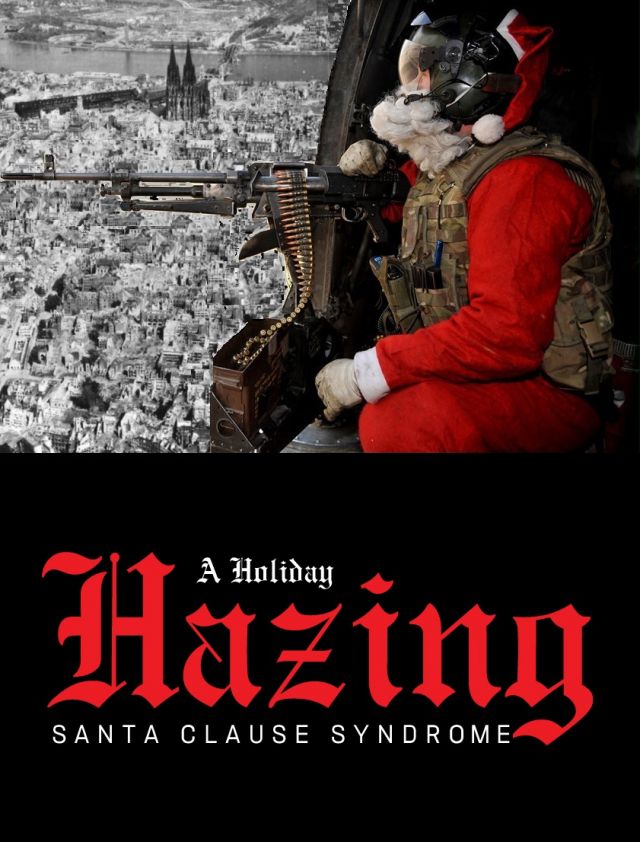 About Ethan Indigo Smith:
Activist, author and Tai Chi teacher Ethan Indigo Smith was born on a farm in Maine and lived in Manhattan for a number of years before migrating west to Mendocino, California. Guided by a keen sense of integrity and humanity, Ethan's work is both deeply connected and extremely insightful, blending philosophy, politics, activism, spirituality, meditation and a unique sense of humour.
Ethan's publications include:
For more information, visit Ethan on Facebook and check out Ethan's author page on Amazon.