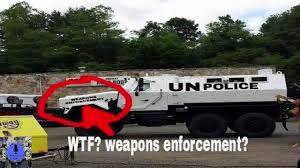 With all the signs of imminent economic collapse – as I explained in my last book – It would be foolish if governments weren't preparing for economic collapse and social unrest. The first logical step in such a reaction to a major crisis could be gun confiscation and rounding up their list of top potential troublemakers likely to resist, before the complete imposition of martial law. Is Obama using his last few weeks in office to desperately pass new laws to allow for this, with the help of a United Nations army on US soil? Perhaps he is, but there are aspects of this warning, in the video and article below, that make me wonder if the source is just Macedonian clickbait – despite the very relevant topics discussed.
From the original article on January 3rd in Prepper Fortress: Alert Dollar Collapse – Obama Gives Green Light To UN To Invade America – Martial Law, WW3 And Fema Camp
Before going straight to Amy S.'s original article, this commentary on it at SHTFplan.com is worth repeating: "Editor's Note: This one comes from PrepperFortress, pointing out the behind-the-scenes maneuvers that are building up the next wave of crisis potential with flashpoints in the next administration. Before that transition happens, Homeland Security and FEMA are meeting behind the scenes to prepare emergency response during events that may well include economic collapse, civil unrest, rioting, violence protests and demonstrations, clashes with police, natural disasters, man-made weather events, world war or attack on U.S. soil, cyber attack on the grid or communications and terrorism in many forms. The response by the system under any future president – unless certain powers are revoked, and the law is reformed – will be martial law.
Paramilitary unites affiliated with numerous agencies are preparing right now to take down citizens, prevent uprisings and restore power to the continuity of government by any means necessary – right or wrong, provocation or real events. That is incredibly dangerous as the future of this nation tends towards economic ruin, deep social divisions and instability on every front. The facts won't matter after the takeover is underway, and patriots are already marked as potential domestic terrorists, and will be picked-up preemptively."
Amy's article says: "This Video is about that Federal Emergency Management Agency (FEMA) issued a Notice of Funding Opportunities (NOFO) for fiscal year 2017. Such Notice is to Prepare Communities for Complex Coordinated Terrorist Attacks (CCTA Program). The CCTA Program will provide close to $36 million to state, local, tribal, and territorial jurisdictions to improve their ability to prepare for, prevent, and respond to "complex coordinated terrorist attacks" — in collaboration with the whole community. This Video is about that Selected state, local, tribal, and territorial jurisdictions will receive fiscal 2016 CCTA Program funding specifically to build and sustain capabilities according to these qualifications: Economic Collapse Video, To enhance their preparedness for these supposed "complex coordinated terrorist attacks," here is what they are looking to achieve." Obama's administration "…per the Appropriations Act of 2016, has been funding and allocating for the use of state police crime labs, fusion centers, and other means and methods necessary… in order to "analyze" any information they collect, from both public and private sectors. As Obama's administration continues to creep closer and closer to tyranny, one could only imagine how far he'd go before Americans started to revolt. We all know, Obama is working all hours of the day to try and disarm as much of the population as possible, and although he claims it in the name of American safety, many U.S. citizens know otherwise. But if it were to come to a point where Americans needed to be suppressed in order for the preservation of Obama's reign to prevail, what would he do?"
This extract by Don Nicoloff : What we are taught about history in American schools is not history, but a fairy tale. Better yet, it is propaganda designed to hoodwink an unsuspecting society about its true heritage and the treasonous acts and sabotage that were conceived in order to bring about a New World Order. To read far more suggestions on how to be prepared, see the original article HERE
.
- contributed by David Montaigne, author of
Antichrist 2016-2019 – and – End Times and 2019
.
.
We encourage you to Share our Reports, Analyses, Breaking News and Videos. Simply Click your Favorite Social Media Button and Share.