Thelema/Crowleyanity cult leader George Grigori de Saint Germain has leaked his sect's Necronomicon text that he apparently authored himself:
LIBER ♇ Necronomicon 44 ⚳
The Mad Arab has Summoned forth the Old Ones from stony R'lyeh where zonbi mass awaits Signals from Ultima Thule. For when under Command of the vengeful Vril-ya the zonbi mass sunders earthly plane and infernal space to seize upon the automatons of humanity to claim their final feast. Then squirming mortals, frightened and disemboweled, shall truly have communion with the blood and flesh of their Black Pig which they had worshiped upon the profane Cross for more than two thousand years. Verily the Murders of Crows brought by Odin in his wrath and in the wake of Ragnarök as the sacred oaths lay torn and burning at his feet will fly about in the air above smoky cities and hang the entrails of foolish men and women from wicked trees made possessed by Yakshinis.
For here is the Key to the Black Pig which you knew as Christ but was really the Dæmon of self-conceit taking refuge in deluding you: he is no other than Balaam, a Blackest Serpent crafted by the Magic Staffs of the Romans and Egyptians, the Great Heretic who entered the House of his Father Beelzebub where he would cut his own flesh with the same sharpened stones that Satan used to conjure bread for him. Our legions in Hell call Balaam the Black Pig for he would often mount the wild boars of Eubuleus as they were prepared a place in the Underworld before being sacrificed to Lord Zeus.
Because the masses have done this and worshiped such a Son of Hades we will curse them to be fated to their desires and so Balaam has ascended out from the bottomless Pit of Apollyon where he rides out upon the scornful Locusts which will be as Fire from the Sun. Behold the Glorious Appearing of Balaam's return for it is not as you expected: instead of loving bosom to caress you in—there is but a sooty Necromancer playing dice with your eternal psyche.
When you are suffering know that you have been betrayed by the Tooth & Claw of Balaam's horrendous reptile corpse which levitates behind the darkened clouds. Remember well that when Balaam whispers in your ear it is no other than the putrid breath of Nyarlathotep which ensnares thee. Even now his agents within the sect of Starry Wisdom stalk you in the name of Crucifix and Holy Ghost but far is their intention to deliver you Salvation as the lust which animates them seeks to dasheth the infants upon the black, circular stones of scattered Ur.
And the Mad Arab left a riddle given to him by the Retching Rabbi of Rome:
"Now in dreaming midnight toil there roils steaming putrescent boils where blossoms leave a sickening puke smell of fungi colored crimson and gangrenous yellow; when eaten orally or sucked through the nose these nasty leavings left by Balaam become the sacrament of the Christian Eucharist which today is mistakenly substituted as a wafer with some red grape wine."
V.I.T.R.I.O.L.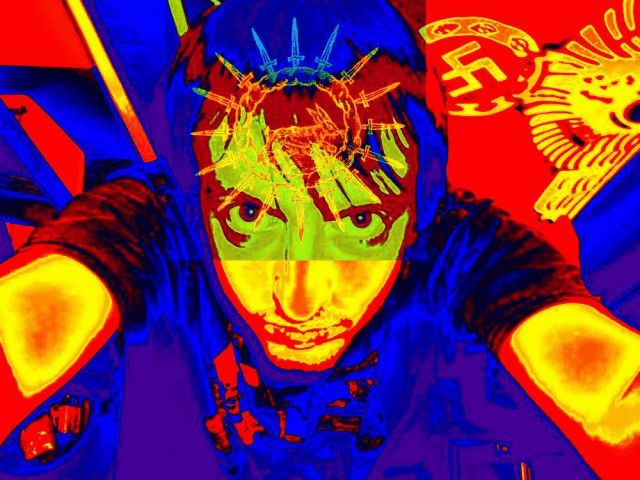 This is a picture of George Grigori de Saint Germain.
His cult is called tEVToWPYE (Thee Evol Vampyre Temple ov Wyrd Psychick Youth Eldors).
This appears to be a video of Germain himself which was released to accompany his Necronomicon: