Is Hillary Going to be Prosecuted By Mueller In a Great Deception?

Trump said Mueller is involved in a witch hunt. Could Hillary be that witch. Perhaps Mueller is going after Hillary instead of Trump. Watch the short video and tell us what you think.
---
TRADE GENIUS ACADEMY
LEARN TO DO WHAT INVESTMENT EXPERT BOB KUDLA DOES, WHICH IS MAKING LOTS OF MONEY
FIND OUT HOW TO MAKE MONEY IN EITHER A BEAR OR A BULL MARKET
THIS SYSTEM OF INVESTING WORKS!!!!!!
50% OFF BOB'S EASY TO LEARN TRAINING COURSE
TRADE GENIUS ACADEMY PRICES WILL DOUBLE AUGUST 1ST
---
Please Donate to The Common Sense Show
PLEASE SUBSCRIBE TO OUR YOUTUBE CHANNEL AND DON'T FORGET TO "LIKE" US
---
The Common Sense Show Airs from 8-11pm Eastern
To listen live, click here
---

This is the absolute best in food storage. Dave Hodges is a satisfied customer. Listeners to The Common Sense Show will receive 5% off their next order by mentioning "Hodgesnov5" in the coupon code box. Don't wait until it is too late. Click Here for more information.
---
DOWNLOAD THE NEW APP FOR THE COMMON SENSE SHOW
IT'S FREE!!!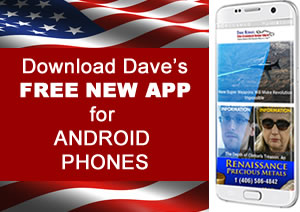 ---

From the Hagmann blood sugar protocol to the Hodges joint protocol, Dr. Broer has helped hundreds of thousands of people. There is something for everybody at Healthmasters.com. Take 5% off the cost of your order with coupon code DAVE5
We encourage you to Share our Reports, Analyses, Breaking News and Videos. Simply Click your Favorite Social Media Button and Share.