Headline: Bitcoin & Blockchain Searches Exceed Trump! Blockchain Stocks Are Next!
Crimes committed by foreigners and asylum seekers in Germany (latest reports)
MSM is not reporting this. But the Federal Criminal Police Office (BKA) in Germany published in their latest data vault the numbers for crimes committed by foreigners in Germany for 2015. I crunched the numbers, compared them with the official demographic statistics of Germany and I have been able to build bar graphs with frequencies for 10.000 people respect. 100.000 people living in Germany for various crime categories.
As a sociologist I see the statistical problems in generating frequencies (ex. 5% of foreign suspects are tourist, as we had 134 mio visits by them in 2015), but with the numbers here you see the phenomena and how criminal some foreign nationalities are in Germany. These phenomena are everywhere in the western world, and they do not need more comments.
Note, that around 11% of people living in Germany are foreigners, but they committed in 2015 27,5% of all crimes and been convicted 26,0% in 2014 (https://twitter.com/DerHorus_/status/822051908479254529). The numbers for 2016 will come out in mid-2017 and they will be staggering…
In the following, you find various graphs. The best way to compare certain nationalities and regions is to look all the time in the bottom and search for "Südost- und Ostasiaten" (respec. southeast- and eastasians), they make up around 391.756 people from 17 countries living in Germany and have the lowest crime rates. Worldwide these Asians are the least criminal group (BTW: in the US asian-americans are 4 times less criminal than white americans, or 9 times less than black americans). Whereas Asylbewerber (aka "asylum seekers") with 476.649 people or people from "Maghreb Staaten" (aka 5 countries from the Maghreb union) with 137.157 people in 2015 are the most criminal in Germany and up to 10-20 times more criminal than foreign asians and german citizens.
Ressources:
BKA (2016) – Polizeiliche Kriminalitätsstatistik 2015 (Standardtabellen Tatverdächtigentabellen, Tabelle 61 (Asylbewerber), Tabelle 62 (Staatsangehörigkeit)
BAMF (2016) – Bundesamt in Zahlen 2015 (Asylantragszahlen, Seite 11)
DeStatis (2016) - Ausländerstatistik (Tabelle 12521-0002 Stichtag 31.12.2015, genesis.destatis.de)
You find more here on my twitter account in the future: https://twitter.com/DerHorus_
Frequencies World Map: all crimes committed by foreigners in Germany
For all committed crimes by foreign nationality (note that some countries stick unintentionally out because of statistical reasons, Australia and its tourists, whereas tourists form Africa are very rare.)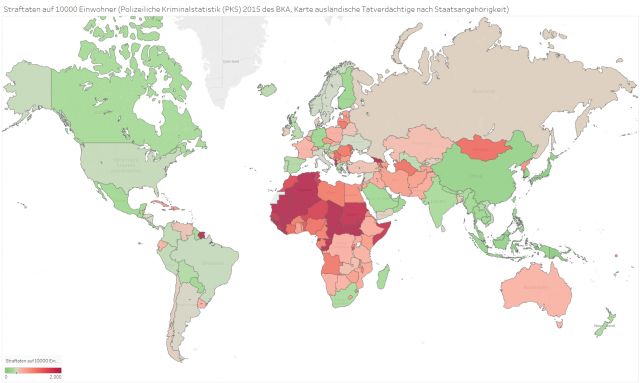 Frequencies: all crimes committed by nationalities, region and asylum seekers in Germany for 10000 ppl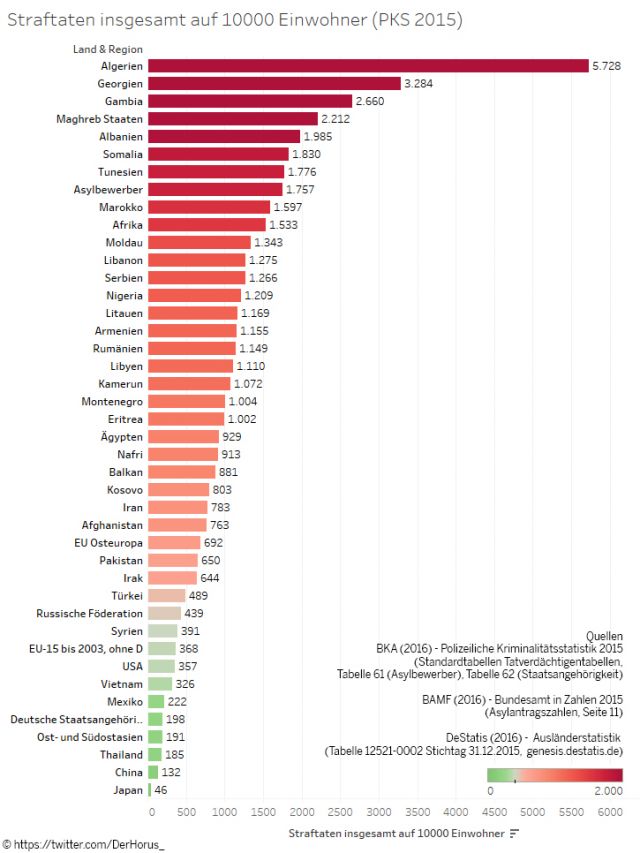 Frequencies: theft committed by nationalities, region and asylum seekers in Germany for 10000 ppl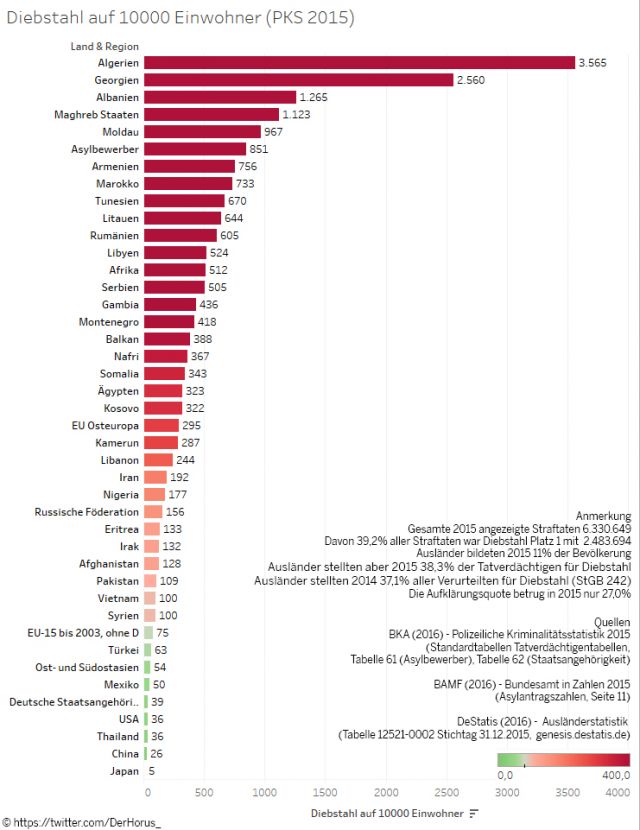 Frequencies: fraud committed by nationalities, region and asylum seekers in Germany for 10000 ppl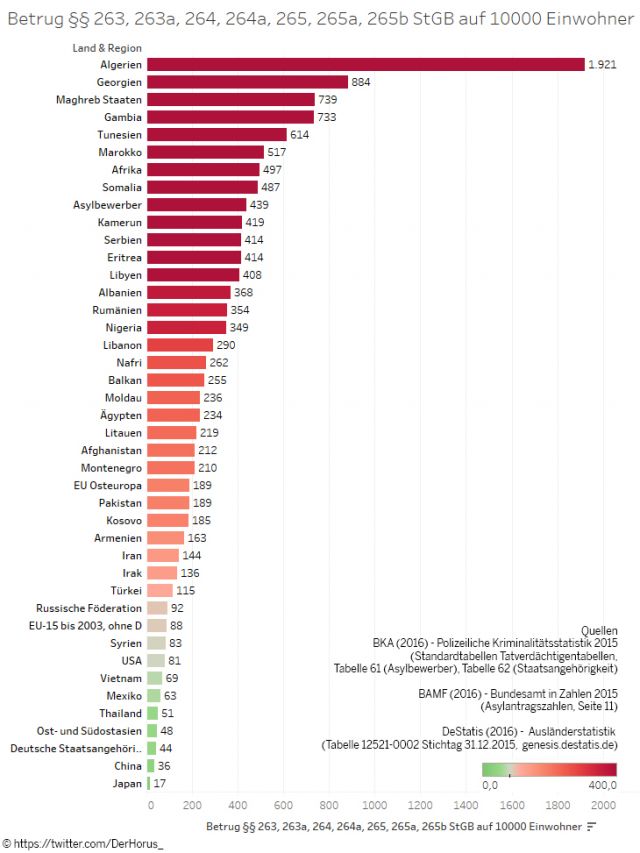 Frequencies: drug related crimes committed by nationalities, region and asylum seekers in Germany for 10000 ppl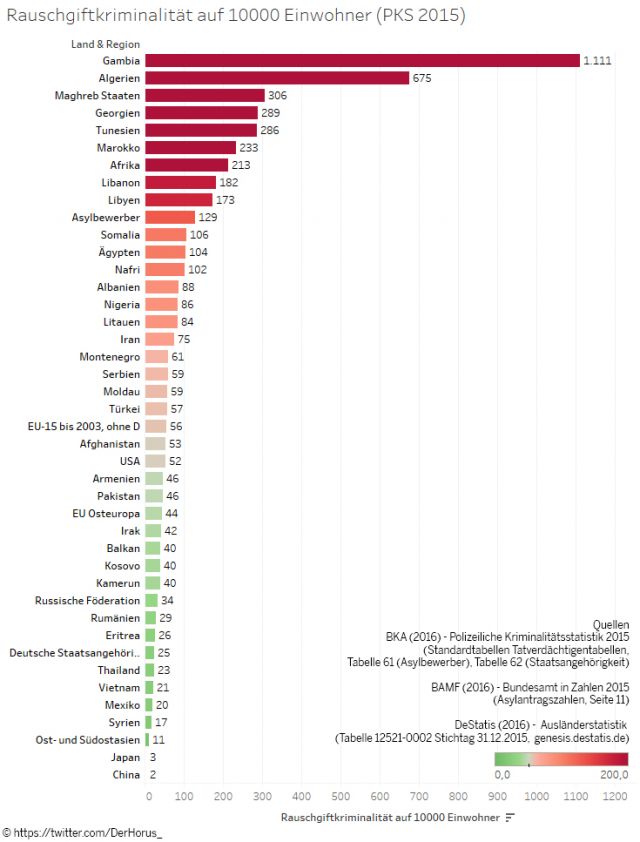 Frequencies: assault committed by nationalities, region and asylum seekers in Germany for 10000 ppl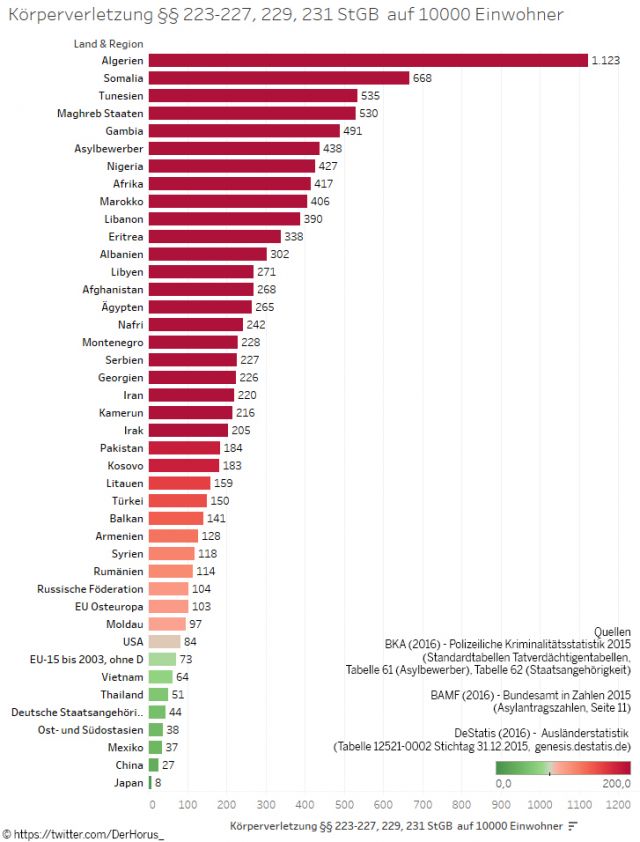 Frequencies: crimes against sexual autonomy committed by nationalities, region and asylum seekers in Germany for 100000 ppl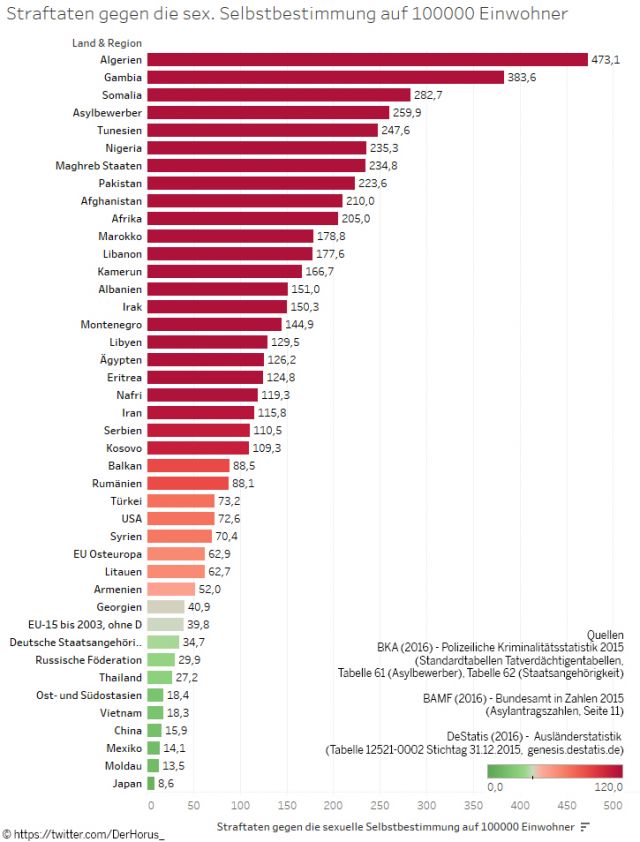 Frequencies: rape committed by nationalities, region and asylum seekers in Germany for 100000 ppl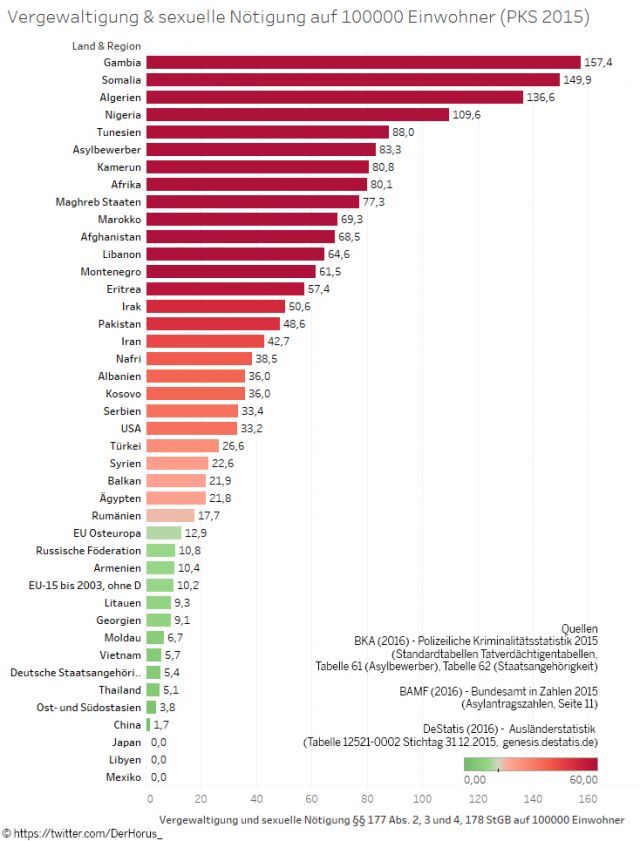 Frequencies: child abuse committed by nationalities, region and asylum seekers in Germany for 100000 ppl