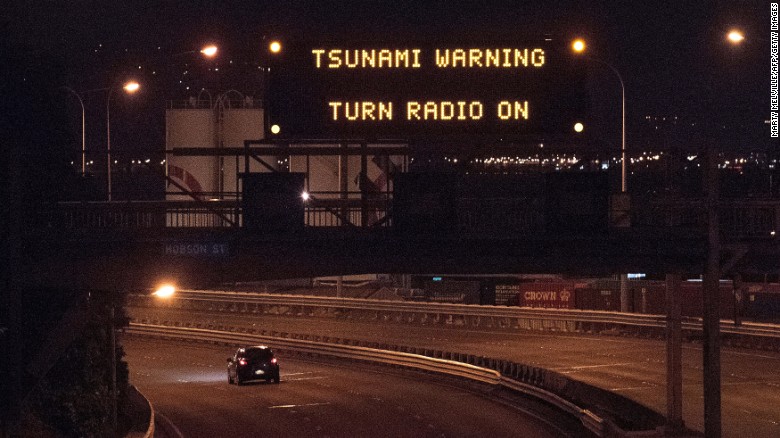 November 13 2016
The country's entire east coast is at threat of dangerous waves, the New Zealand Civil Defense said on Twitter in an advisory, adding that initial waves may not be the largest and that they could continue for several hours.
"Move inland or to higher ground immediately," the warning said.
---
From BP Earthwatch

Apocalyptic Quake 7.5 New Zealand

7.8 magnitude earthquake hits New Zealand

Compilation 7.5 M earthquake New Zealand Christchurch NOV. 13, 2016

7.4M earthquake in New Zealand today 13 Nov.2016

Nerve-racking footage of moments New Zealand earthquake struck

Strong magnitude 7.8 earthquake strikes near Christchurch, New Zealand

New Zealand is a South Pacific nation of islands, the two largest being the North and South islands, which are home to most of the population. Slightly more than 1 million people live in the South, while the North has more than 3 million.
'It's going to be a long night'
In Christchurch, memories of a devastating 6.3-magnitude earthquake in 2011 are still fresh for many. That quake killed 185 people and injured thousands, and reduced swathes of the city's historic area to rubble.
"The land has been very peaceful for many, many months. So this is bringing back all the rare memories," Chet Wah, owner of Designer Cottage B&B in Christchurch, told CNN.
"I just checked with all the guests. They are alright. It is scary. It's going to be a long night."
Images emerged on social media of grocery items fallen off supermarket shelves and water rocking back and forth in swimming pools.
---
#beforeitsnews #jonathanlee #alternativenews #agendachaos
#severeweather #earthquake #volcano #magnitude #tornado #hurricane #destruction #space #Yellowstone #supervolcano #usgs #tsunami
We encourage you to Share our Reports, Analyses, Breaking News and Videos. Simply Click your Favorite Social Media Button and Share.