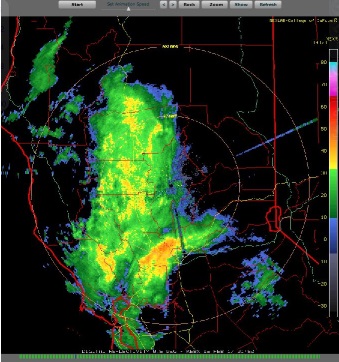 Anyone interested in engineering earthquakes? Apparently someone is, or, they are just trying to move the rain elsewhere. Nonetheless, what you see here is an example of a precursor to many artificial earthquakes that I have personally observed and tracked over 6 years. Dutch Sinse has been so scared by somebody that he won't even touch this at all.
Visit this link for the College of Dupage Doppler display for Beale and Oroville:
http://weather.cod.edu/satrad/nexrad/index.php?type=BBX-N0Q-1-200
At 1:22 pm on Feb. 18, 2017 I am watching the display of past activity and can see an electron beam (positive) occur at 2 o'clock on an imaginary clock face. Actual time of event noted on the display is 01:52 AM. You can see another (negative) beam at 5:30 o'clock on the imaginary clock face. There are other beams within the time frame of 24hrs. I was not watching previosly but was called to attention by Jeffery Pritchett here on BIN. I call these electron beams, but nobody else calls these anything because they officially do not exist. They are transfers of energy changing the main polarity of the atmosphere within 250 mile radius of the doppler station. This tech has been used extensively since the Doppler 2 upgrade was completed in 2011. These beams are known to me to cause earthquakes anywhere from directly at up to 60 miles on either side of the beam trajectory. The beam trajectory can be traced back to the sending station whch could be a DARPA, SUPERDARN, DOPPLER or other US Agency facility. In some cases they come from off Continental North America over the horizon and up to 10,000 miles. Many, many have been tracked. More examples and info about electron beams may be had by watching the videos at these links:
https://www.youtube.com/watch?v=ICnMGCt1Lmw
https://www.youtube.com/watch?v=s5tlDj6jW88
https://www.youtube.com/watch?v=9ZoKmqpOrWk
We encourage you to Share our Reports, Analyses, Breaking News and Videos. Simply Click your Favorite Social Media Button and Share.