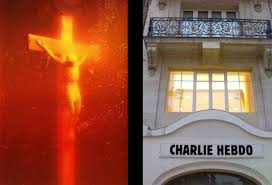 "I support free speech, but…"
It is this kind of statement, in which someone claims to defend free speech – but has exceptions – that Bill Whittle argues against in a recent video on his production "Afterburner."
<iframe width="640″ height="360″ src="https://www.youtube.com/embed/3PWgOAtCn8k?feature=player_detailpage" frameborder="0″ allowfullscreen></iframe>
In case the embed code doesn't work, try the LINK to the VIDEO HERE.
Bill rightly argues that free speech does not exist with limitations any more than someone can be partially dead or pregnant. It's an all or nothing deal. The comparison to life in Soviet Russia or Nazi Germany is not extreme, it is critical to understand the comparison. Being able to say anything you want – so long as you don't dare criticize the leader or the party under fear of firing squad – is not free speech. Likewise, to truly have free speech, one must be free to insult and criticize anyone and anything – and that includes Islam and Mohammad – without fear of being killed for it.
Too many liberals defend free speech only when it speaks against conservative Christian values. In 1987 the "artwork" titled "Piss Christ" – which depicted a crucifix in a jar of urine – was not only accepted by government and media and art critics – it won thousands of dollars from the National Endowment for the Arts.
But somehow when cartoonists draw Mohammad as they think he may have looked – somehow that crosses the line, and many commentators suggest that cartoonists drawing the prophet of Islam were asking for trouble and – at least a little bit – maybe deserved what they got for it. Death (in Paris, and only attempted murder in Texas – where people defend themselves.)
Expressing free speech, even when done in poor taste, does not merit death. Muslims are bound by their beliefs and customs, and if they choose to follow a cultural rule to not make images of Mohammad, they are free to follow that rule. Everyone else is free to ignore their customs and rules. Christians in Texas are not bound by Sharia Law. Period. Some Muslims believe the whole world is already bound by their rules. They may hope that in the end times, they succeed in imposing Islam on the entire planet -
(consider reading Mideast Beast, or Islamic Antichrist, or Antichrist 2016-2019 for more details)
- but at least for now, they are wrong to assume the entire world is bound by Sharia Law.
Which forces us (non-Muslims living outside the Middle East) to question how we should view Islam and its believers. Are they mostly a religion of peace, with just a few wild murderers who don't really define their culture? Or does the rest of the world have a valid reason to fear the Islamic world?
The liberal media – and the current White House administration – would like to have everyone believe that Islam is peaceful. They even use the word Islamophobia – to portray fear of Islam as an irrational fear; as if one has a mental illness like having a fear of water. Ask yourself this: would you be afraid for your life if you had to walk the streets of Mecca, or Baghdad, or Damascus – wearing a caricature of Mohammad? Would you be afraid for your life to have to wear it walking the streets of Paris, or London, or Rome? What about New York, or Atlanta, or Detroit? Is that fear irrational, or established by real events? Bill Whittle's video offers the following definition of Islamophobia, credited to Andrew Cummins: "Islamophobia: a word created by fascists, & used by cowards, to manipulate morons."
Free speech has existed in America. It may be disappearing, but while it still exists it means one is free to express one's thoughts and say anything – even if it is stupid and offensive. Anyone in America is free to insult their neighbor, their parents, or their elected officials. They can trample the US flag even if it offends the veterans who risked their lives to defend that very freedom. They can put a crucifix in urine and call it art. They can pour bacon fat on the Qu'ran and burn the pages. Same goes for the Bible, the Torah, the Constitution, or anything else. Free speech means we have the right to express any thought or idea, no matter how insulting it may be to someone. And kudos to Pamela Geller, Geert Wilders, our loyal soldiers, and anyone else who risks their life to point this out and try to make sure this freedom is understood – and maintained. When and if it disappears, we live in a police state.
Fortunately most people feel bound by common sense, and have no reason to offend the people that would be riled up by questionable speech or art. But for those who choose to ignore boundaries and freely express themselves, they have the right to do so in America. Non-Muslim Americans are not bound by Sharia Law.
I have no reason to go out of my way to offend anyone. I don't plan on burning the flag, pissing on a crucifix, or drawing anyone's religious icon with lipstick, earrings, high heels, and a miniskirt, eating a pork chop while bent over getting raped by a pig. Not that anyone has done that (as far as I know) but in America they have the freedom and the RIGHT to do it if they choose to, however foolish and offensive it may be.
No one at the Paris office of Charlie Hebdo even went that far and no one deserved to be murdered for drawing cartoons even if they had. No violence was merited in Garland, Texas. No confusing the victims with the aggressors should be tolerated. No limitations on free speech can be allowed, or it isn't free. If you want to know who rules over you, name the people who you are not allowed to criticize. In Nazi Germany, it was Hitler. In Soviet Russia, it was Stalin. Is it going to be Mohammad in America? Over a billion people on this planet would love to see it happen. The liberal media and the current occupant of the White House seem to encourage it.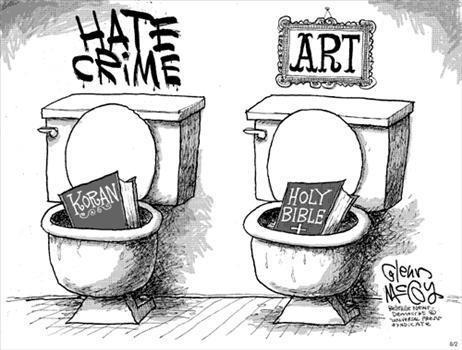 What will you do to defend your beliefs and freedoms? If the answer is nothing – you can expect to see them disappear.
All my research concludes that this is not some distant concept that won't affect you soon. I believe this could have you on your knees by 2016.
Read – Antichrist 2016-2019: Mystery Babylon, Barack Obama & the Islamic Caliphate
We encourage you to Share our Reports, Analyses, Breaking News and Videos. Simply Click your Favorite Social Media Button and Share.