by Mike Gleason, Money Metals: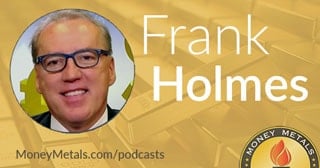 Coming up we'll hear from Frank Holmes, CEO of U.S. Global Investors and author of the book The Goldwatcher: Demystifying Gold Investing. Frank tells us where he thinks gold is headed in the near term, gives us a 2017 outlook for the metals and tells us why he believes the next 100 days will be very key in the financial markets. Don't miss another great interview with Frank Holmes, coming up after this week's market update.
Precious metals markets started off the New Year with a bang. After showing some life last week, the metals complex raced higher in the first trading days of 2017, led by the mining stocks. The HUI gold miners index registered a gain of 12% this week through Thursday's close.
As for gold itself, spot prices currently come in $20 higher for the second straight week at $1,174 an ounce to post a 1.7% advance on the week as of this Friday recording. Silver is up 2.7% this week to trade at $16.47 per ounce. But the big winners so far in the early goings of 2017 are platinum and palladium. Platinum checks in this week with a 7.0% advance to bring prices to $969 an ounce. Meanwhile, palladium now trades at $755 after gaining a whopping $72 or 10.5% so far this week and this year.
Click HERE to Listen
We encourage you to Share our Reports, Analyses, Breaking News and Videos. Simply Click your Favorite Social Media Button and Share.