by Steve St. Angelo, SRSRocco Report: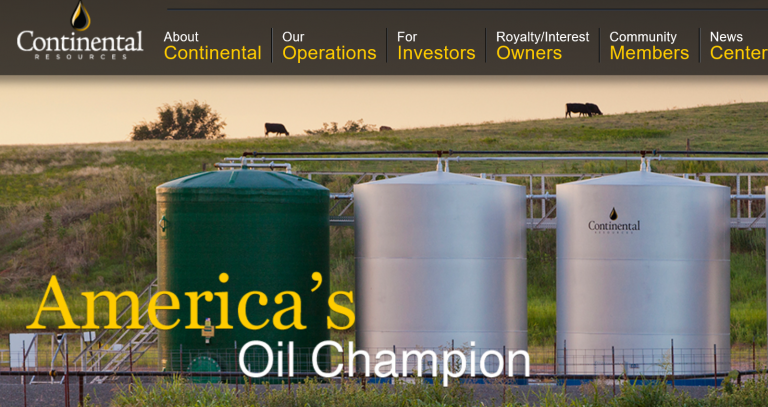 According to Continental Resources website, it labels itself as America's oil champion. To be a champion, one is supposed to be winner. Unfortunately for Continental, it's taking a serious beating and is a perfect example of what is horribly wrong with the U.S. Shale Oil Industry.
During the beginning of the U.S. shale energy revolution, the industry stated it would make the United States energy independent. The mainstream media picked up this positive theme and ran with it. Americans who wanted to believe in this "Growth forever" notion, had no problem going further into debt to buy as much crap as they could to fill their homes with and additional rental storage units.
For several years, the U.S. Shale Revolution seemed like it was going to defy the laws of gravity (and finance) to provide the country with limitless oil production forever. However, something started to go seriously wrong as these shale oil companies reported their financial earnings. One by one, these oil companies financial losses and debts continued to pile up.
And a perfect example, or the "Poster child", of what is horribly wrong with the U.S. Shale Oil Industry is none other than Continental Resources.
Again, if you go to Continental Resources website, they proudly label themselves as "America's Champion Oil Company":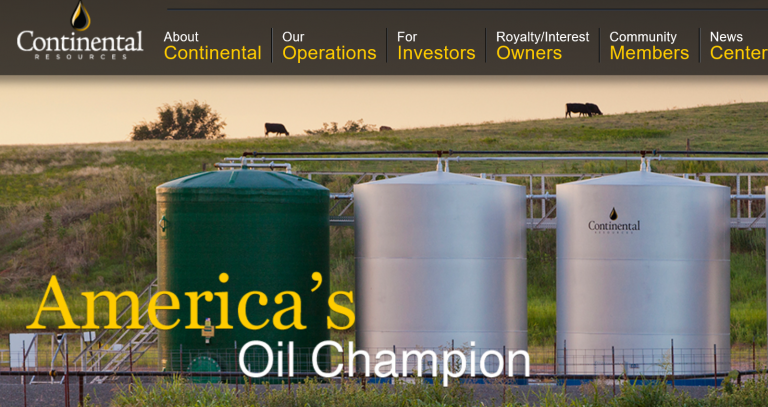 Maybe Continental was America's oil champion at one time, however if we look at their financial results, they have been receiving some serious blows to their mid section. Looking at the company's free cash flow since 2010, it isn't a pretty picture: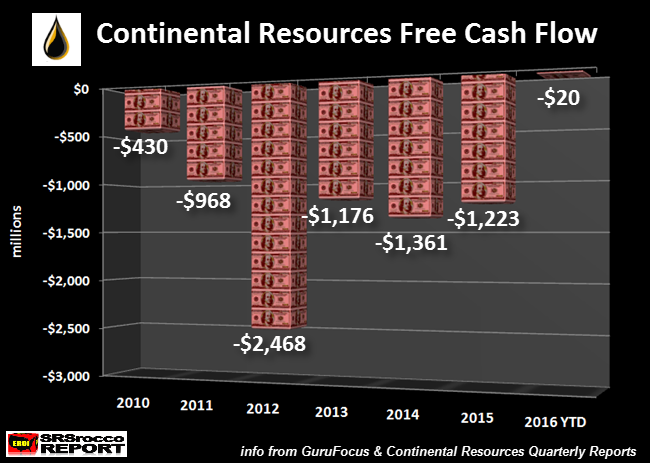 From 2010 to 2016 YTD (year to date – Q3 2016), Continental (ticker CLR) has spent a stunning $7.6 billion more on capital expenditures (CAPEX) than they made in operating cash. Of course this had a negative impact on their balance sheet. In that same time period, Continental's long-term debt surged seven times higher from $926 million in 2010 to $6.8 billion in 2016 YTD: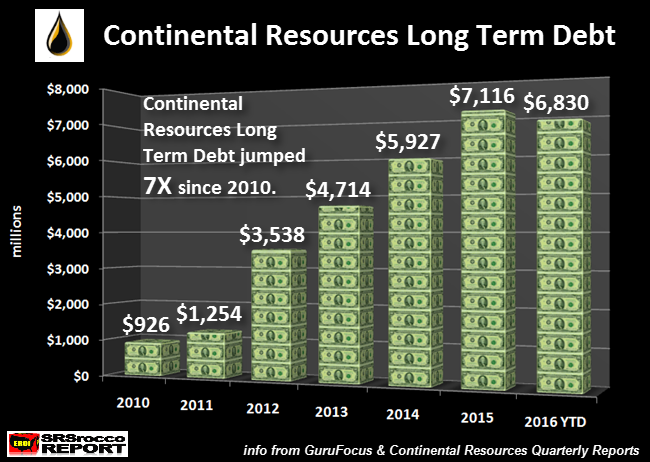 Continental's long-term debt declined in 2016 partly due to the liquidating of their Washakie Basin leasehold properties in Wyoming. They used the sale of this asset to pay down their debt. While selling assets are a positive way to lower one's debt, it could have a negative impact on the company's ability to build or maintain future oil and gas production.
Moreover, for Continental to build oil production in the future, it has to spend even more money. Actually, this is exactly what Continental Resources has been doing ever since it jumped full speed ahead onto the Shale Energy Bandwagon. However, capital spending peaked in 2014 and has plummeted to lows not seen in more than six years: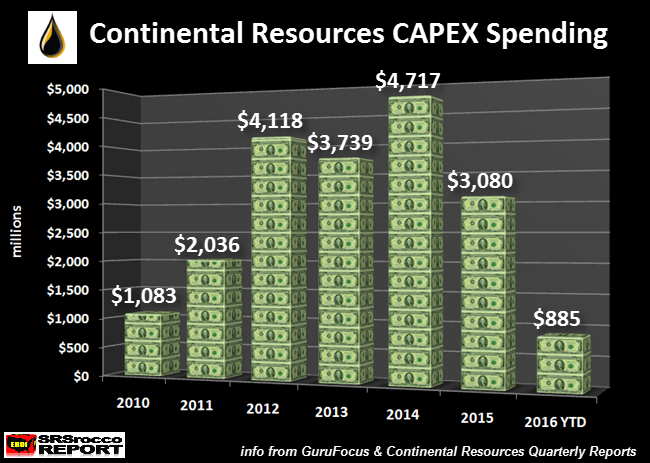 As we can see in the chart above, Continental's CAPEX spending peaked in 2014 at $4,717 million ($4.7 billion), and declined to only $885 million 2016 YTD. How does Continental plan on maintaining or building oil production by selling assets or cutting its CAPEX spending by two-thirds? Maybe Continental can defy gravity after all.
Also, it's worth noting that the reason Continental Resources free cash flow (shown in the first chart above) declined to only a negative $20 million during the first three-quarters of 2016, was due to the oil company cutting its capital expenditures by more than $2 billion compared to the prior year.
Looking at the data in these charts, we can plainly see the CHAMP (Continental), is heading for serious trouble…. but it gets even worse.
Read More @ SRSRoccoReport.com
We encourage you to Share our Reports, Analyses, Breaking News and Videos. Simply Click your Favorite Social Media Button and Share.